Project Report

| Apr 25, 2022
The 2022 School Year Begins in Cambodia
By Borany Chea and Narath Keo | Senior staff of the This Life In Schools program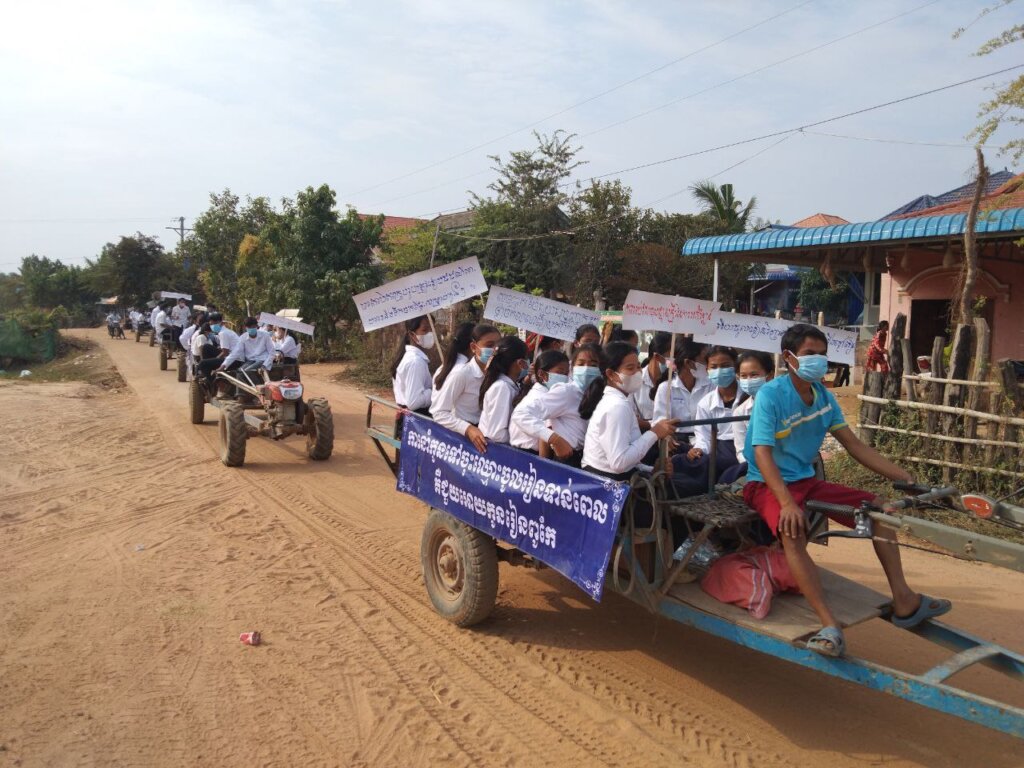 Annual School Opening in Cambodia - 10 January 2022
Cambodia celebrated the opening of school day of schools for the the 2021-2022 academic year on January 10 for all public educational institutions across the country. The Cambodian Prime Minister sent a letter to the Ministry of Education calling on all students, teachers, and parents to celebrate this day. The Minister of Education participated in the school opening day in Prasat Bakong high school as an example; thousands of other schools celebrated at their own sites. With support from the This Life program team, all TLIS schools organized the school opening on the same day, with a total of 5,871 participants (3,496 women). This included 5,087 students (3,082 girls), and also involved local authorities, parents, School Support Committee (SSC) members, teachers and students. The annual school opening day plays an important role in education across Cambodia because it gives students and parents the opportunity to listen to the school regulations, learn the school schedule, and become familiar with the school development plan for the upcoming year.
This Life organised an enrollment campaign in late December and early January in advance of the school opening day event. This event succeeded in mobilising students of all grades to register their names for the new academic year and to remind parents and the community to support their children's learning with study materials and motivation. 2,006 participants (1,174 women) joined the event; this included 1,647 students (980 girls) to join the event.
Before the school year starts teachers, School Support Committees, and Student Council members engage in preparations for the upcoming year. With support from TL, this year the preparation activities included:
cleaning the school grounds and classrooms,
building toilet blocks, establishing handwashing and water systems,
creating school gardens and vegetable plots, and
buying teaching and learning materials, and purchasing hygiene materials such as face masks, alcohol, thermometers, and sanitizing gel to prevent the transmission of Covid-19 in the school community.
Distribution of bicycles to facilitate transport to schools
Additionally, This Life provided 151 bicycles to support the most needy students. Bicycles are critical in enabling the safe and efficient transportation of students to schools; bicycles make increased attendance possible.
Mrs. Sre Oun* - mother of beneficiary students
Sre Oun is 44 years old and lives in a district of Siem Reap province. She is a widower and lives with three children - one boy and two girls - in difficult conditions. Her first child studies in grade 10, and the second and third child are studying in grades 9 and 7 in lower secondary school. They live 5 kilometres from the school.
Sre Oun is a farmer who is very poor. She has not been able to afford to buy study materials or bicycles for her children to go to school. "Sometimes I forced them to stop studying, but they did not because SSC members, teachers, and their friends kept encouraging them to attend. They try hard to go to school by walking there, and they ask friends to go with them", she said.
Sre Oun added that, "I am so happy when I see SSC members and teachers work hard together to support students' learning, as this year my daughter received a bicycle. Not only my daughter, but also other poor children got one, too. I am excited about the school changes such as the nice garden, the good concrete school path, the school fence construction, the volleyball space, and that the water system is good for hand washing and the toilets are clean. All these changes let students learn within a good safe environment".
Sre Oun concluded, "Finally, I promise to try my best to support my children's learning until they finish grade 12. I would like to thank This Life for supporting my children's school to make the big changes that it has made. Thanks also to SSCs and teachers that always work hard to improve the school".
*Name changed for anonymity purposes