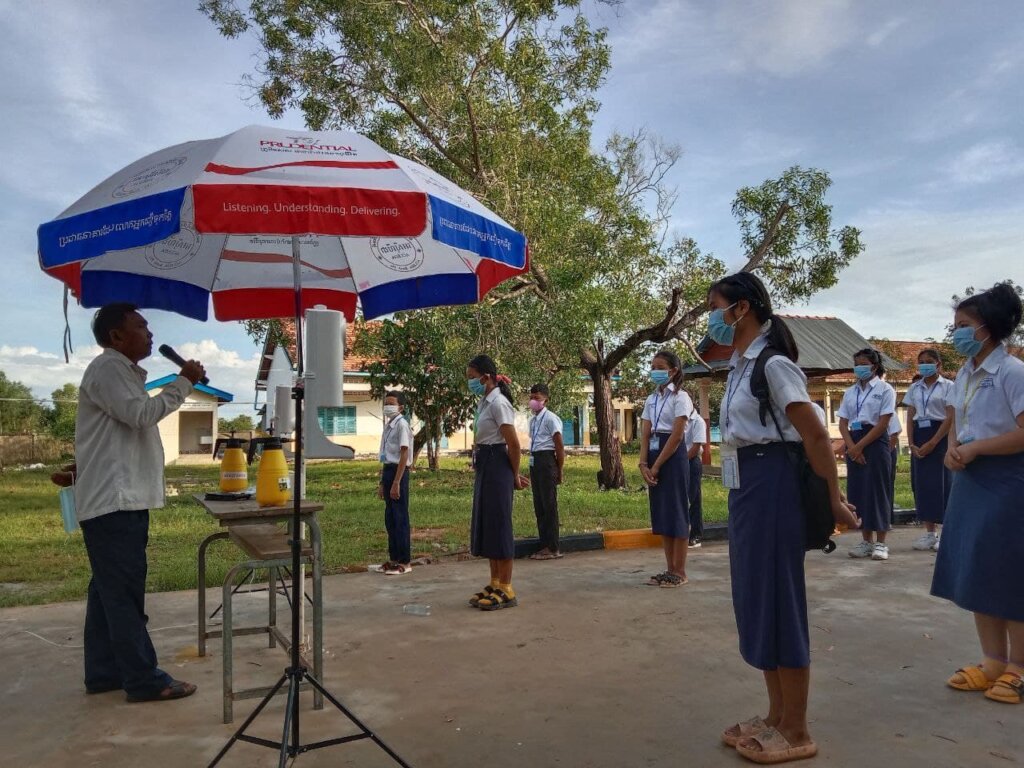 Schools have now re-oped in Cambodia as 80% of Cambodia's population over the age of 12 is now vaccinated, with an even higher percentage of teachers vaccinated. The Cambodian Ministry of Education announced the reopening of public and private schools nationwide from November 1, with a request for strict adherence to COVID-19 measures that were set by the Ministry of Health to prevent infections in classrooms. Each classroom must allow only 15 to 20 students to study at a time to maintain distance. Regular hand washing, mask-wearing are also required and the sale of food inside schools is prohibited.
To support the school reopening in accordance with the principle requirements, the This Life in Schools (TLIS) program team worked with local authorities, SSC, and teachers. Small group meetings were held with parents and students in all villages covered by schools. These meetings and announcements helped them to understand the requirements of schools and what responsibility the parents have. The parents' responsibilities included ensuring their children were well prepared with masks, food, and drinking water to go to school. Schools had to ensure that the school environment was clean which included classrooms, toilets, and to have water systems set up. The schools had to prepare first aid, thermometer, masks, alcohol, hand washing soap, and gels to prevent the spread of Covid-19.
"I feel so happy to return to school because studying with teachers in class is much better than learning online,". She added " Not only me, but my friends also think the same as me too," one student named Seyha said.
Mr. Ey Hang, is the Vice Chief of SSC in Hun Sen Svay Chek lower secondary school and the 2nd Deputy of Svay Chek commune. He became the Vice Chief of the School Support Committee when the program started in early 2020. When the early program started, the SSC members were not fully participating in the school development, his collaboration and relationship with the school were not very strong.
However, after six months of program implementation, he has done a lot of work to serve the community. He has contributed to the improvement of the education sector through close collaboration and active involvement with all levels of stakeholders in both government and NGOs partners. He is very active within the SSC, and has worked to mobilize significant resources from all relevant partners and donated his own resources to support the school activities development plans. His efforts in resource mobilization have been supporting improvement in the quality of education, school environment, school infrastructure, partners' involvement, and increased community awareness of the importance of education.
Mr. Hang said "I am very happy to join the school support committee because I want to help in developing my school and community and I want to see a lot of achievements occurring in the school which improve the quality of education, school environment, and school management. I would like to commit that I am going to participate in all the school's development activities".