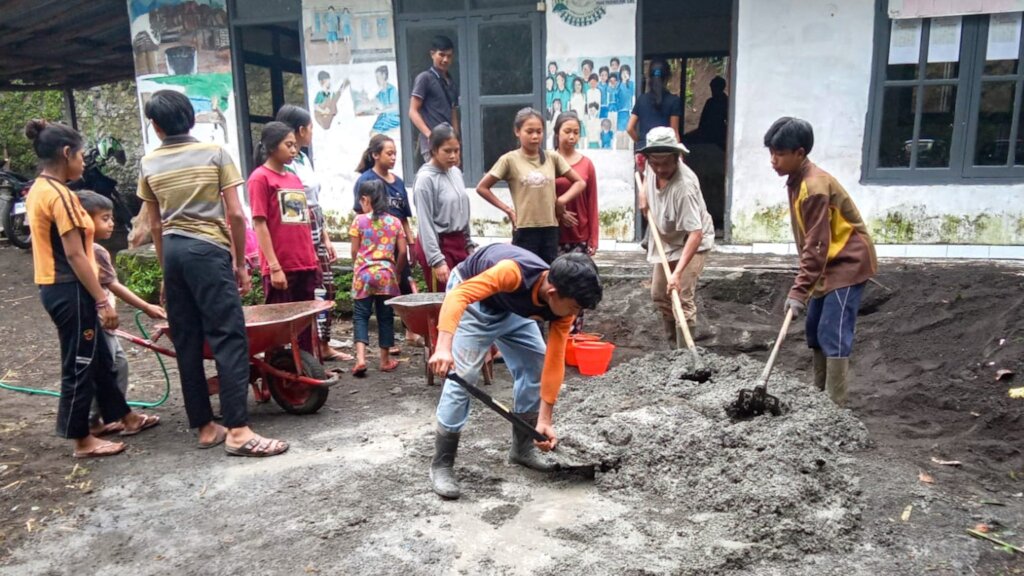 Repair of Pengalusan school building due to landslide
Heavy rains that occurred for several days in December, resulted in landslides behind Pengalusan School, badly damagingthe rear wall. This incident disrupted students' learning because all students and their parents had to work together repairing the building. After the repairs were completed in January, learning activities returned to normal.
Art and Music Classes
In the Art classes, students were given the theme of "Hindu Holidays" to express their love for culture and religion, and learn to draw real objects to hone their perspective skills in painting. They also learn to draw comics and caricatures with the aim of being able to convey ideas, aspirations, and illustrate the circumstances of their surroundings. Meanwhile, in music arts activities students learn according to their level. The basic group learned the basic Cord before playing a song, while the advanced group practiced playingvarious songs together that they will perform at our annual National Education Day event on 2nd May.
Photo Exhibition and Presentation of Problems and Appeals to Government
On 10th February, junior and senior high students along with other EBPP students held a photo exhibition and presentation, for government and traditional village leaders, as part of their extra-curricular EMpower Photovoices program, to illustrate the problems of damaged roads by Jatituhu students and their dangers early marriage, and the involvement of youth and women in traditional village governance by Pengalusan students
Internet antenna installation
To make it easier for students to access information about education and the outside world, in February EBPP installed an internet Wifi antenna to provide easier access for learning resources and information
New English Club
In mid-February, seven Pengalusan and two Jatituhu high school students eagerly joined 7 other EBPP students for our new twice weekly 'English Club', created for students who wished to learn more English! Amazing progress so far!
Guidance and counseling classes
In this program, students receive special services, at the elementary level providing special class assistance for students who are slow to learn in writing and arithmetic and receive personal and group counseling services, as well as discussions about ethics and manners.
Midterm exam
In March, students took the mid-term assessment exams. The results of this test will map their ability to master the subject matter for the last three months.
Thanks to donors for their help and support so that until now this program can still run smoothly for a better future for all students.