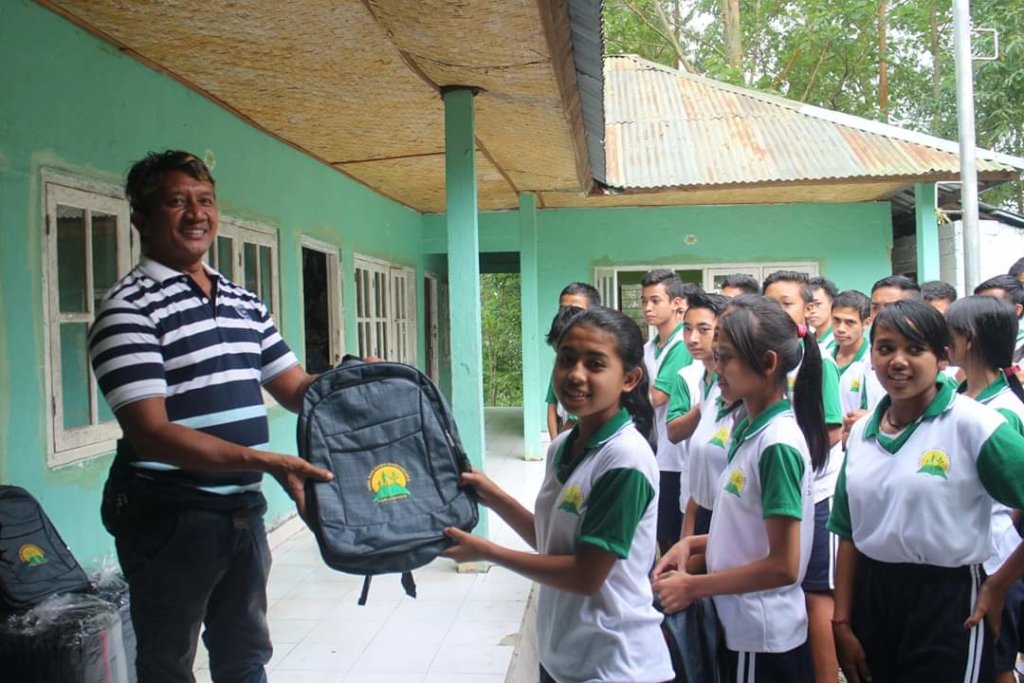 GlobalGiving project report: Due 24 February 2019
Exams, new school uniforms, backpacks, music performances and gender training
November and December 2018 were the busiest months for our Jatituhu and Pengalusan students as they had to work hard for their first semester test before the holiday. After taking their test from November 21st to 25th 2018, the students received their school report books on December 18th and we proudly announce that all students passed their exams and could continue to the next semester. On December 10th the students also received their new uniforms - and they were very excited because they hadn't had any new uniforms since 2016! And finally, better late than never, we were able to present graduation certificates to our students who graduated National exams in June 2018 – and are now in grade one senior high school – after finally receiving them from the government education department.
In their extra curricula EMpower classes the students learnt how to develop a small Business plan as well as financial literacy classes, with a key focus on how to manage money for their life needs. For their EMpower nutrition module, they also learnt how to cook healthy food during a full day cooking class, using local and nutritious ingredients, taught by a local female chef.
To welcome Christmas, December 16th was also a memorable day for our students when they were invited by The Shanti Foundation (a Bali-based NGO) to L-Hotel Seminyak to celebrate their "Loving, Giving and Sharing" event. Some students from Pengalusan and Jatituhu participate in this event, with The Volcano music group from Pengalusan School performing songs "Stop Harassment" and "Thank You", both written and composed by EBPP staff and students.
In order to improve their local culture, the students also keep practicing Balinese traditional dances. They have dance classes once a week outside their academic lessons schedule, from a professional dance teacher from the adjacent village of Tianyar. At the moment, they are learning about and practicing: "Gopala" (fishing dance), "Wirayuda" (war dance), "Pendet" (a welcome dance), "Belibis" (swan dance), "Cendrawasih" (Bird of Paradise dance), and "Jangger" (happiness dance).
In January 2019, EBPP distributed new school bags (backpacks) to all students. This is the first time many of them have ever had school bags and our teachers really noticed higher motivation and diligence among all students – and broader smiles as they arrive at school.
This month, February, a group of our Pengalusan senior high school students are doing extra activities on Saturday mornings: they're presenting, to students of Jatituhu and our other 4 schools, lessons, they studied and practiced for 6 months in their EMpower (youth empowerment) classes in 2018 – that were delivered by our specially trained instructors - in gender equality, patriarchy and sexual harassment,.
Thanks to continuous support from our donors, especially through our Global Giving campaigns, the students are able to have better opportunities in life, due to learning both academic and extra curricula subjects.
Many thanks to Global Giving and all of you who have supported us for the continuation and sustainability of our programs, so that these students in Jatituhu and Pengalusan can continue learning until they can reach their dreams.