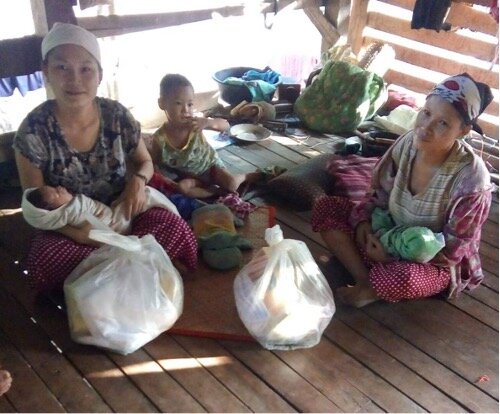 We have recently been able to send more funds to this program, integrating the distribution of Baby Kits in a larger program to provide humanitarian assistance to internally displaced people (IDPs) in Karen state Myanmar. By co-ordinating in this way, the distribution will be safer and will benefit from sharing costs for transportation.
Beneficiaries will be women and communities who have been displaced by army attacks, and those in the conflict-affected areas where daily life has become much more unsafe for women, babies, families and communities.
It is planned to distribute up to 800 kits in the next 12 months. The level of security and risk in each area might restrict access by community workers. Where access is difficult it may be possible to send cash to local leaders to purchase the kit items. The health training is an essential part of the program so the leaders are being trained in advance.
It is estimated that there are currently 350,000 people displaced in Karen state.
While distributing Baby Kits to women identified as a priority, the community workers will provide short awareness raising sessions on maternal and infant health topics. These will be delivered by local leaders and staff using well prepared health education materials. They will conduct discussions with small groups as well as with individuals.
The usual topics will be covered including:
Nutrition
Hygiene for mother, baby and family
Good health for women during Pregnancy, Delivery, and Maternity.
But this time there will be an extra subject covered: security and landmine awareness for mother and family, highlighting the increased risk of landmines and their indiscriminate use by soldiers wanting to confine villagers to certain areas.
As one community leader said: "If one or two mothers benefit from the training, the whole community benefits. As leaders, it is important that we learn too."
Your support ensures that so many people benefit. Thank you very much.