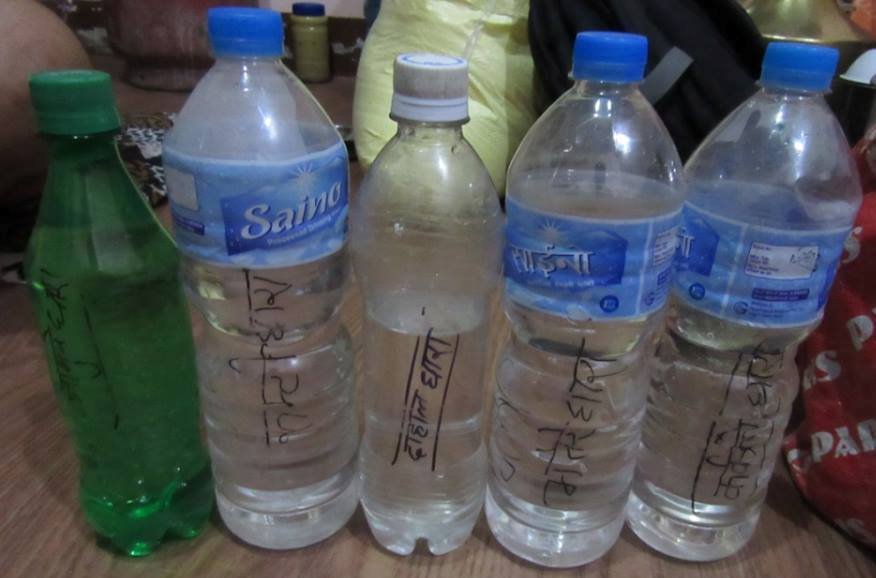 Sindhupalchowk district has reported the highest number of deaths in earthquake of 25thApril, 2015. Ward No. 7 of Barabise VDC, which lies in the edge of Sindhupalchowk, has about 150 households who directly depend on 5 spring sources for drinking purposes. On examining the quality of water, 4 of the spring sources were found positive with coliform contamination. ECCA conducted a day Training (6th June, 2015) on the use of Chlorinator at Barabise-7, Sindhupalchowk with the aim of promoting safe water and prevent the occurrence of water borne diseases in the community.
Around 77 villagers participated in the program, which included local women group members, staffs of 'Bishnu Adhyatmik Sanskrit Bal Vidhyalaya' School, forest user groups and youths. The participants were much anticipated to know about WATA device and how it produces WATASOL (brand name of Chlorine solution). During the session, information was provided on the possible ways of water contamination and the methods of water purification. In that community, only few people were found to use water purification method "boiling", use of chlorine solution was not known to them. Most of the people preferred to use water direct from the source. The reasons being change in the taste of water and time consuming, according to Ms. Dilikumari Neupane (Women group member).
During the practical session, the ECCA trainers (Ms. Merina Shrestha and Ms. Shailena Sthapit) explained the procedure of making chlorine solution by using Standard WATA device. The participants also took part actively and got chance to learn by themselves.
At the end of the training, the standard WATA device was handed over to the Principal of 'Bishnu Aadhyatmik Sanskrit Bal vidhyalaya' School. The filled WATASOL 60ml bottles (300 pcs) were handed over to the women group for distribution to the families. These bottles will be re-used and refilled once the chlorine solution production starts at the local level.
Mr. Baikuntha Nath Dahal, Principal of 'Bishnu Adhyatmik Sanskrit Bal Vidhyalaya' School expressed "We are delighted to have the standard WATA Device in this devastating situation to prevent the community from water borne diseases."