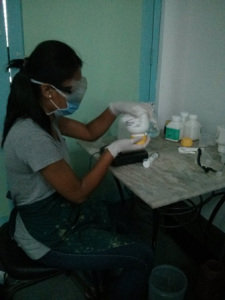 Still after a month since the major earthquake struck Nepal on 25th April 2015 (and another big one on 12th May), the devastation caused by the earthquake continues to hamper the lives of almost 8 million people in Nepal who were affected.
Fearing the outbreak of water-borne diseases, ECCA initiated the production of WATASOL (Chlorine Solution) from the 2nd day of EQ as an immediate response to tackle the possible problem of safe drinking water and sanitation issues in the communal shelters where people are forced to live. The WATASOL produced were immediately distributed for free to the affected families through mobilizing ECCA Volunteers and other organizations who were directly involved with the relief activities. More than 50 active volunteers worked tirelessly in bottling and packaging the chlorine solution along with its distribution in various locations and communal shelters. As of 28th May, ECCA has distributed over 27,000 bottles of 60ml (one to be used in each household) and over 800 bottles of 1 liter (for community water distribution system) chlorine solution amounting to a total of over 2,400 liters of chlorine that can purify 9,600,000 liters of water. Considering national average household size of 5 person, around 200,000 people have benefitted for a month
Nepal being a developing country consists of many rural areas with mud houses. Almost all of such houses collapsed due to the earthquake, turning entire villages into rubble. The nearing of the monsoon season and frequent landslides has piled up the long list of difficulties faced by the victims. The weather itself has been relentless with harsh winds and thunderous rains. Hence, keeping the need of shelter in mind, ECCA distributed over 1300 units of tents & tarpaulin to families in rural areas, from which more than 6500 people benefited.
Distribution of CGI sheets and Self Help kits made the life of rural people easier in this time of disaster, where people were looking for temporary shelter for their families.
Distribution of over 100 sets of water filters benefitted over 500 people.
ECCA also distributed over 850 Food Packages to people in the devastated areas, from which over 4,500 people benefited.
ECCA relief work was conducted in Bhaktapur, Dolakha, Kathmandu, Kavre, Lalitpur, Nuwakot, Ramechap and Sindhupalchowk Districts. The distribution of relief supplies were only possible through the support of various organizations including Globalgiving Foundations (US & UK) and many individual supporters.
We would like to thank all our supporters and donors for helping us in our initiation of relief and recovery activities after EQ. Without your help and support, we would not have been able to achieve success in helping the EQ affected families.
Immediately after the earthquake (for a month), ECCA focused its resources in relief works. Now, ECCA is focusing on recovery works in the schools and the adjoining communities.