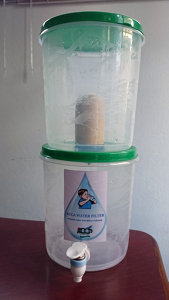 There is no disagreement that Water could be a simplest and easiest medium to get infected or transmission of various viral diseases in the current situation of natural disaster. Hence, use of safe water for various purposes in our day to day life needs to be carefully monitored and precautions need to be taken. Scarcity of water at various locations is seen due to disturbance in water distribution system. Hence, distribution of various point-of-use water treatment options like water filter and WATASOL (chlorine solution) has been intensified by ECCA. In coordination with various organizations, water filters are being distributed in various earthquake affected locations.
An orphanage located in Jharuwarashi, Lalitpur, sheltering 62 children were provided 10 sets of filter along with 10 pc of water jar for storing and carrying water. Due to the earthquake, the water storage tank got damaged and water well dried, threatening continuous supply of water for the daily use of children. Through the use of filtered water for drinking purpose, the children are now ensured to have safe water as well as far reach of water borne diseases.
Similarly, 10 sets of filter were distributed to the residents of Nuwakot where families were forced to live in communal shelters due to damage in their houses. In coordination with another organization NCCN, 3 filters were distributed in Madhyapur Thimi, Bhaktapur, where 65 people were sheltered in tent. "The health condition of people in the tents were not good and they have no access to safe drinking water and proper sanitation. Most of the children started to get illness day by day", Ms. Roni Shakya, one of the volunteers of ECCA and member of NCCN briefed the condition of communal shelter in Bhaktapur. "Distribution of these filters have ensured the availability of safe drinking water to the families living outside in tents", she further added as she took the responsibility for the distribution of filter in Bhaktapur. Safe water for drinking purpose in these communal areas became a big challenge which was tackled through installing the filter in the community.
In coordination with Himalayan Crossroads, 30 sets of filters were distributed for the EQ affected families in Chokati village of Sindhupalchok District and 40 sets of filters were installed in the community shelter at Kathmandu, where families displaced from Sindhupalchok were rehabilitated.
The water filter that ECCA has been assembling, is prepared by using silver colloidal treated ceramic candle, which ensures the purity of water upto 99.99%
Thank you for your support. Your generous donations are extremely valued.
Thank you & Regards,
Angel Chitrakar, Priyanka Ghale & Palistha Shrestha