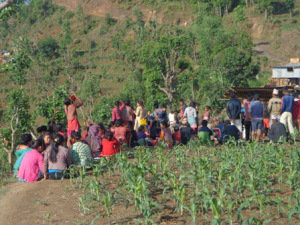 On May 10, 2015 ECCA team left early in the morning for Kudare, Ward 1 of Kunchowk V.D.C. and Shyanbho of Chautara Municipality both in Sindhupalchowk district.
When the ECCA team reached there, the villagers welcomed them gratefully and gave their full cooperation throughout the distribution. ECCA distributed food ration (a sack of rice, salt, lentils, oil and sugar) to 52 families in Kudare and to 18 families in Shyanbho.
A local from another ward (# 2) came to the distribution site and demanded some of the supplies to be sent to his ward as well. After a small discussion, the locals from both the Wards were able to reach an understanding. All the relief materials were left under the care of the locals from Ward 1.
"Everything was going smoothly with the distribution but it halted abruptly in the middle with the meddling of a local person from Ward 2. He went as far as to threaten us. He said, the next time we bring relief materials, we better bring some for them as well or else ….." Ashish Maharjan, a volunteer from ECCA said with disbelief. He said he hadn't expected such threats while distributing the relief materials.
"After everything was over, the locals parted with us with great respect. Before I left the village, they gathered around and presented us with a Khata, a small token of their gratitude they said", Ashish reminisced with joy. He felt overwhelmed at their response.
The return back was obstructed by heavy rainfall and storms. Due to the damage of the roads and the high probability of landslides, the ECCA team decided to stay back in the village. Our volunteer spent the night in Mr. Suman's tent (as his house was also damaged in the quake) and returned the next day. Mr. Suman is a local person who had come to ECCA requesting assistance. ECCA is thankful to Mr. Suman for his understanding and cooperation.
This trip was initiated as per the request of the local villagers. Many more programs are being conducted based on the request of the local villagers. This ensures that the relief materials reach the villagers.