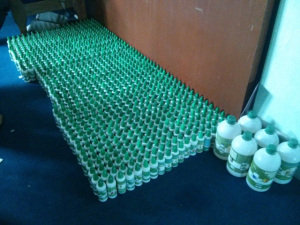 Over 8 million people have been directly affected by the earthquake that took place on April 25, 2015 in Nepal. The rapid development of the cities has left the citizens with very few options for open areas. Resulting, people are forced to reside in tents in a congested open space. There is a high probability of using contaminated water and there are no proper sanitation facilities. In the aftermath of an earthquake, water borne diseases are most easily transmitted.
Keeping this in mind, ECCA started production of chlorine solution (branded as WATASOL) from the very next day of earthquake. WATASOL production is being done by using all the available WATA devices, as per the technology developed by Antenna Technologies Switzerland. ECCA is distributing WATASOL in bottles of 60ml and 1 liter. WATASOL is tested for quality before distribution. Many volunteers came forward to support in the bottling and packaging of WATASOL.
Till 5th May, 854 liters of WATSOL have been distributed in the affected area through ECCA volunteers, through members of Rotaract Club of Himalaya Patan, through the relief team of Teach For Nepal and Early Childhood Education Centre and many other civil society organizations and international agencies.
Without fearing the downpour of rain, the energetic youth volunteers actively supplied WATASOL in communal shelters and camps located at various locations of Kathmandu valley (Lubhu, Thaiba, Harishiddi, Badegaun Kalanki, Dhapakhel, Sanagaun, Naykhuchowk, Sankhu, Chyasal, Gwarko, Nagbahal, Ombahal Dhapakhel, Lagan, Gabahal, Pulchowk, Lagankhel, Masini Gaun, etc.). Outside Kathmandu Valley, WATASOL was supplied to the affected communities in Sindhupalchowk, South Lalitpur, Barabise, Chandragiri, Ramechap, Chisapani, Chapagaun, Nagarkot, etc.
WATASOL was supplied for use at the Patan Hospital as well.
In coordination with ICIMOD, ECCA distributed 100 liters of WATASOL in Gorkha, Kavre, Bungmati and Godavari.
In addition to WATASOL, water filters embedded with silver colloidal treated tulip filter candles were assembled in ECCA and 30 such water filters were sent to Chokati VDC, Sindhupalchowk in coordination with Himalayan Crossroads. These water filters can filter murky water to remove impurities.
Thank you for your support. Your generous donations are extremely valued.
Please follow us at http://eccablogs.wordpress.com/ and like our facebook page to get updates. We also look forward towards your valuable suggestions and comments regarding our works.
Thank you & Regards,
Prachet Shrestha