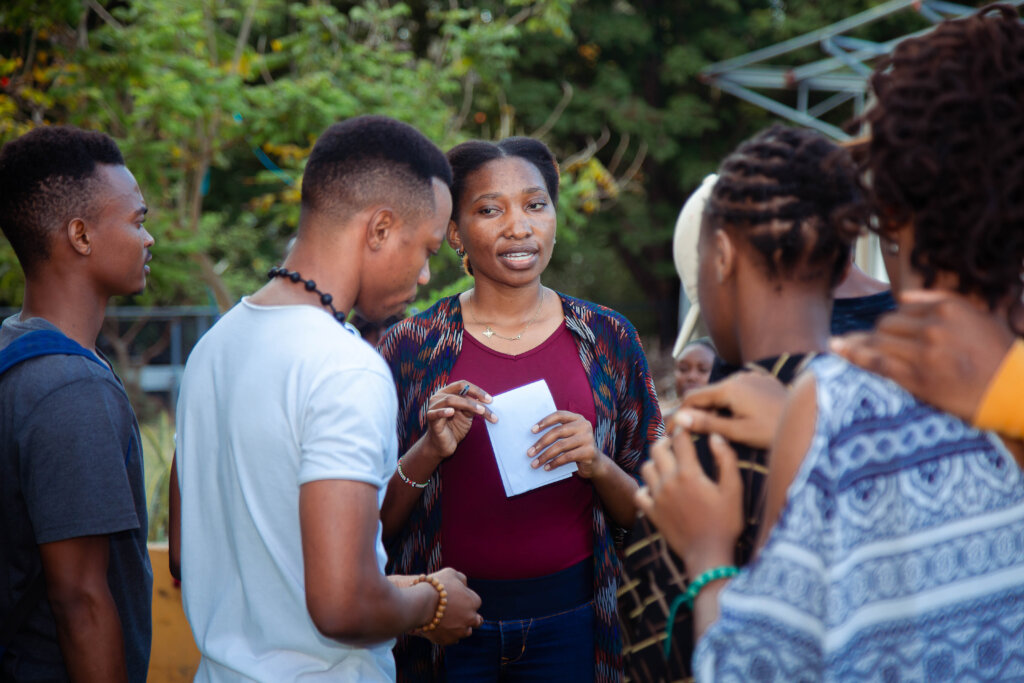 The Nafasi Art Space team would like to wish a Happy 2023 to everyone and take this chance to express our gratitude to the GlobalGiving community for always supporting Nafasi Art Space. Gratitudes to the board members, management, artists members, academy & film club participants who contribute to different activities taking place at Nafasi Art Space as well as sharing Knowledge and experiences towards the achievement of Nafasi Art Space goals and objectives.
The last quarter of FY22 had major changes in management with transition of Rebecca Corey as managing director to incoming Lilian Hipolyte Mushi as well as establishment of Monitoring & Evaluation department which indicates significant growth and adaptation to changes at Nafasi Art Space as an organization.
Nafasi Art Space report will focus on reporting progress made during the last quarter period of November- January 2023 where there have been a number of achievements made during the reporting period;
Completion of Nafasi Academy 2022 cohort where 9 artists graduated from the Nafasi academy program
Hosting the Digital art residency and exhibition for two artists from Tanzania & Kenya respectively.
Completed a fundraising campaign to reach the goals of 10,000$ for one fundraising campaign whereas Nafasi Art Space has been able to collect a total of 11,089.45$ was collected through GlobalGiving fundraising campaigns
Social media followers on Instagram and Twitter have continued to increase from 13,687 to 14,541 and 1,300 to 1,317 respectively.
Google Business profile has continued to gain engagement with the audience through Interactions, website clicks, direction and call for people who are interested to know about Nafasi Art Space.
Nafasi Art Space newsletter followers has increased as a result of audience attending to our events, workshops gaining 125 subscribers amounting to 4325 subscribers
Staff have also benefited from Capacity building on staff Branding, effective communications & excellency customer service delivery.
Artistic skills and professional development
Nafasi Art Space has continued to facilitate theoretical and practical sessions under the Nafasi Academy and Film Club which have been our core programs during the reporting period i.e. in the academy emerging artists received training on how to professionalize their career to become successful entrepreneurs through their talents as well as in Film Club where they have been developing their film scripting skills, industry insights, scouting locations for developing their short films (a minimum of 10 films have been created, 9 films were short films were showcased at the final event) this has increased awareness and attracted many emerging artists who are looking for opportunities to develop & professionalize their career in the creative sector.
Moreover, Nafasi Art Space has continued to use social media platforms as source of sharing opportunities and reaching out to its audience whereas during the reporting period open calls campaigns were conducted for Nafasi academy 2023 Curatorial and art management, Artists In residence Programs and the Feel Free grant program whereas through that 117 applied for the residencies, 37 applied for the Curatorial art management programs and 75 applied for the Feel Free Grant program respectively.
Visibility of Tanzanian art is improved nationally, regionally, and internationally
With the increase and consistency sharing of Nafasi Art Space day-to-day activities through website & social media platforms i.e newsletter, instagram, twitter and Facebook where it has become the most useful tool for communication which has resulted to increase of awareness and visibility of the Nafasi academy & film club programs to other emerging artists, organisations and potential stakeholders who have showed interest to join and collaborate with Nafasi Art Space in the coming programs
Capacity Building and Staff development
During the reporting period Nafasi Art Space facilitated two workshops for Management team on Branding, effective communication and excellency customer service whereas these session have been insightful session and open mind to the staff on learning different procedures on developing brand identity, communication skills within the team and outside and thus has smoothen implementation of other projects with different funding from other donors.
Partnership and Networking between cultural creative sector
Nafasi Art Space has continued to maintain its relationship with Tanzania Art & culture Council i.e National Art Council (BASATA) & National Kiswahili Council (BAKITA) by collaborating and inviting them to a panel discussions to engage & exchange with artists and learn challenges that artists are facing on accessing their services and what could be done to address them one representative from each council attend the panel discussion that was organised at the year-ending final even

CONCLUSION
In the coming quarter FY2023 Nafasi Art Space is looking forward to implementing the Nafasi Academy program on Curatorial and Art Management, Feel Free Grant as well as soft Launch of the Nafasi Art Space Digital Application which will enable Tanzanian artists to showcase and sell their works through digital platform.
Moreover Nafasi Art Space is looking for more effective communication through Facebook & Twitter as better media to reach a diverse audience, improve call to actions to attract potential stakeholders to participate and engage with Nafasi Art Space activities.