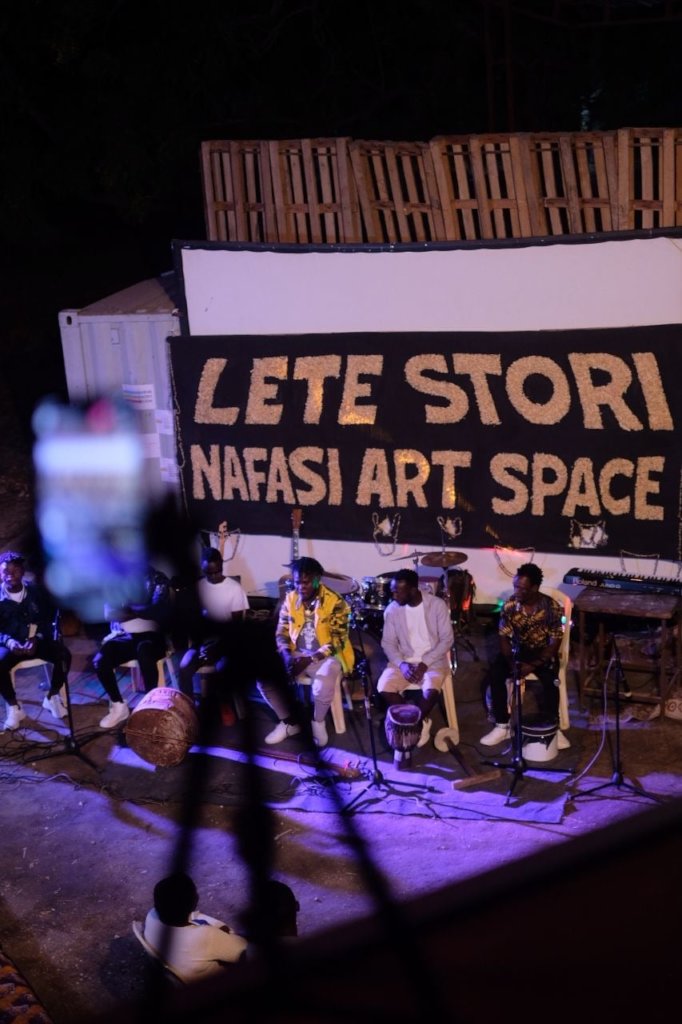 Nafasi Art Space as a community space has continued to promote art and cultural programs for wide populations across Tanzania. During the pandemic, Nafasi has been an important creative hub for people from diverse regions to exchange, inspire and open constructive conversations on different socio-economic issues across the continent and the world at large.
The contributions you have provided over the past months has allowed us to build up our community and get more people involved. We have developed successful activities which we hope to continue in the future, including:

During this period the Nafasi Academy Space was opened up to ten local photographers, who were offered two weeks of intensive training by industry professionals John Fleetwood (South Africa) and Nicholas Calvin (Tanzania). In doing this, the photographer's were given a chance to reflect on the art of photography and uncover their individual artistic expression. As commonly seen in our spaces, DemocraSEE combined professional development and creative work, bordered by engaging conversations and networking opportunities. More highlight on Facebook.
During the period, we also launched Lete stori or "Bring a story", a new performing arts event at Nafasi under Tukutane Nafasi. This innovative approach was conceived by our performing arts manager Kwame Mchauru, who has mentored and supported dozens of young artists over his long career in the music industry. Through his active mentorship, he has found that Tanzania's young musicians are truly inspiring, with many beating the odds to pursue their passion for music and succeed in a tough industry for underground acts.
Nafasi Art Space has proven to be a haven for artists such as these, many of whom are eager to incorporate traditional sounds, rhythms and instruments into live performances, "lete stori" brings these artists into the spotlight, not only to play their songs, but also to share the personal stories of their journeys in music. These were just a couple of a series of events we have organized over the past three months that bring together different artistic elements such as art exhibitions, performances, film screening to promote participation in culture, strengthen community and build a shared sense of cultural pride.
Nafasi Art Space, as a creative partner, had the privilege to host a hybrid physical-virtual artistic experience from the "Lost + Found " a 5-week interdisciplinary residency facilitated by the East African Soul Train (EAST) invited 13-artists from around the globe to co-create a process virtually that inspires them to play, share perspectives, challenge their peers, take risks and create new collaborative work, for on and offline audiences. The residency explored the theme 'lost + found' bringing together artists from wide range of disciplinary including: Theatre, technology, visual art, music, fashion and poetry. Two of the artists were Tanzanian, Zuhura the African Lioness (Poet/Voice over artist) & Valerie Amani (Curator & mixed-media artist) where art pieces made during the residency were projected in three different spaces, each one carefully prepared under the direction of Nafasi visual arts team members Fifi Mbogho and Rhoda Kambenga.
Our major project this year was the Nafasi Academy programme on curatorial practice and arts management with 13 participants who receivd training in theory, management, and the practice of organising and creating cultural experiences. On July 10, 2021 we were able to host final event where they had the opportunity to showcase the ideas and projects that have been developed during the program.
Our plan is to increase the number of art and culture activities we run at the community, so that we attract a wider range of people, and to focus especially on activities that are inspiring and impact changes to the community, we would like request your continuation support us through contributions to be able to be sustainable during the crisis.
Find us on social media platoforms and continue to engage with our activities through: Facebook, Instagram @nafasiartspace. Website: https://www.nafasiartspace.org. We hope you will continue to follow and support our work.