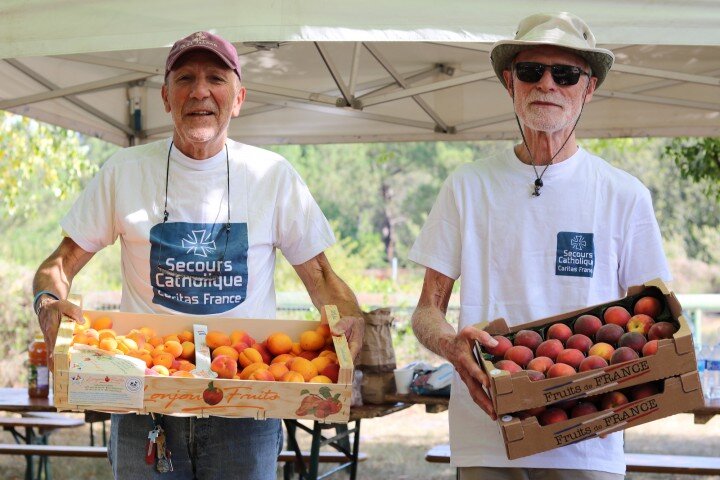 Fires have been ravaging the Landes forest for several days between Bordeaux and the Atlantic Ocean. In the south-west of France, nearly 20,000 hectares of pines went up in smoke, several campsites and houses were destroyed. Mor than 34,000 people, residents or vacationers, had to leave their homes due to the two fires in Teste-de-Buch and Landiras, which did not cause any casualties.
About 2,000 firefighters are currently mobilized on the ground. Volunteers from Secours Catholique in Gironde are present to support firefighters and affected populations, mainly through logistical assistance. Accompaniment and listening to victims will be carried out in a second step with the establishment of psychological cells.
"Today, what has been accomplished by the volunteers of Arcachon consists of pure and hard logistics: the volunteers have been called upon since the start of the fires to prepare and serve meals to the victims, and to support the firefighters who are fighting against fire. There are no real logistics to help them", explains Emmanuel Delfino, Secours Catholique employee in the Arcachon basin. However, he notes "an outpouring of solidarity and generosity " from the start of the fires on July 12.
Indeed, our volunteers immediately organized themselves to serve them meals. At La Teste-de-Buch, the outpouring of generosity was great: bakers donated bread and our volunteers made sandwiches to distribute to victims and firefighters mobilized on site. And in Landiras, in the south of Gironde, Secours Catholique teams provided sheets, clothing from the solidarity shop and hygiene products to the victims who were accommodated by the public authorities.
PRESENT AT THE TIME OF RECONSTRUCTION
According to firefighters, it could still be several weeks before the fire is completely extinguished. The damage is likely to be colossal. The tourist economy has been hit to the core! Seasonal workers have lost their jobs, campsites have been burned down, residents are already worried about the upcoming summer seasons.
Secours Catholique will be there to help the victims and heal the wounds in Gironde. "With our Fraternibus, we will again meet the neighborhoods of Teste-de-Buch where there is also a lot of precariousness. New problems will appear, that's for sure..
We will be there when the time comes for reconstruction in the coming months.
Links: