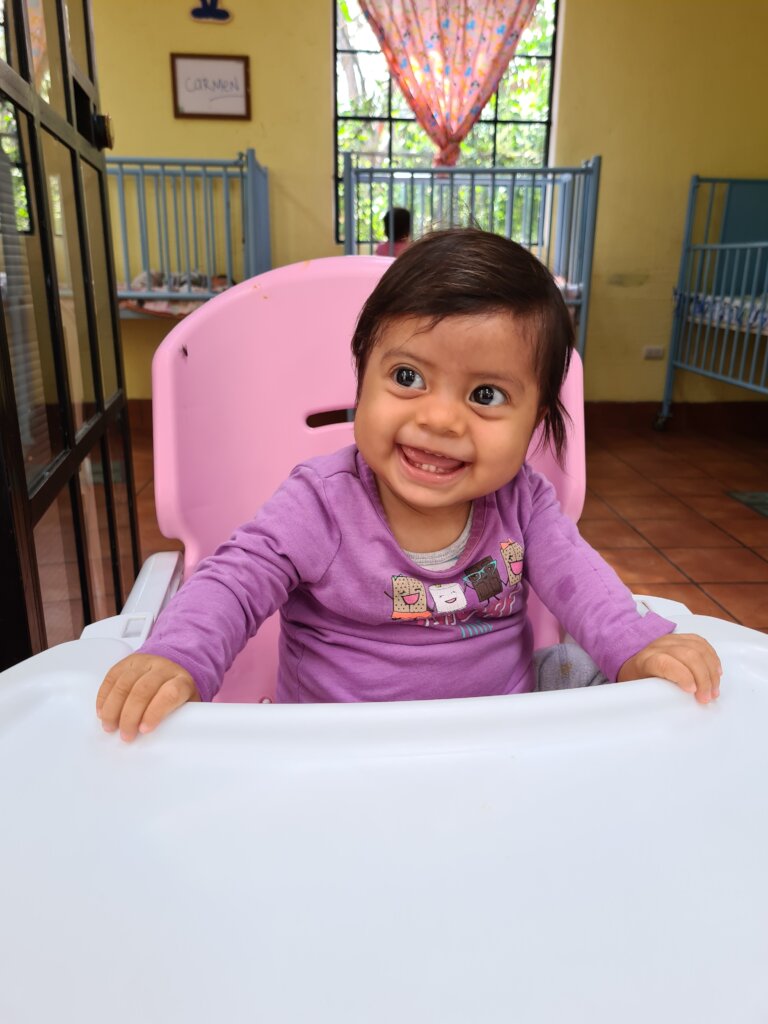 In June 2021 we received the great news that María del Carmen, one of our baby-patients in Casa Jackson, was finally ready to go home. She had been in Casa Jackson for 3 months and 9 days and had gained 4 lbs. 15 oz. (2.2kg) which was 40% of her initial weight. The Casa Jackson staff and volunteers were delighted at the progress María had made and were extremely confident that María had turned a corner.
Unfortunately, at the beginning of October, we received some sad news. Just four months after leaving Casa Jackson, María was malnourished again. Not only that, but she was also suffering from a number of infections and rashes due to the conditions in which she was living. The lady who was supporting the family, Susan, was very worried and contacted us to see if María could come back to Casa Jackson along with her older sister, Estelita, who had also been a Casa Jackson baby-patient in 2018.
When María and her sister came to Casa Jackson for a check-up they arrived in bad shape. Both were extremely dirty and had a number of rashes, insect bites and an infection in their eyes. Before they could be weighed and measured, they both needed to have a bath to clean them up. They were also severely malnourished based on clinical signs, meaning that their weight to height ratio was acceptable but that they showed physical signs of malnutrition. They were both put on a special diet and given antibiotics so they could once again begin on the road to recovery.
In the month that the girls have been at Casa Jackson they have both gained weight. Estelita has gained 11 oz. (0.3kg) and María has gained 1 lb. 12 oz. (0.8kg). They are both looking much healthier and no longer showing signs of malnutrition. María is still taking antibiotics for her eyes, which are taking a little while to get better, but Estelita is much better now.
We want to make sure that this improvement is long lasting, however, as this is Estelita's and María's second time in Casa Jackson. Their older brother, Valerio, has also been a patient in Casa Jackson before. Our Padrinos department decided to make the hour-long trip to visit the family to see what the best way to support this family was. They discussed with Susan and the family and are now in the process of finding the family a new house which will not have a dirt floor and will give the girls somewhere dignified to stay. They also had discussions with a pastor in the local area who wanted to help the girls' father to find a secure job to be able to provide for the family. We are hopeful that we can implement these changes before the girls leave so that they will no longer be at risk of returning to Casa Jackson for a third time.