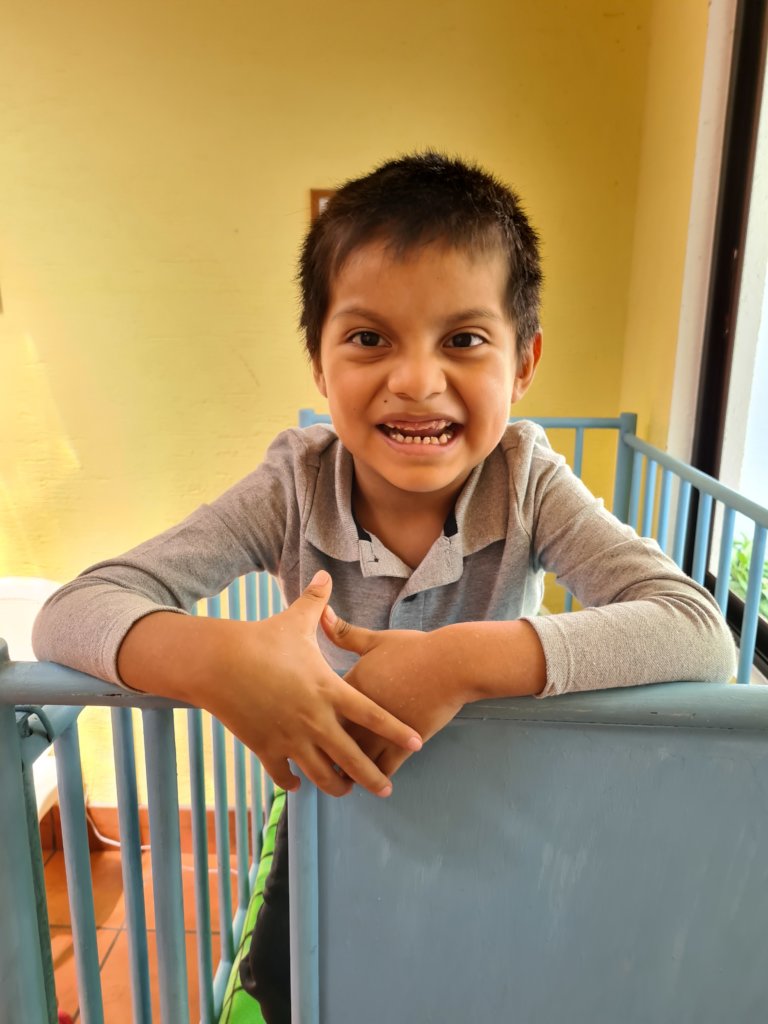 If you have visited Casa Jackson in the past year and a half or have interacted with our social media page, then you will have met our longest-serving patient in Casa Jackson, Angel.
Angel arrived at Casa Jackson in February 2020 after being referred by the PGN (Guatemalan Social Services). His mother had abandoned him as he was too much of a burden for her to look after. Angel was aged around 6 and was unable to walk or talk. Since then Angel has spent over 500 days in Casa Jackson and the progress he has made has been astounding.
When he arrived, the prognosis for Angel was not good. It was doubtful that he would ever be able to walk or talk. He was also unable to focus his eyes. However, after sessions with our staff and volunteers Angel is now not only able to walk completely independently but can also say a number of key phrases to let staff know of his needs. He is also able to communicate non-verbally through actions and symbols to get his point across. Angel eats and dresses himself independently as well.
On top of that Angel has also gained a significant amount of weight since arriving at Casa Jackson. At the most recent weigh-in Angel had gained 16 lbs. 3 oz. or 66% of his initial weight.
So why is Angel still at Casa Jackson? He is actually no longer malnourished and has not been since around April 2020 but has not been able to leave. This is because due to COVID-19 Angel seems to have fallen through the cracks of the Guatemalan Social Services. He was required to go to a children's home but that home needs to be able to match his needs and provide him with further speech and physical therapy and, as of yet, that has not been possible.
This story may well have a happy ending, however. Angel has an upcoming hearing to attend with the goal of finding him an adoptive family to live with. It seems that there is already a family lined up to take Angel and we just have to wait and see if they are suitable. It is no less than Angel deserves, as he is a wonderful child who brightens up everyone in Casa Jackson's days.
When the time comes for Angel to join his new family it will be hard to adjust. Many staff members and volunteers alike have become extremely fond of Angel and how he is part of the furniture at Casa Jackson. It will definitely be strange to walk into Casa Jackson and not hear Angel's voice shouting 'hola' to you, pointing to the nurses to show who has arrived. Nevertheless, everything we do at Casa Jackson is for the benefit of our patients and the time has come for Angel to start a new life with a loving family. We can't wait for Angel to finally get what he has always deserved.