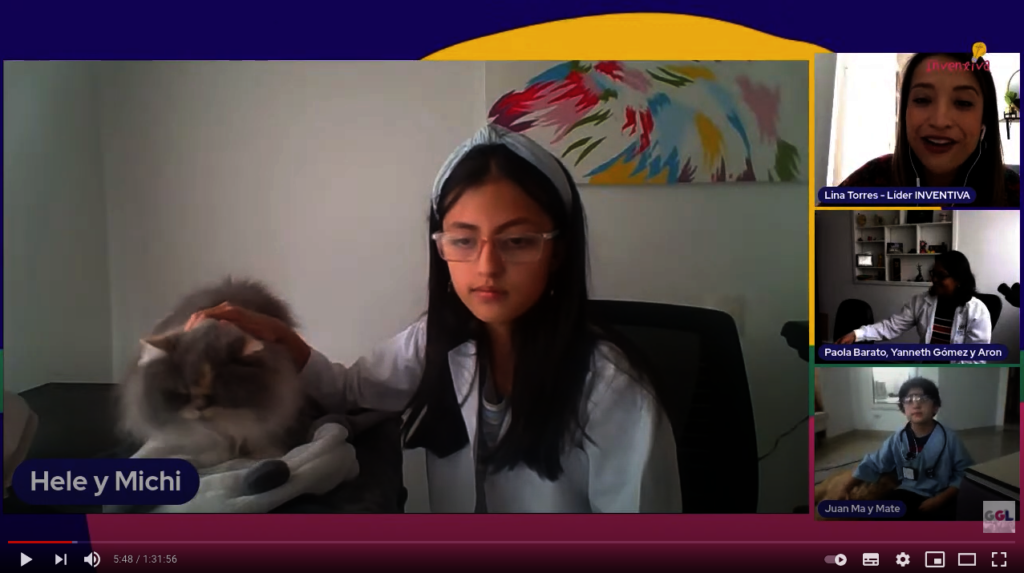 Hello dear donors.
We are always grateful for your support of our initiative, Geek Girls LatAm has just completed 5 years of legal constitution as a non-profit organization in Colombia, and its impact continues to spread thanks to the help of allies like you.
I am very excited to tell you about our past adventure, where up to 250 girls and boys between the ages of 7 and 13, from differents public schools, connected to a livestream via YouTube to learn with their pets (we are pet friendly, hahaha). In this world where children are faced with the COVID 19 situation, there is concern that it is also infectious for their pets, so we unite the magic of science, the trend of the moment, and our creativity to connect the little ones with a quick and fun science journey. They learned about the basics of cell biology. Our role models, shared with them about the mucociliary apparatus (eukaryotic card) and they taught how to prevent pets respiratory diseases at home. Girls and boys was vet for a day!
Under the leadership of Lina Torres, another chapter of INVENTIVA was made. During the episode we have the participation of Yaneth Gómez, veterinarian and founder of the Mujeres AGRO, and PHD Paola Barato, Executive Director of CORPAVET, she is one of the 25 emerging scientists of Latin America, according to the 3M company ranking. Thanks to them for their willingness to share this fun workshop with our audience. BIG thanks to Juanma and Hele our little guests, as well as Aron, Michi and Mate the most photogenic furry.
The episode reached up to 1000 reproductions after the trasmision. Once again Geek Girls LatAm connect their purpose with more purple hearts, man and woman that persue the equity in STEAM fields.
Don't miss the Episode in our YouTube channel!
Soon we will deliver more INVENTIVA chapters to the world.
#WeAreGeekGirlsLatAm
//// Spanish ////
Hola queridas y queridos amigos Geek Girls LatAm
Siempre estamos agradecidas por su apoyo a nuestra iniciativa, Geek Girls LatAm acaba de cumplir 5 años de constitución legal como organización sin ánimo de lucro en Colombia, y nuestro impacto sigue extendiendose gracias al apoyo de aliados como ustedes.
En esta oportunidad estoy muy emocionada por contarles sobre nuestra pasada aventura, donde hasta 250 niñas y niños entre los 7 a los 13 años se conectaron ((en vivo)) para aprender junto a sus mascotas sobre los conceptos básicos de la biología celular, y conocieron sobre el aparato mucociliar (cédula eucariota) para aprender a prevenir enfermedades respitatorias de las mascotas con las que conviven en casa. En este mundo donde los niños y las niñas se ven enfrentados a la enfermedad del COVID 19, hay preocupación de que esta también sea infecciosa para sus consentidos, así que unimos la magia de la ciencia, el tema del momento y nuestra creatividad para conectar a los más pequeños con esta temática. Ellos fueron veterinarios y veterinarias por un día!
Bajo el liderazgo de Lina Torres, se realizó un capítulo más de INVENTIVA, nuestra serie de programas en Youtube para aprender haciendo sobre ciencia y tecnología. En esta oportunidad contamos con la participación de Yaneth Gómez, veterinaria y fundadora de la comunidad Mujeres AGRO, y de Paola Barato, Directora Ejecutiva de CORPAVET, y una de las 25 científicas emergentes de América Latina 2021, según la empresa 3M, gracias a ellas por su disposición para compartir este divertido taller con nuestra audiencia Gracias TOTALES Juanma y Hele nuestros niños invitados, así como a Aron, Michi y Mate los peludos más fotogénicos.
En diferido logramos llegar hasta 1000 reproducciones de este espectacular capítulo. Conectamos una vez más nuestro propósito con más corazones púrpura, con hombres y mujeres que buscan la equidad en las áreas STEAM.
El episodio en diferido puede consultarse online en nuestro canal de YouTube ¡no te lo pierdas!
Les llevamos en el corazón
#SomosGeekGirlsLatAm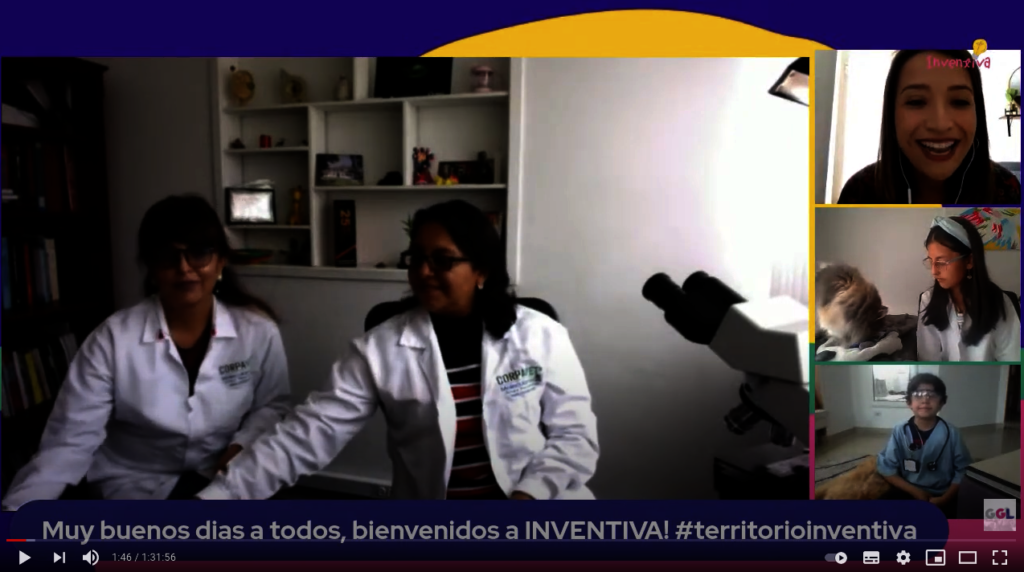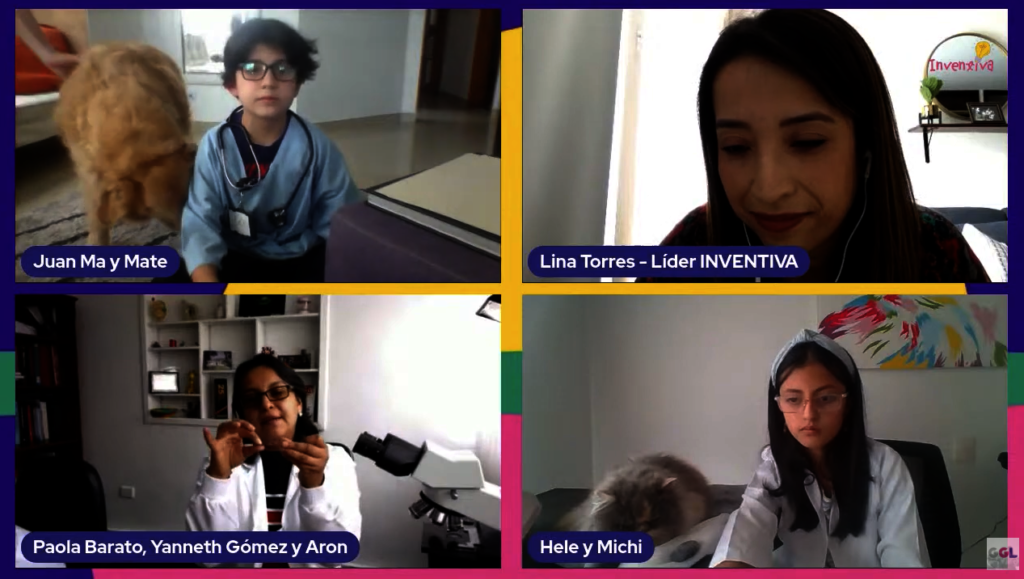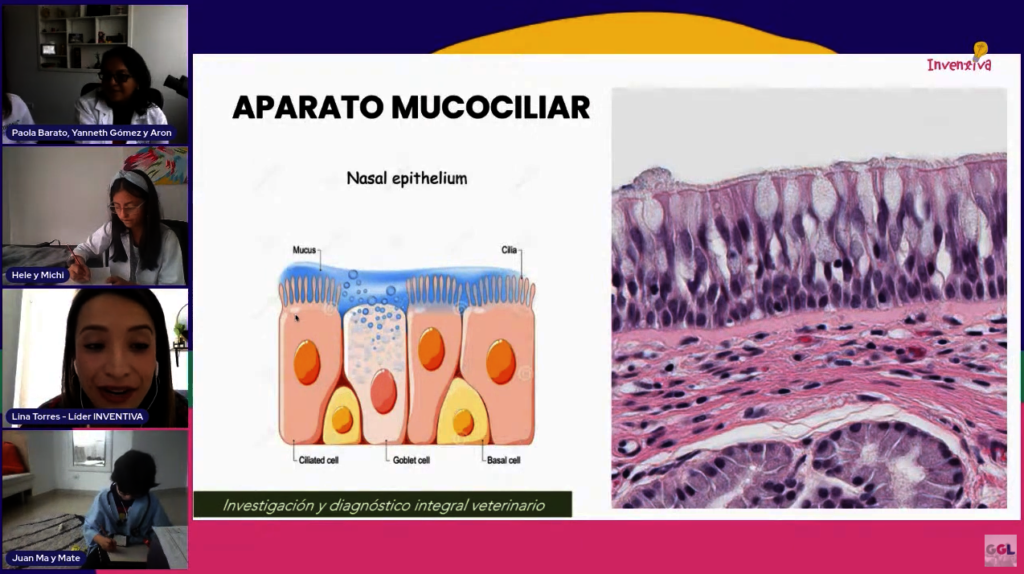 Links: