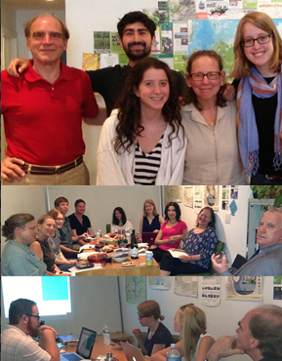 Hello to all our generous donors!
We've had a very good summer with new projects and new contacts made globally, thanks to your support. Perhaps you have noticed GlobalGiving's special 100% match of new recurring donations in August – give 4 months in a row and Green Map receives twice as much – follow the link below for details, and thank you!
Summer projects highlights:
A newly released Social Media Guide for Green Mapmakers (and model NYC campaigns on popular platforms). Low cost, fun and effective! This guide has 3 goals – 1) help Mapmakers promote their maps, events and activities to new audiences, 2) provide an in-house template for their volunteers and interns, and 3) link their promotions to the global network's social media. We tested out our guide with a new campaign:
Impacts Month! We've been posting stories from our 2009 Impacts book on Pinterest, Twitter and Facebook (link below), and gathering new stories to update the book from Baltimore, Cape Town, Curitiba, Geneva, Guangzhou, and Gyeonggi-do with more to come! We aim to release the freshly expanded book in 2013.
Infrastructure Improvements! We have been making important upgrades to the award-winning Open Green Map, our interactive 'social mapping' platform, now used in 37 countries to create easily shared, readily updated maps that are open public suggestions, images and viewpoint maps. Once these upgrades 'go live' in September, we'll fill you in on what's been accomplished and the next phase of this ever-growing platform. Your support makes a crucial difference here!
We have also had fun (serious fun) providing "Adapting to Change" cycling tours and maps highlighting Hurricane Sandy's impacts and community resilience solutions on NYC's Lower East Side (see the Facebook page linked below, with both interactive and printed maps – Spanish edition to come!). Open to everyone, our next tour will be September 27. It's an official NYC Climate Week event and part of 10 Days of Climate Action.
We had a terrific Board Reunion this summer and its 'knock-on effects' keep growing. It was a great season for meaningful, inspiring meetings, and for fabulous interns who did so much to advance our work, locally and globally! Visit our blog at GreenMap.org/news any time for more news.
Share our work on your social media (our Twitter handle is #GreenMap) or send our introductory slideshow (below) to generate interest in starting a new Green Map project!
Impacts Month & GlobalGiving's Match continues through August. We'd like to thank you, and wish you the best as the seasons change.
Links:
Attachments: