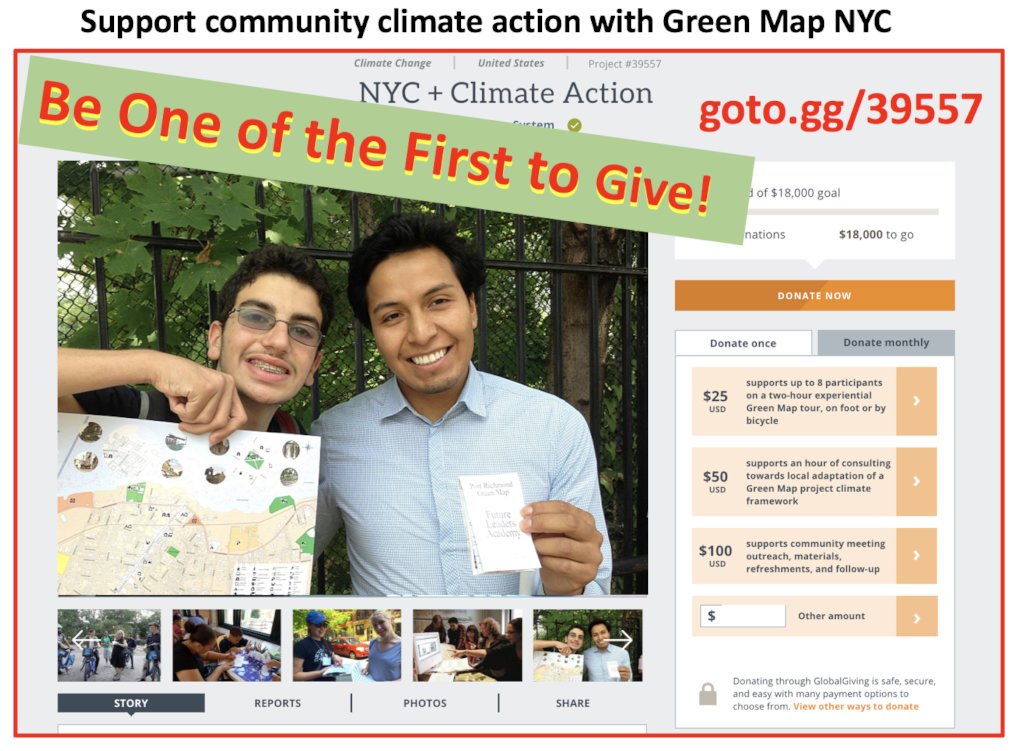 WOW! We are so excited about GlobalGiving's Climate Matching funding that we made a new Project to support Green Map NYC. With your donations we can address climate challenges in our home community and develop new ideas to share globally.
3 great ways to help Green Map gain extra funds through GlobalGiving's Climate funding:
GOOD: Anytime from April 15 - 29, donate any amount to help Green Map get featured and win cash prizes!
BETTER: From April 15 - 29: Break your donation into 4 parts, and set up a recurring donation. On the 4th month, GlobalGiving will match that donation at 100% (up to $200)*.
BEST! Exactly at 9AM ET on Earth Day, Monday April 22, donate! GlobalGiving will match all donations 50% (up to $500) This funding will run out soon, so donate right then please!
Please contribute to:
NYC + Climate Action NYC, our local Green Maps and related climate projects
Green Maps for a more sustainable future! Our global program: support development of our new mapping platform
THANK YOU for taking tax-deductible climate action!
*You can cancel the recurring donation after month 4, or let it roll
Links: