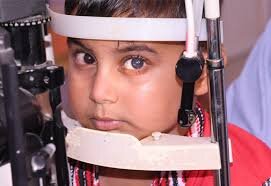 During the last 20 years, incredible progress has been made to strengthen eye health systems in Pakistan through public/private partnerships. Working with international organisations, the national programme for prevention and control of blindness has improved infrastructure, human resources and outreach of eye care services to a great extent. A comprehensive eye care approach that identifies districts as a unit of implementation, while establishing the link between primary and secondary health care, played a key role in this change.
Despite this, it is alarming that public sector share in this extraordinary progress is only one-sixth, which is lower than the contribution made by a single charity organisation. As a whole, four-fifths (82.3 per cent) of the burden is shared by non-governmental organisations and the private sector.
A fifth of the districts couldn't develop cataract surgical services and do not contribute to the national cataract surgical rate. Half of the districts have a cataract surgical rate lower than 2,000 – this is far below global standards. Additionally, cataract surgical services are restricted to urbanised districts with inequitable resource distribution for eye health. Cataract surgical rate is critically low in the districts where charity hospitals are not operating. This makes cataract surgical services inequitable and inaccessible for poor communities in peripheral districts.
This raises many questions about our health system, that need to be addressed to reduce the current levels of inequality in health care.
Cataract remains the leading cause of blindness worldwide, accounting for nearly half (47.8 per cent or 17.7 million) of the cases. The treatment is surgical, a highly cost-effective intervention.
Fatima Memorial Hospital has been setting up camps in order to encourage patients to visit and get themselves checked. However, during COVID19, it has become immensely hard to set up camps.
The hospital has been actively promoting and encouraging patients to get themselves treated.
With covid19 cases dropped to minimal at the moment, we have a large influx of patients and are unable to cater to their needs to due to lack of funds. Our donors play a major part in fulfilling our requirements for these patients. The Hospital has also taken the initiative of not only creating awareness about the treatment of cataract but it also provides free treatment to those suffering from this painful disease.

The donations coming from you keep us going and without your support, we are not able to cater to this large number of patients. We would like to request our valued donors to continue helping us in order to achieve our targets.

Thank you.