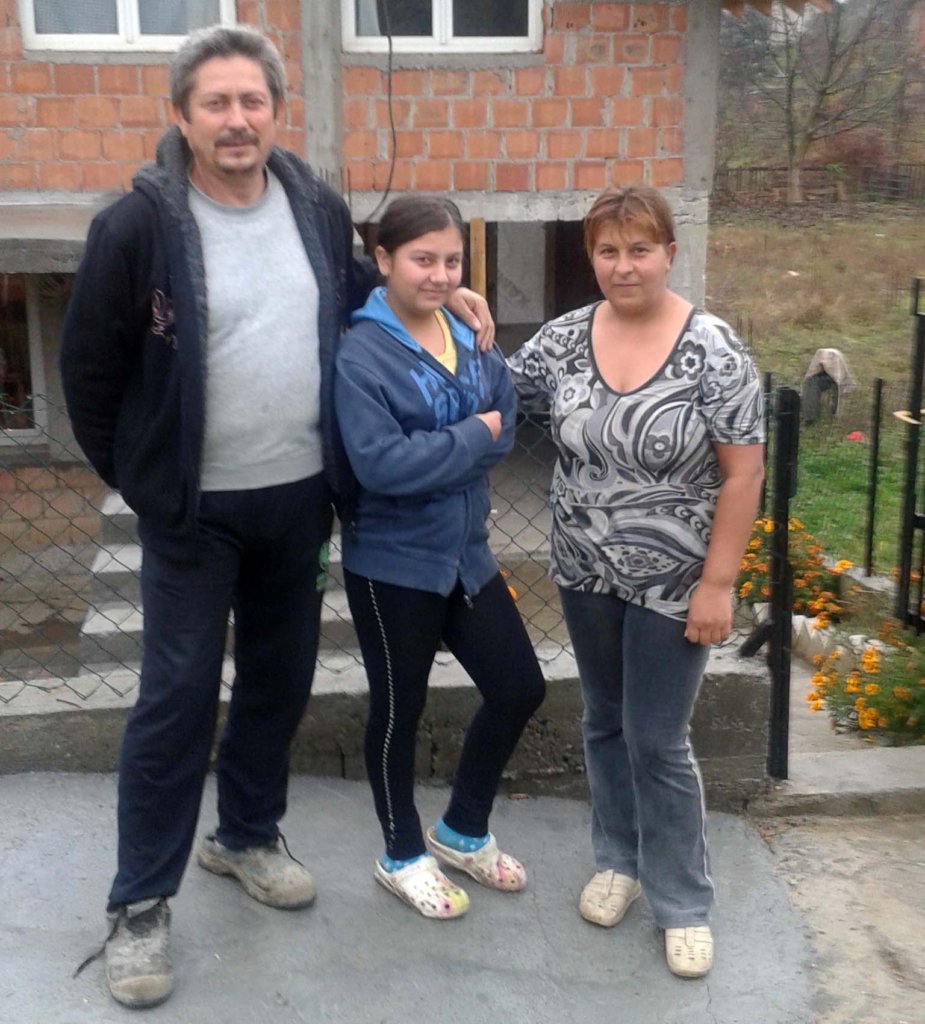 Sanja V. is a thirteen-year-old girl who lives with her parents and two elder brothers in a suburb of Kragujevac, a town in central Serbia. Every day she walks for several kilometres to school in the city. Sanja is in the seventh grade and she is a good pupil. She says that school is not easy, she finds mathematics to be hard, but her classmates always help her with math problems. On the other hand, she loves German and thinks that it is not difficult. She likes to study German more than English. Even though studying is hard work, Sanja stressed that she would like to continue her education when she finishes primary school.
She spends most of her free time with her best girl friend Emina. They like to listen to music and Sanja also loves to sing. "She is so funny, it is hard to listen to her sing," said her elder brother Milos with a smile. Sanja is very skillful. She can make home-made bread, and she can make beautiful ornaments and decorations with pearls she creates herself.
Sanja's parents are refugees from Kosovo. They had to flee Orahovac town, in 2000, with two little boys. They came to Serbia penniless, because they had left all their possessions in Orahovac. Ivica, who is a mechanic, couldn't find a permanent job and steady salary to support his family. For a long time the whole family lived in one room that was assigned to them in so-called emergency accommodation. Later they moved to Kragujevac and for years they lived together with Sanja's grandparents in a numerous household. The only income was Ivica's social support. Then they decided to move out and started building their own house, room by room.
Sanja's parents began building their new house a few years ago. All the money they earn from seasonal jobs is spent on bricks and other building material necessary for the house. Sanja is the first in her family to have her own room. So, now, she has peace and quiet and she can study. Her parents, Mirjana and Ivica are striving to provide what their daughter needs.
All the members of Sanja's family are hardworking people with skillful hands. Her father, Ivica said that he never turned down any job, he does physical and construction works. Her mother, Mirjana travels throughout Serbia looking for seasonal agricultural jobs. She does jobs such as picking raspberries, potatoes, cucumbers, from spring to autumn, until the season ends. That is how they saved enough money for the education of their sons.
Milan has acquired a driver`s license so he is a driver. Milos is a mechanic and a hairdresser. They do not have steady jobs, but from time to time they manage to find work. They also love music and they can play musical instruments. When their parents are not at home, the two of them take care of the household; clean the house, cook meals and take care of their sister.
Sanja has been receiving a scholarship from Pomoc Deci since her fifth grade. Her parents appreciate the support very much, because this money secures the necessary things needed for her education and fills them with joy when they can see that Sanja will be able to get proper education. They wish and hope their sons will find jobs. They also hope they will be able to earn enough money and finish their family house someday.
We are just two weeks away from #GivingTuesday and we have some exciting news to share! The Bill and Melinda Gates Foundation has generously provided $500,000 in matching funds for #GivingTuesday!
There will be an unprecedented 50% matching for #GivingTuesday donations up to the first $1 million raised! This is the largest amount of matching funds GlobalGiving has ever had in one day in order to match more donations than ever before!
In addition to this huge matching opportunity, all new recurring donations made from #GivingTuesday through December 31st will be matched at 200% up to $100, on the fourth donation!
Please, consider donating during this period of time, so that we can help more refugee children in their effort to get education!
Links: