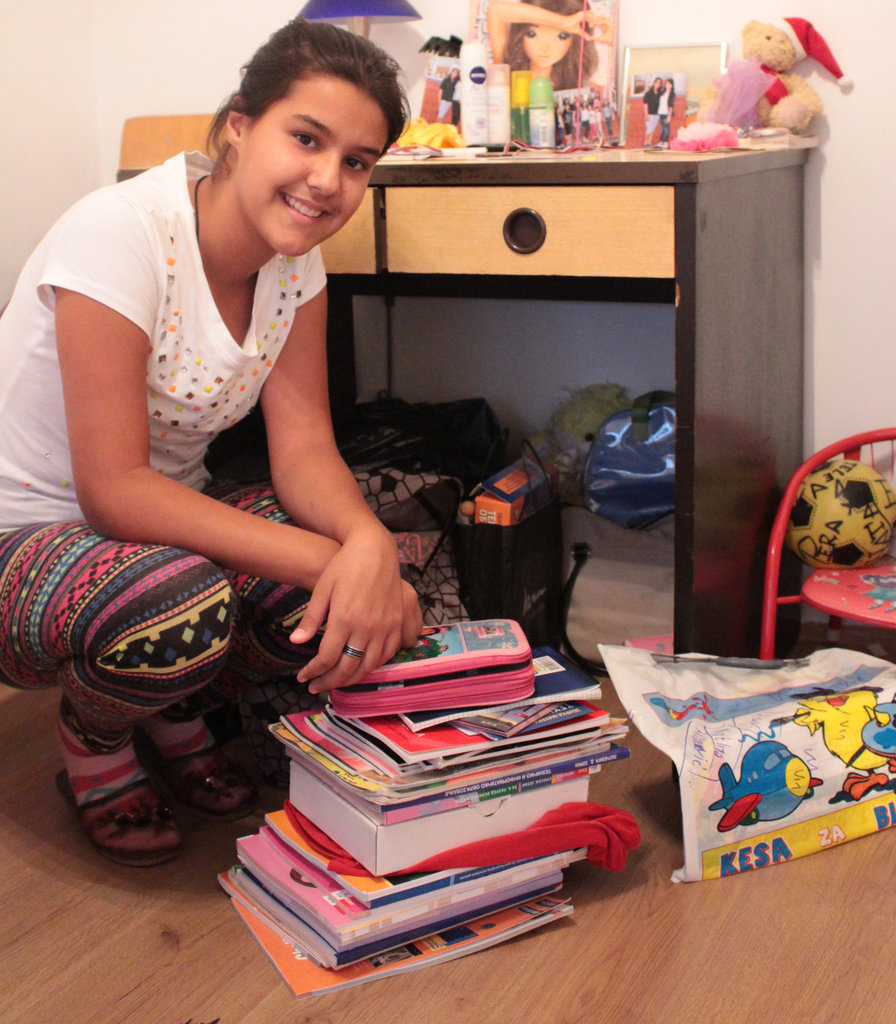 Dear Friends,

Thank you for supporting our efforts to help the children of refugees and displaced people in Serbia get better education and achieve more! This year has been so rewarding for all of us, we managed to support nearly 300 children through stipends, free snacks, free textbooks, monthly transportation costs covered and additional tutoring in Serbian, Mathematics and foreign languages. It has all been made possible because you have decided to help.

We have been seeing a huge change in attitude, self-confidence, ambition and willingness to become part of the wider community in all the supported children as a result of our efforts.

Natalija M, a 11-year old receiving the stipend, was born in the Collective centre for Refugees in Raca. All her life she had lived there with three siblings, mother and sick father. Six months ago the family was provided with a social housing apartment and they moved out of the Collective centre. Since then, Natalija has, for the first time in her life, her own room, but the regular expences for the family with two school age children and no one having a regular job have become even higher. However, in agreement with the family, she has decided that she will use part of the stipend to start training karate again after two years of not being able to pay for the training, required kimono and competitions. Within three months of that decision, she has acquired a new colour belt, has won three medals in regional competitions and her grades at school have improved.

Natalija called us after every competition to tell us about her achievements and just two days ago she told us: "I won the second prize at one competition and the third prize in another over the weekend! I am so happy, I want to train karate and compete so much, and now I can! The training has been so good in other ways too. I have made new friends, and have travelled to other towns when my team is competing. I am so thankful to my Sponsor and Pomoc deci for offering me the opportunity to do all this."

Now, we have the opportunity TOMORROW, on December the 2nd to raise much more funds to help more children achieve what they thought would be impossible for them!

Microsoft YouthSpark has selected our project to support through a 100% match on all donations made while funds last! Your donation of $10 becomes $20, or $50 becomes $100.

If you are in UK, in addition to 100% match from Microsoft YouthSpark, the UK Government will add 25% so your donation of £10 becomes £22.5!

Since you have supported our project in the past, you know that Pomoc deci programme seeks to help as many of refugee and displaced children as possible reach their full potential. Please, help us reach more of them and change more lives!

We thank you for your past contributions to our efforts to support education of these children. We hope that you will take this opportunity and help us take advantage of this extraordinary matching opportunity!
Links: