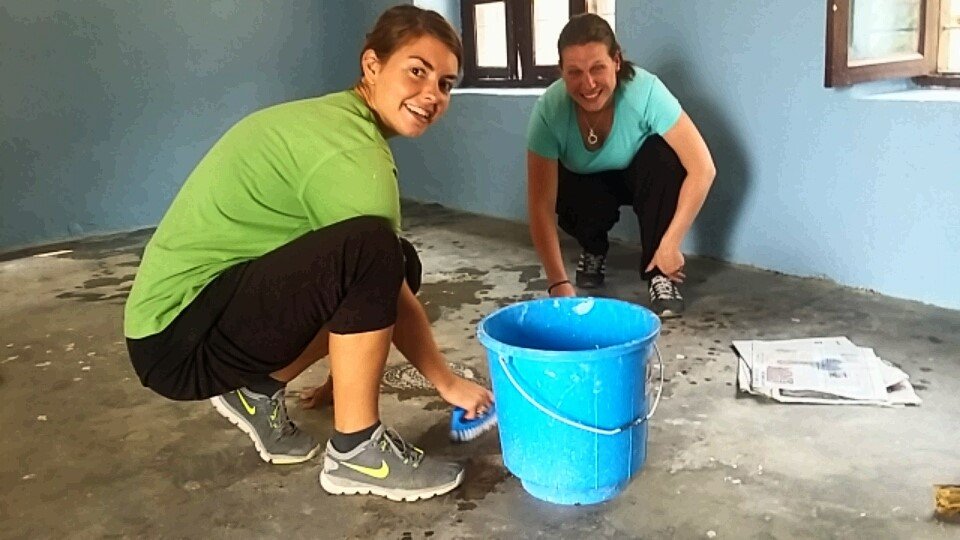 Dear Supporters,
During the last school holidays, a team of construction volunteers took on the job of repairing and repainting classrooms at Mount Kailash School in the Tibetan refugee area.
The School
The school was established back in the 1950s and was the source of education for families who had fled across the mountains and into Nepal. The refugee camp was established as well as the school. Beside the school is the Tibetan Jangchub Monastery which all of our volunteers visit as part of their orientation in Nepal. Whilst we learn about Nepali culture, it is also important to learn about the Tibetan people who have sought refuge in this country. We are always keen to support the school in this community where we can.
The Improvement Project
The aim was for the school to be repainted ready for the start of the Nepali school year. It had been some time since the school had been painted and there was some patching and repairing work to be done as well. These are expensive and time-consuming tasks for schools that receive little funding.
We had a keen team of construction volunteers who prepared a tight schedule for themselves to get all the cleaning, clearing, patching and painting to be done in time for the new school year. This didn't stop the volunteers from taking breaks to play games with the inquisitive children who wanted to see what was happening at their school!
Six classrooms and one music room was repaired and painted, all the classrooms were cleaned and everything looked fresh and new in readiness for the school year to begin. The result is a much-improved learning environment for over 250 students!
The headmaster reported that the students, teacher and parents were delighted to see the classrooms! To show their gratitude, the school put on a performance for our volunteers. Traditional Tibetan songs and dance were much enjoyed by our construction team. We are always happy to support where we can but the gratitude shown by the school community was appreciated by our volunteers. We look forward to our ongoing relationship with the school.
Thank you for your continued support!
With Gratitude,
GVI Nepal