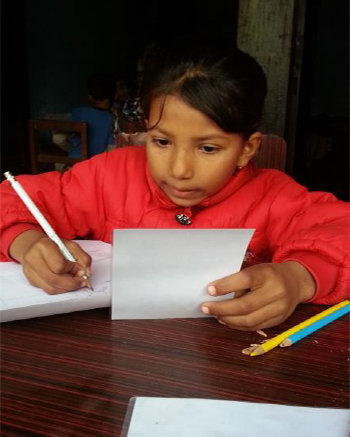 Dear Supporter,
For nearly 2 years now GVI Nepal has run 'Conversation Club'. It is a club run Monday through to Thursday for an hour after school in a local cafe. Conversation Club or CC as we call it, aims to improve the English conversational abilities of children and adults in Pokhara. We provide fun and exciting activities such as role play flights around the world so our children can learn about different countries and cultures, we also do story and letter writing as well as learning through arts and crafts.
A few months ago, CC became a little bit out of control! There was a two month long school holiday and our children had quite a lot of excess energy which they were bringing with them to CC. This led to the project not running as well as it could. As this is such an important and worthwhile project, we really wanted to turn the club around and get it back on track to achieve our long term goals in helping the children.
That's when things got fun!
First of all, we wanted to split the children in groups defined by their abilities so that the ones who needed a little bit more help weren't lost in the crowd. Our goal is that as a child's English improves, they can move up to the next group and therefore continuing to advance their ability.
We even gave the resources a good clean and tidy, all the pencils were sharpened, new coloured pencils were delivered and each child got a brand new copy book with a picture of their group name in it.
Since we made these changes, our group of students has dramatically increased and we are now at capacity.These children are taught in classrooms of 35 + students (many of them at the government schools where English is rarely heard) and it's so beneficial for them to have the time in the evenings for teaching on a more one to one basis.
Our most recent addition is a brand new group called the Crocodiles! This group is made up of children with extremely poor English who are going back to basics with one to one teaching to help them get the necessary English language abilities to join in with the main group activities. They are really coming out of their shells and hopefully soon they will be promoted to the Rhinos. Conversation Club has got its structure and focus back and volunteers are fighting to help run the show. Every day we have a full house of children (many of them turning up a good 30 minutes early!) who are very eager to learn and converse with our staff and volunteers; such a fantastic achievement and something we, as a team, are extremely proud of.
Many thanks for continuing to support this project.
All the best
GVI Nepal
Links: