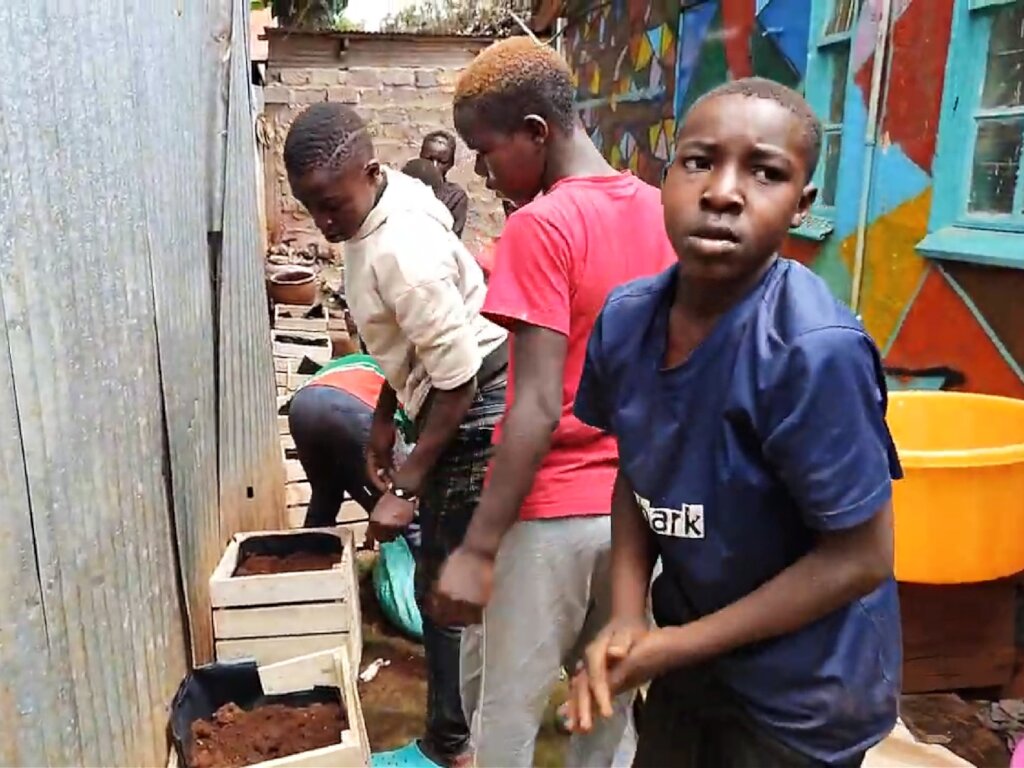 This report is being sent to 19 friends who have generously donated $1,213 to our GlobalGiving appeal for composters in the Nairobi settlement of Kibera.
The recipients of your donations are fifteen mothers who have formed an association called Shield of Faith. Since the appeal, they have composted over a ton of food waste, made and sold fertilizer, maintained kitchen gardens and grown enough vegetables to cut their food bills in half. They are now preparing to take their model into schools and make the case for composting food waste from school cafeteria.
How significant is this? Well, it might just change eating habits, improve nutrition, and reduce pollution in what has been described as the largest slum in Africa.
Laying the groundwork
The origins of this exciting initiative go back to late 2019, when The Advocacy Project offered embroidery training to 40 women in the informal settlements of Kibera and Kangemi. The artists stitched a wonderful quilt for the UN Summit on Women and Girls in Nairobi and expressed a wish to continue stitching together.
We invited them to participate in two more embroidery projects in 2020 – one to produce images of Kenyan wildlife for the Sister Artists art quilts, and the second to describe their experience of living through the pandemic. Both resulted in powerful advocacy quilts.
After completing these three embroidery projects, the two groups decided to tackle social problems. By this time - the spring of 2021 - the pandemic was raging and the Kangemi group launched a community campaign that has vaccinated over 1,000 vulnerable individuals.
The second group, in Kibera, formed Shield of Faith to address pollution and nutrition. This was never going to be easy in a settlement that generates 230 tons of garbage a day and where most vegetables are grown in sewage, leaving many children seriously stunted.
But the women were determined. Stella, their coordinator, spent hours on Zoom with Delaney from our team discussing the finer points of composting. The team then built blue composting bins from recycled paint containers that could be stacked in their kitchens and hold food waste. We provided funds for scales that would allow them to measure the exact amount composted and keep records.
The next step was to buy Red Wriggler worms that would keep the bins clean and help turn the waste into compost - a process known as vermiculture. The worms secrete a fluid known as leachate which is a potent fertilizer. Spotting a business opportunity, the group had the fluid tested in a laboratory. After it was found to be effective (and harmless to humans), they gave it the brand name of Lishe-Grow ("Grow Nutrition"), purchased containers and asked Delaney to design a logo.
Five team members also set up kitchen gardens. This was not easy because their houses are small, and at least two gardens were washed away in flooding. But Stella's team was persistent and inventive. They fashioned abandoned plastic containers into boxes that allowed them to grow vegetables in a confined space, as shown in the photos, and applied half of their Lishe-Grow to the gardens. The rest was offered for sale at local markets. We recorded these early successes in this news bulletin.
Digging in
The Shield of Faith composters have fine-turned their model since September. The big breakthrough came in early October when they used your donations to reserve a stall at the annual fair of the Agricultural Society of Kenya (ASK), an event that gave them national exposure. They set up a demonstration kitchen garden and sold 124 liters of Lishe-Grow for $372. Half of the money was shared between the team-members and the rest put in a bank account, to be re-invested. Stella was also interviewed for Kenya's largest television channel.
By the end of the year, Shield of Faith had composted 1.3 tons of food waste and produced 300 kilos of composted soil for use on the kitchen gardens. Fifteen families are now participating and five are growing spinach, green vegetables, lettuce, onions and even strawberries. These families are eating better and saving as much as half of their food bills.
The money has of course provided an incentive, but Stella's team remains true to their social mission. Almost all are single mothers and six have children with albinism. This has exposed them to discrimination and left them socially ostracized. All were welcomed into Shield of Faith.
Ever the visionary, Stella herself has larger ambitions. She wants to start a green revolution in Kibera that will improve nutrition, change attitudes towards food and waste, and show that growing organic food is possible even in these daunting conditions.
Which brings us to schools.
School cafeterias get ready!
Stella has set her sights on schools, as she explained in a recent phone call, because she is the mother of two and deeply committed to improving the lives of children. She also sees schools as a likely ally because the Kenyan government provides a cooked school lunch that is the main source of nutrition for many Kibera children. This generates a huge amount of food waste, which makes it a tasty target for Stella's composting, not to mention the educational possibilities that come from respecting the environment.
Shield of Faith has laid the groundwork for working in schools by partnering with Project Elimu, a popular after-school program that offers everything from dancing to art for over 1,000 school children from 40 schools.
Elimu had not previously composted but is now deeply invested. Working with Veena, another Shield of Faith founding member, Stella spent many hours at Elimu constructing a kitchen garden out of old plastic tubing and abandoned wooden shelves. The two then trained over 300 children to plant seeds, add water and prepare for the harvest.
Stella expects hundreds more children to join during the school holidays and will shortly introduce them to to Red Wriggler worms. She is confident the two groups will bond with each other because, as she puts it, "kids love to handle creatures."
"We hope they will take the message home that you can grow healthy food. At the same time Mummy can save some money and buy good stuff."
Stella has already approached two schools and is now thinking of ways to appeal to students. One idea is to appoint "ambassadors" of composting. She will also explain to older students who are worried by climate change that they can make a difference by composting because food waste that ends up in landfills produces methane gas, the most lethal of the greenhouse gases. Composting not only limits the methane reaching the atmosphere. It also allows plants and vegetables to turn carbon – which as C02 is the main culprit behind global warming – into nutrients.
Stella is even considering introducing students to the notion of carbon credits, which allows producers of carbon to offset their carbon emissions by paying for the reduction of a similar amount of carbon through other means, such as the planting of trees or composting
She admits that the amounts are as yet tiny. But her own team of fifteen women hope to compost almost 3 tons this year and if large schools were to come on board, the amount of carbon transformed would quickly grow. If Shield of Faith could find a carbon-producing partner and sell a credit or two, she would hope to share the proceeds with students.
The road ahead is green
Looking ahead to the rest of this year, five of the 15 Shield of Faith families still do not have their own gardens and the first priority is to ensure that they can grow their own vegetables. This will mean renting land outside Nairobi. If money permits, Stella plans to double the number of beneficiaries and reach beyond Kibera to other settlements.
Stella also dreams of a North-South partnership between high school students and has asked us to find schools in the US that will take up her model. We are seeking a student volunteer (Peace Fellow) to coordinate the search.
We love the idea because the US discards $408 billion worth of food every year – 40% of all food produced - and we are now putting out the word to American students and teachers who are passionate about the environment. If a school is interested, we will offer to put students directly in touch with a Kibera school and let these future custodians of the environment learn from each other.
As Stella told us recently: "We are at the beginning of an exciting journey!"
We expect to visit Nairobi before the summer and will report back in three months. In the meantime, we welcome your ideas and invite you to try your hand at composting!
In gratitude
Shield of Faith, Nairobi, and The Advocacy Project, Washington.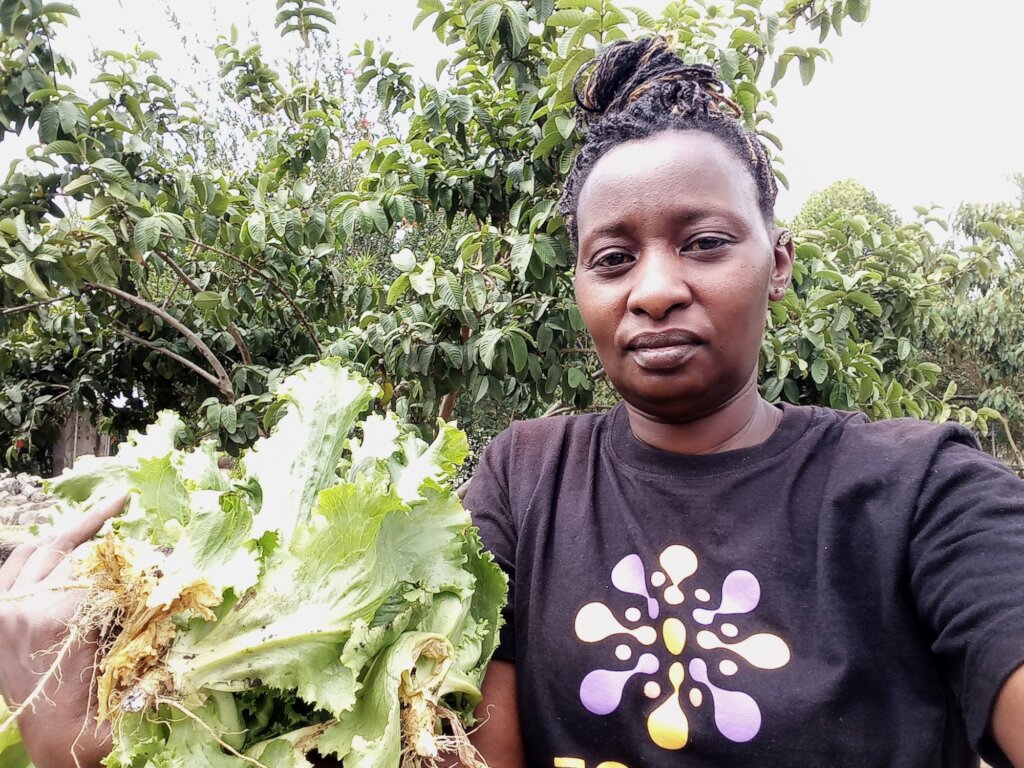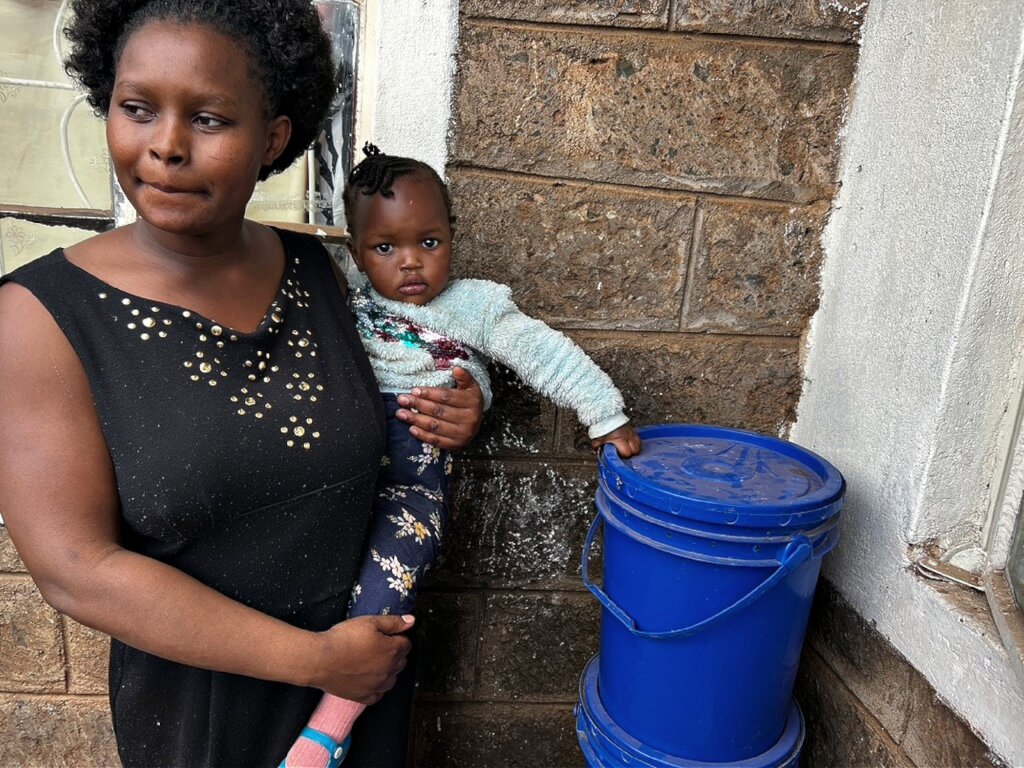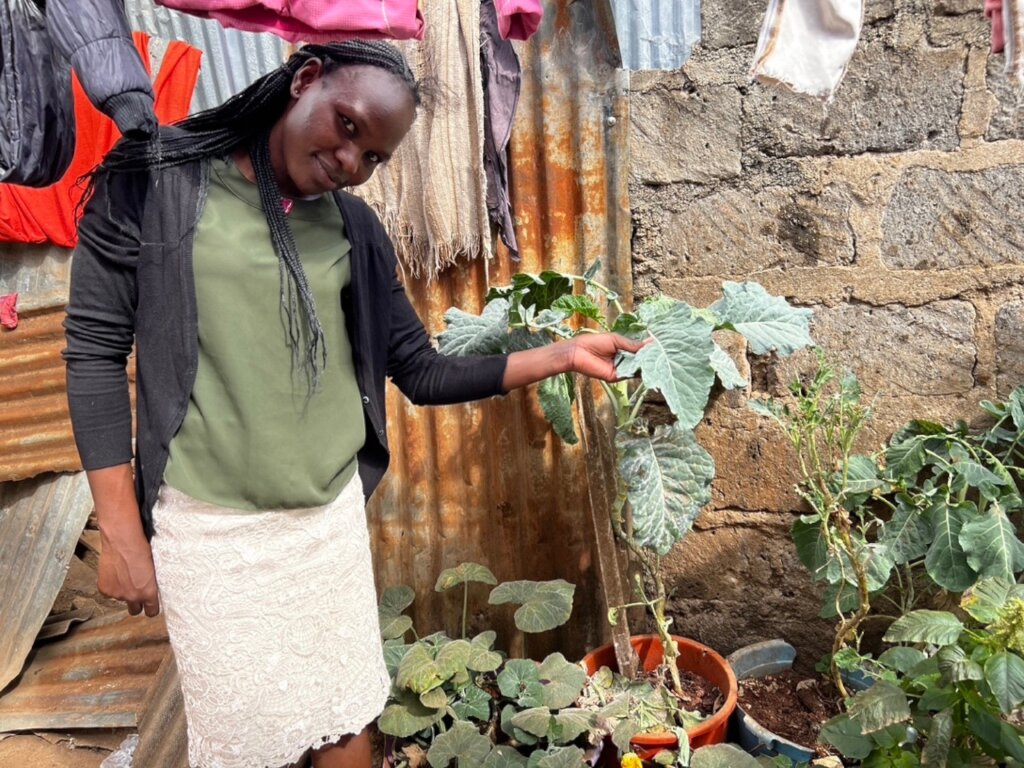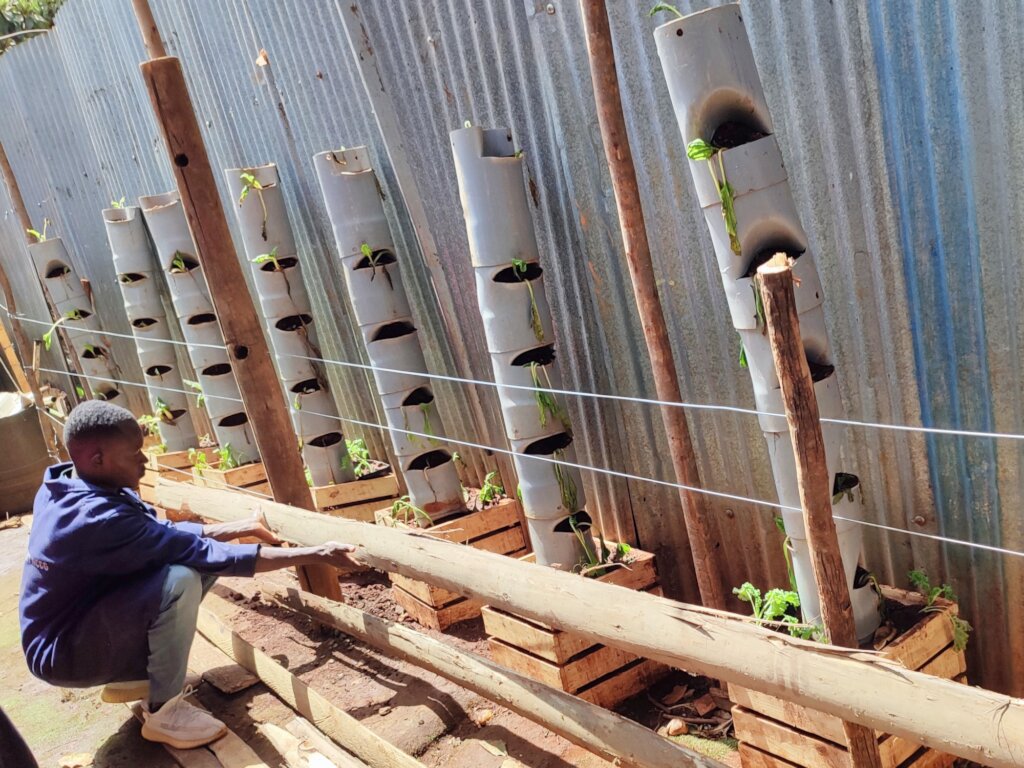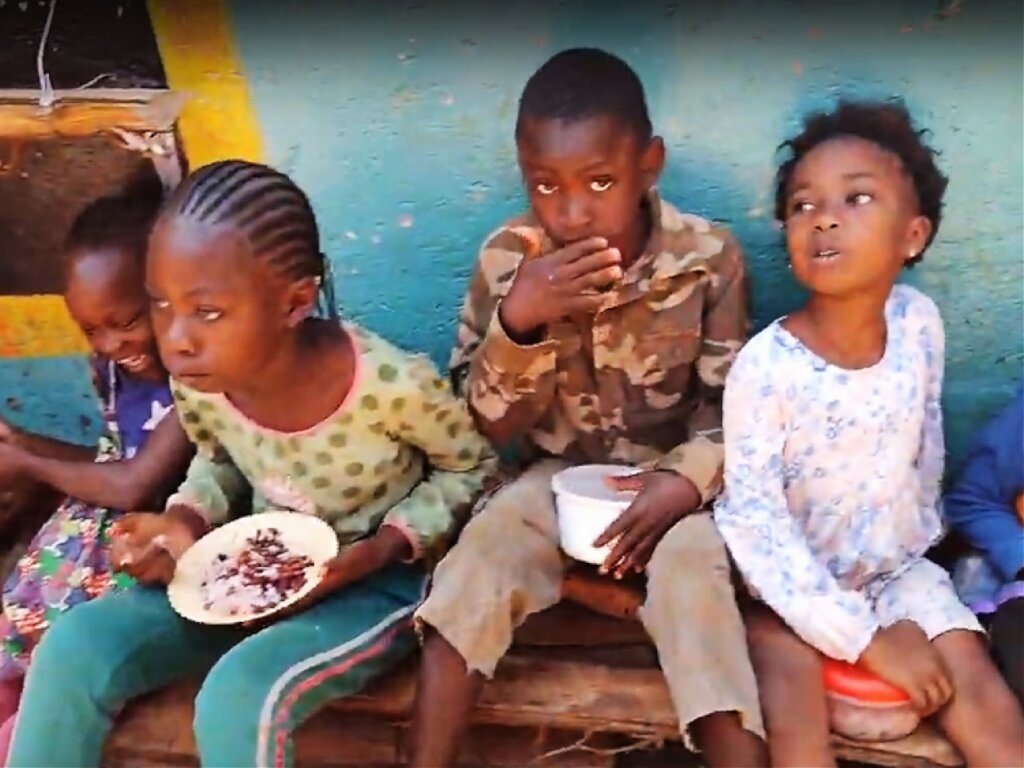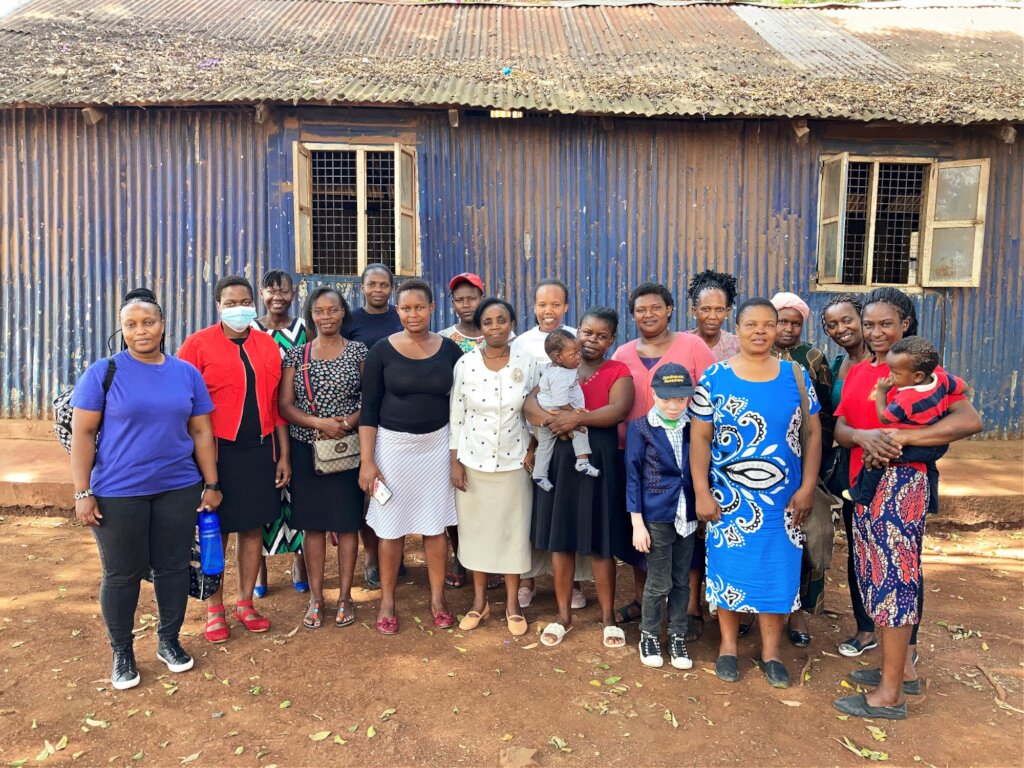 Links: