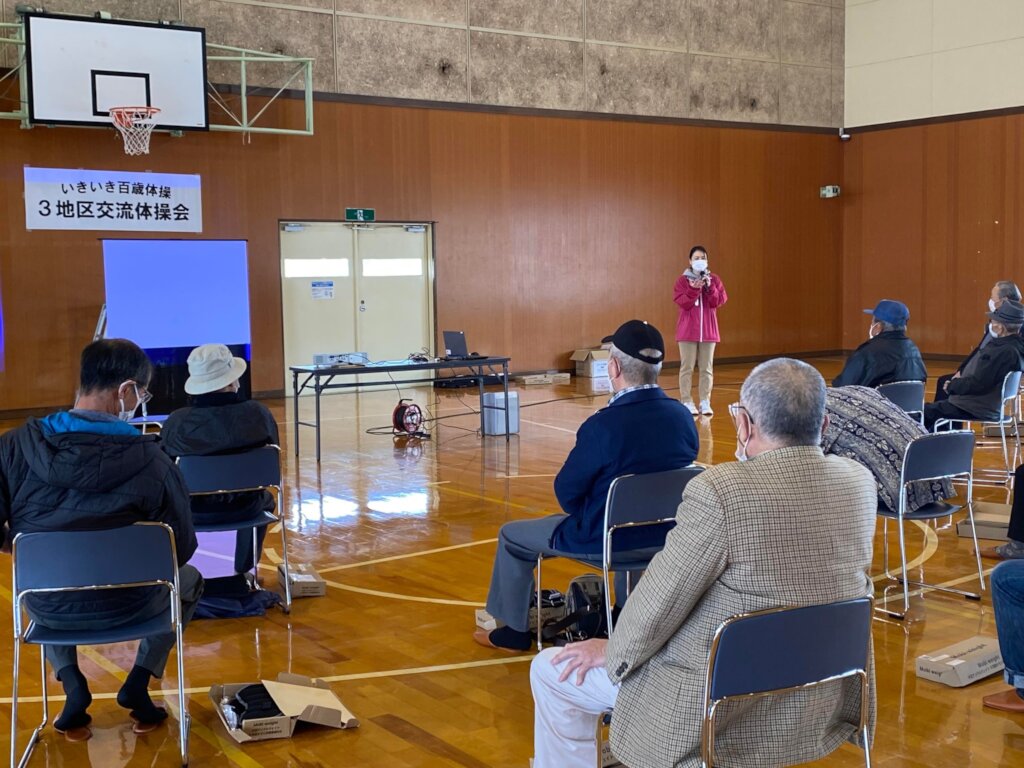 Since the Typhoon Hagibis hit Ohsato town (Miyagi Prefecture), we have been working with the community to provide different forms of support to strengthen affected community's resilience from within, whilst facing challenges admist corona crisis. One of our most favourite activities is "Iki Iki 100 Years Old Exercise (Iki 100")" which was developed by a Physical Therapist in Southern part of Japan, in order to help elderly people to live a healthy and lively life without a need of receiving nusing care.
As of end of March 2022, JISP handed over the initiative we started a year ago to the Social Welfare Committee of the town . To express our gratitude to the participants who have continued to make efforts to improve their well-being by actively engaging in Iki 100, as well as to express our hope that the initiative will continue in future, a "Joint Iki 100 Community Event" and a bus tour was held in March 2022. 19 elderly beneficiaries participated this event.
At the joint excercise event, a Physical Therapist led the participants in exercises, and we were completely impressed to see all the participants come together in one place and show their full of energy and vitality. Afterwards, the participants took a bus to Matsushima (Miyagi), where they enjoyed lunch and a boat ride, and sipped matcha green tea. Everyone was delighted with the experiences.
Seeing the participants walking along the coastal streets of Matsushima, going up and down the stairs, we could see that Iki 100 was actually effective in strengthening their legs and backs. We hope that the initiative will continue even after our intervention ends. We are very happy to hear that Ohsato town is planning to spread this initiative to a wider area of town during this year!
In the meanwhile, JISP intends to continue providing sustainable support to the community by initiating a new activity. We would like to thank you for taking interest and reading our report, and for your continued support.

Warmest regards from the JISP Team