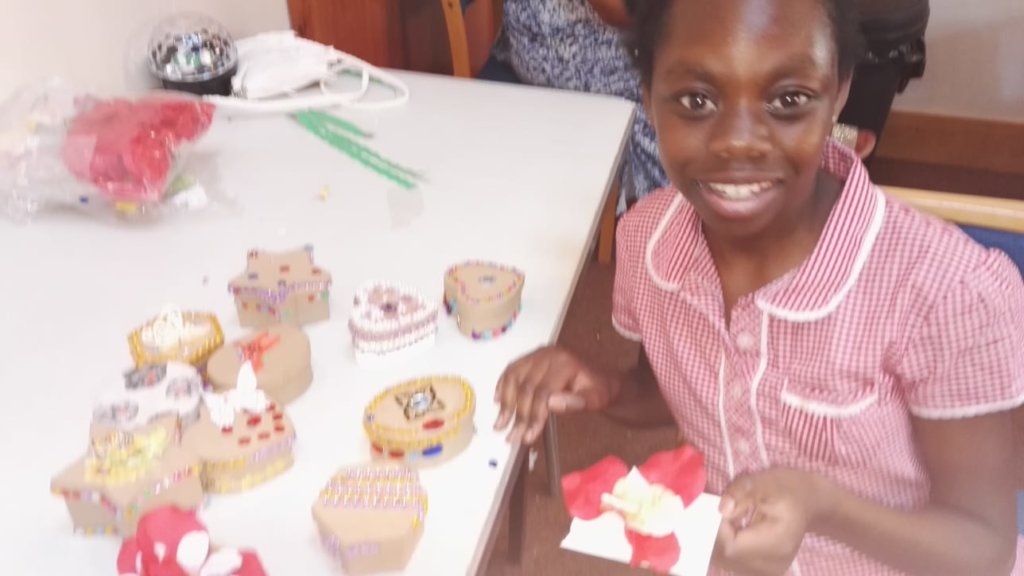 Dear supporters and friends,
It has been a few months since our last report so now we would like to give you more updates on what we have been doing with your financial support in helping children with special needs to learn and connect.
Destiny Children and Family Support Project continues to offer weekly Tutoring and creative social activities to children with special needs, which also gives a weekly 2 hour respite break to parents and carers of children with disabilities in Bromley. This 2 hour tutorial session not only provides children with the opportunity to learn whilst being taken care of by staff and volunteers, but also provides a short break to parents and carers, enabling them to have a short relaxing break from their caring duties. In addition to this project, LWFCI-UK offer inclusive sports activities giving accessible opportunities to young people with additional needs to play basketball and football after school hours and weekend to improve their wellbeing and social integration.
Every Monday children aged 5-12 years receive 1-1 support in reading and writing as a form of tutoring, as well as support with any school homework they may have. The session provides them with opportunities to play together and to engage in creative social activities, which all boost their learning, communication, and social skills, all of which are attributes needed in life.
Over the last few months, children and young people have been decorating greetings cards and note books, and learning how to make soap using different materials. They have been creating and decorating small objects, and enjoy using their imagination to create useful pieces of arts and crafts. They seem to enjoy being part of this project where they learn as well as socialise with their peers who they have become familiar with.
The children are receiving vital support to boost their learning and social skills through this project which will give them the opportunity to have brighter futures. It is a pleasure to acknowledge that some of the materials and support costs for the project this year are being paid for by the kind contributions that you all have made through GlobalGiving, which is supporting children with Special Needs to learn and connect. Our work is only possible through the kind donations and support from our incredible donors like you.
For the first time, this summer we are planning to bring children and their families to Lego Land in Windsor for a Family outing by coach. Children, young people and their parents can spend good quality time together whilst travelling in a supportive group, where they can share experiences and engage with each other. We will also be holding other events which consist of a family fun day and bouncy castle party with soft play for all children and their families, group swimming, as well as a picnic and other day outings planned. We aim to inspire and motivate disadvantaged children and families to reach beyond the limitations that their circumstances have placed upon them, and to access activities that will help them to enjoy a better quality of life.
Looking ahead, we are excited to be holding a joint fundraising 10 kilometre walk on the 30th June 2018, which will assist in raising funds for 3 projects that support children with disabilities in Bromley. Please do come along to join our charity walk, where you can keep fit whilst walk for a good cause. Please click the link on events bright to register and take part in our charity walk. https://www.eventbrite.co.uk/e/destiny-kids-charity-walk-tickets-47298219247?utm_term=eventurl_text
Thank you to all of our donors who have been supporting us for the last few years. Your donations have really helped and enabled disadvantaged children and families to continue and excel in their life.
We still have a long road ahead, as the project is not yet fully funded, but we hope you will continue to support us again. Please remember to share the project page with your network by Clicking here to Support Children with Autism to Learn and Connect .
We would like to thank you again, as each and every one of you have provided vital support, and we look forward to keeping you posted on the ongoing progress of this project.
From all of us at Lay Witnesses For Christ International -UK , a very BIG thank you!
Kind regards
Ms Jennifer Mapakou
Operations Manager & UK Director
Lay Witnesses for Christ International -UK
Tel: 020 3583 3005, Mob: 0795 074 6544
Email:
jenny@lwfci.org.uk
, Website
: www.lwfci.org.uk
************************************************
Reaching people in the Community to Impact the World
To donate, please click below to support our Charity
Lay Witnesses for Christ International UK (LWFCI-UK ) is a registered charity No. 1148887 and a company limited by guarantee registered in England & Wales with Company No. 7866775.