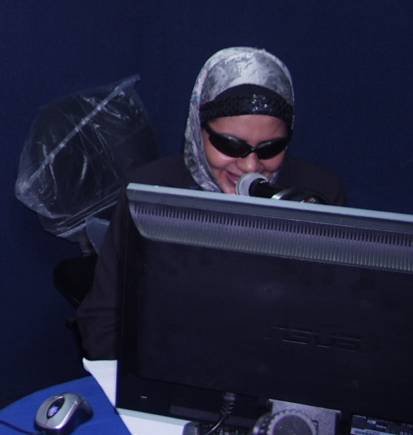 A celebration is happening in Deir al Balah, Gaza. A very special radio station, the first of its kind in the Middle East, is celebrating its sixth anniversary. Fursan al Erada was created in 2006 as a voice for people with disabilities, run by reporters with disabilities. Funded by a coalition of organizations that work with disabled people in the Gaza Strip, the radio station was created to address ignorance and negative stereotypes about disabilities. It began broadcasting on December 6th, 2005, International Day for People with Special Needs. "We are celebrating a radio station that is concerned about people with special needs, and now these same people are making the day for all the people [in the community]. All the activities, songs, dancing, and more are presented by the staff and people with special needs," said Mahmoud Mussallami, Manager of Fursan Al Erada radio station.
The radio station has set a goal to educate the larger community, while also addressing their target audience with special programming dealing with issues that face the disabled in Palestine. The station's media strategy aims to change the attitudes and perceptions about people with disabilities, while also assisting them in preparing to become leaders in their communities.
In general the public pays little attention to the problems of people with disabilities, and often sees them as dependent, non-productive people that in the past were often hidden away from society. Although there is a law that deals with access and employment for disabled people in Palestine, it is not enforced; there are no curb cuts for wheelchairs, no easy access to public buildings, no public transportation equipped to deal with disabilities, and no audio traffic signals to alert the blind, to name a few.
As of January 2011, there were 38,000 people with disabilities living in Gaza. Of those, 47.5% have mobility impairments, and this number increases yearly because of the on-going conflicts in Gaza. The second largest group is the hearing disabled, followed by vision, then learning disabilities as recorded by the Palestinian Central Bureau of Statistics. The same study also highlighted the problems faced within society, noting, "…22.2% dropped out of school and 8.7% usually avoid performing any activities because of others' attitudes towards them." (PCBS and Ministry of Social Affairs, Disability Survey 2011.
From the outset, the station believed that it was very important to shed a light on people with disabilities and the issues and challenges they faced, as well as addressing the negative attitudes of society. This is why the radio station was established. And, so far, they are making a difference in the lives of their audience and those with disabilities by setting an example in their programming and through the achievements and reports of their staff.
The main achievements, as highlighted by the station manager, underscore the importance of the station and its growing sustainability. In the last six years, the station has:
-Produced 50 program cycles focusing on people with disabilities.
-Covered stories and broadcast throughout the Gaza Strip (during the last three years)
-Covered all activities for people with disabilities in Gaza.
-Hosted civil society representatives in the radio programs.
He also explained that thanks to Internews trainings, Fursan Al Erada also prepared an organizational chart for the radio station, developed job descriptions for every employee and used strategic planning skills in preparing for the sixth anniversary events and coverage as part of the outreach and growth of the station.
"Fursan Al Erada has managed to reach all areas in the Gaza Strip with its programming and in the future, we aim to reach all areas of Palestine. We are covering all activities of people with special needs in Gaza Strip. We have managed to reach a point where NGOs approach us to let us talk about their activities," said Osama Abu Safar, Head of Media Relations and Communications. Osama, like the majority of the staff, is a person with a disability; they are presenters, reporters, editors, program directors, and administrative personnel.
Thanks to your generous contributions the station was able to purchase new field recorder equipment, and these journalists are now able to expand their coverage of stories from the field, getting them closer to their ultimate goal and vision.