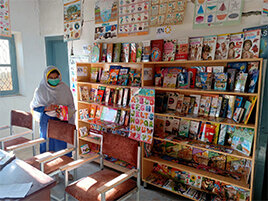 This project improved the environment of the girls' junior high school by adding an exterior wall and repairing the drainage system, and by providing playground equipment and books to 149 students so that they can learn safely and securely. This project was made possible by our supporters who donated and supported us through crowdfunding. Thank you very much.
Preparations began in October 2020, supplies were gathered during October, and construction began after November.
The work process is mainly as follows:
First, survey and analysis of the exterior walls and preparation of estimates
Contract with construction company
Restoration of exterior walls
Restoration of the drainage system
Installation of playground equipment such as swings
Installation of books after building a library in the school building
Handover of management to the school
We proceeded with great care and safety so that the construction of the wall could be completed before the onset of the full-blown winter.
A handover ceremony was also held on February 1, attended by students, teachers, and community elders.
During the monitoring , some students said that friends who had stopped attending the school might come back, while other students who dream of becoming athletes in the future said that they looked forward to the break time every day, even though they could not go outside to exercise during the break time before.