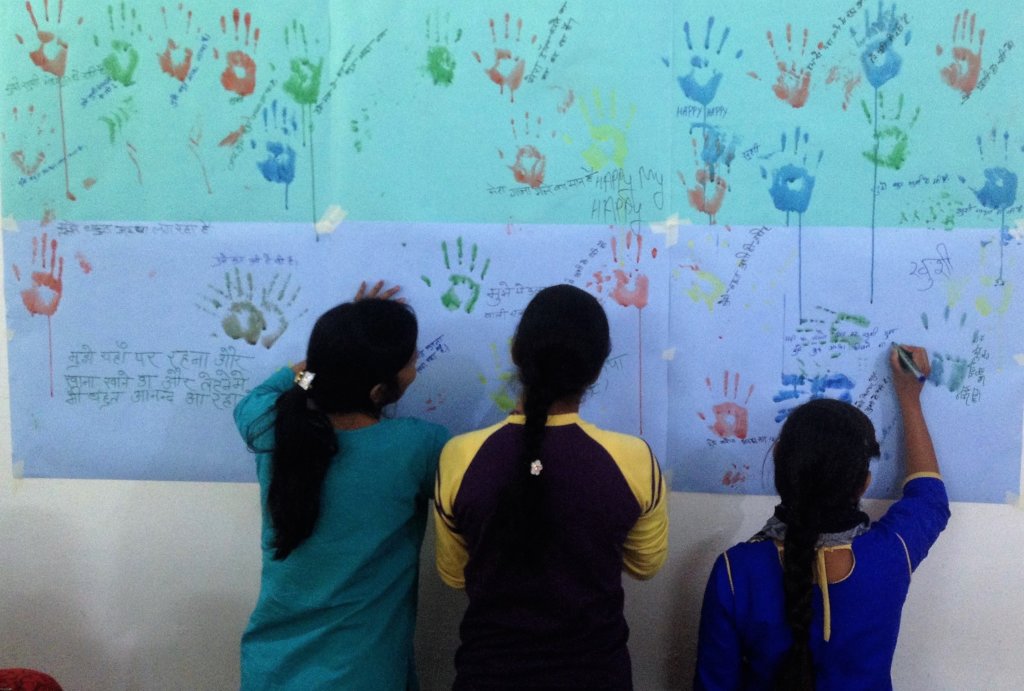 CREA's Sports Expressions Leadership and Freedom (SELF) Academy uses sports, art, media, and technology to equip a cohort of girls and young women leaders from diverse socio-economic and religious backgrounds with information, skills, and confidence in areas that are traditionally associated with boys and men. The academy allows young girls to share their lived realities of social norms and restrictions creatively and encourages them to take leadership roles in their respective lives and communities. The following story is about Siya (pseudonym), a young woman who attended two SELF Academies and her journey to expression, leadership, and freedom.
"The only thing that came to mind at that time was the session on Sexuality, Love, Pleasure, and Consent in the SELF Academy. I thought the changed lens and the idea of relationship and love built by SELF Academy is so strong; I won't let that get ruined by the people in the community"- Siya.
Siya's expression above is based on the context of her conceiving out of marriage. She had to face a lot of flak from the community for her situation. However, when some of her teammates also started belittling her for her choice, Siya was taken aback.
"I could have faced the community single-headedly, but how to face people who act like friends and feminists but are not?"- Siya
Siya's Journey to Expression, Leadership, and Freedom The news of Siya being pregnant spread like wildfire. She had to endure mental torture and pressure by her surroundings to abort the child against her will. Her organization even told her to leave her job, claiming that her pregnancy would distort its image. She was beaten up and thrown out of her house by her family members. Amidst all of these severe challenges, she was firm and secure about her decision to give birth. The only support that she got was from her partner.
When things in the organization became very hard for her, she decided to deal with the situation strategically. The organization that she works in has a practice where once in 15 days, team members share learnings of programs they work on innovatively. Siya took this opportunity and organized a meeting. She mobilized 7 girls who had attended the Academy from Uttar Pradesh and Bihar and briefed them on what the meeting would look like. The meeting started, and the girls started speaking about learnings from the Academy. All of them had one thing in common, and that was about feminist leadership and sexual and reproductive health rights and choices.
The meeting was very triggering for those who were causing difficulties for Siya in the organization. After the meeting, she posed her questions: why she was being asked to leave, why her choices were not being considered, and why they wanted her to abort. As none of them had any answers to her questions, she continued to emphasize that the work the organization is doing is meaningless if it fails to support its internal issues and challenges that Siya has been dealing with.
The organization and people working there eventually understood what she was trying to express. It took Siya a whole month to convince the people working in the organization and empathize with her situation. After 4 months of pregnancy, Siya married her partner and the baby is now 5 months old. She is still working in the same organization and continuing to challenge prejudiced conduct and when she sees the organization is not upholding the values it promotes.
"Mobilizing girls and building capacity of the organization with them on sex, choices, consent, and pleasure was the best thing and an aha moment for me. I did not realize the impact of the Academy was so immense. I thank CREA for leading the way."- Siya.
SELF Academy catalyzes broader change that leads to all women being able to enjoy freedom and opportunities by accessing and asserting their rights to public spaces and resources. The academy aims to strengthen voices and connect communities of all women to challenge norms, values, and power structures and push back against violence against them.