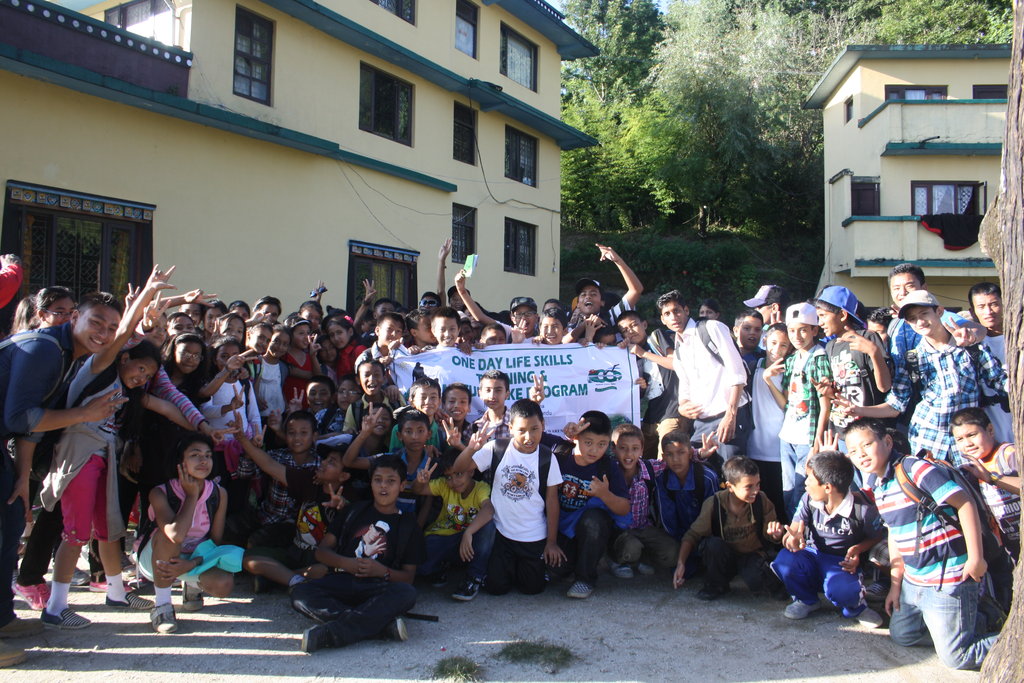 Apart from supporting scholarships every year for the needy students, we also organize programs and events which help our students to develop their leadership skills, communication skills, confidence build-up etc. These types of programs are mostly organized as an outdoor activity, far from their school, which we also call as Education Out of Class (EOC).
In the month of October, we had organized a "One Day Life Skill Training and Nature Hike Program" for over 140 students from different schools. The program was organized in Shivapuri National Park. It was a fun filled educational program with hiking inside forest including different games like Each One Teach One (To increase memory power and knowledge), Crow & Crane (To help quick decision) etc were played. Using suction pipe to collect insects found during hiking and studying their morphology and physiographic feature were one of the most enjoying and learning moments for the students. The collected insects were set free without any harm in their own environment after study by students.
The Five important life skills; Goal setting, Cooperation, Confidence, Communication and Leadership were also shared among the students through various games, discussion and activities during hiking. Students also expressed their concern about saving and preserving local environment through performing cleaning activities of the event venue as well as during hiking through collection plastic wastes found on their way and disposing it in proper disposal area.
At the end of the event, Suraj Thakuri (student of grade 9) expressed his gratitude towards the trainer for making his day a memorable. "This is my first hiking program and I really enjoyed my time. The games helped develop confidence within me and had an opportunity to practice my leadership skills. I also learned a lot about nature and how to take care of it".
Getting similar more feedbacks from students, we thought of organizing similar programs for more students in coming days ahead. Hence, a series of programs related with Life skill is planned for the implementation in the month of December. More students will be involved in the program so as to help them increase their leadership skills and knowledge.
We also would like to thank you for your continuous support in our campaign and activities to support the students of Nepal and support the education of student in Nepal. I would also like to take to request you to disseminate the information within your circle of friends and families so as to increase support in our program. We look forward towards receiving your feedback, comments and suggestion at ecca@mos.com.np so that we could implement our program more effectively. We hope for the same type of support in the days to come ahead. Please like our Facebook page to get updates regarding our activities and follow us on Twitter to get our tweets. We are also looking forward towards your valuable suggestions and comments regarding our works as well.