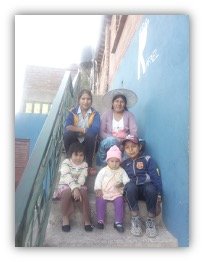 We have been adapting, pivoting, adjusting and hoping throughout 2021 just like the rest of the world. Covid hit our community hard, along with some other illnesses, and it has not been easy, but we are tough and we are carrying on! I say it's time to reboot, because we are ready for a new chapter.
The last school year in Bolivia was most challenging for the members of our community. With little to no internet, very little access to computers, and the need to social distance, students had no consistent support for learning. The educational system made the choice to pass all students to the next year, but they are far from prepared for that step, so we decided to reopen the afterschool program on a staggered schedule with fewer students. So far this has been a huge boon to the students, both those living in the refugio, and those in our community. We hope to increase numbers of students as vaccinations become available.
The refuge portion of our work has welcomed in new families and we are excited to see how the community begins to evolve in terms of wider support as women gain independent living opportunities and are able to support those coming into the refuge. We know the resilience and success of the families who have stayed in the refuge for some time will be the greatest asset to our community as a whole, and our work with single mothers in crisis circumstances.
The small enterprise portion of our work is inching along, and we are thrilled to have sent an order of handcrafts to the States for wholesale and retail distribution. While the small animal production hit a road bump, we have been able to run the bread-making program as an income generator for various family members when they most needed a boost.
Each day is a gift, and we are so grateful for the bonds of friendship and community this project has helped to foster. We look forward to traveling in 2022 to offer moral as well as financial support to the project and to reconnect in person.
We thank you for your support and look forward to new momentum as we reboot this quarter and take on new challenges in 2022.