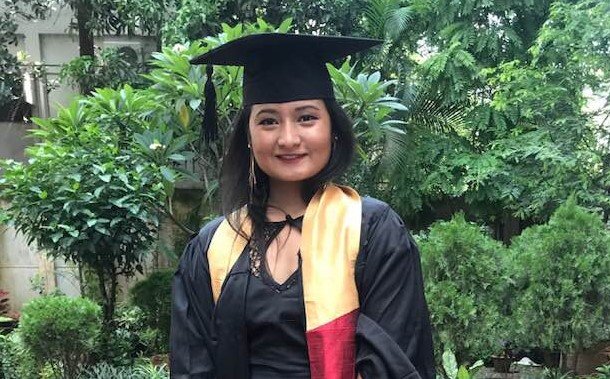 Pooja is a young woman who has benefited from a Wedu scholarship thanks to your help. This is her story:
I am Pooja from Nepal and currently, I have just finished my master's degree at the University of Sussex, UK. In 2018, I graduated from Asian University for Women with Politics, Philosophy and Economics degree in Bangladesh. I was actively involved in media and films. Therefore, I chose to study Media Practice for Development and Social Change as my master's degree in order to understand the media representations of minority groups and how to create positive digital representations of minorities.
During my masters, I have co-produced two short documentaries and currently, I am working on a photography project for my dissertation. In my free time, I like to create unique photographic concepts and make short films. I plan to work in a creative industry where I can tell untold stories of women and other minority groups.
I have been Wedu rising star since 2015 and I have been blessed with amazing mentors with whom I still keep in touch. Wedu mentorship creates a lifelong friendship that I am truly grateful for. I am glad that Wedu provided me with opportunities to be impacted by two brilliant mentors from different parts of the world.
Wedu's funding has helped me immensely to survive in the UK while I focus on my studies without worrying about financial issues. I have finished my Masters with Merit and I am so glad that Wedu helped to ease my financial burden."
We want to send our deepest gratitude to you for supporting this effect and helping us by donating to the Sujata Baskota Honor Scholarship. Your contribution directly supports women like Pooja by allowing them to focus on their studies and follow their dreams to create positive social change. Thanks to you we have been able to raise a total of $5,500 in online donations to contribute towards scholarships, an amount that can provide financial support to more Rising Stars this year than ever before. Thank you again so much for your donation and we look forward to sending more exciting Rising Star updates and achievements in the coming months.
Thank you for helping our Rising Stars keep rising!
With gratitude,
The Wedu Team