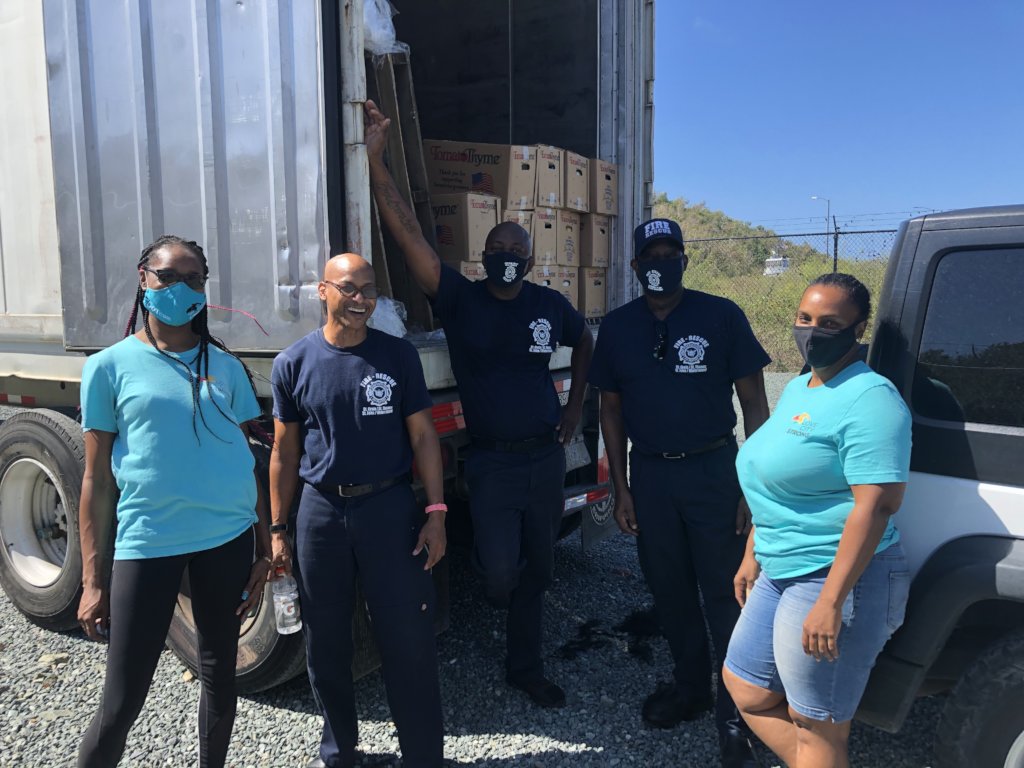 2021 has brought new opportunities to collaborate with our local and federal partners to support the St. John community. Our longstanding model of going directly to those we serve for all of our programs, rather than making them come to us, means that we are uniquely able to navigate St. John both quickly and efficiently. This allows us to provide people with goods and services from other organizations who might otherwise not be able to access them, and helps strengthen the impact of these programs.
For the last 3 months, we have been regularly partnering with the Virgin Islands Fire Department and Our Lady of Mt. Carmel Catholic Church to help distribute boxes of food to St. John residents as part of the USDA's Farmers to Families program. Our team's inclusion in this program has ensured that a crucial group of individuals are able to receive this program's benefits: Seniors and people with a disability or chronic health condition that renders them homebound. On average, our team delivers boxes of food directly to 80 homes across the island on distribution days.
In March, we were asked to support the The Virgin Islands Department of Health, The Department of Defense, VITEMA, and The Virgin Islands National Guard at the Community Vaccination Pop Up in Cruz Bay. Hundreds of residents have been vaccinated at these events thus far, contributing to the overall health of the community.
At the Vaccination Pop Ups, we provide extra PPE; supplies like tables and chairs; Spanish translation services; and manpower to help residents book appointments for future dates, call appointment no-shows to rebook their appointments, and pick up homebound seniors and deliver them to their appointment. Through education, access to technology, and transportation, LCS has helped break down some of the main barriers to vaccine access.
Thanks to the support of our Board and donors, we are able to provide assets for our employees and our partners to successfully execute these programs and in many cases make them more robust. Providing our team with vehicles, PPE, and the tools that they need to do their jobs ensures that they do not have to use their personal property for work purposes and strengthens our impact and effectiveness.
The generosity and flexibility of our donors makes it possible for us to take an active role in these events, and to form relationships with relevant partners in response to immediate needs. Please consider supporting our efforts with a donation, and we can continue to ensure that St. John is prepared and safe.