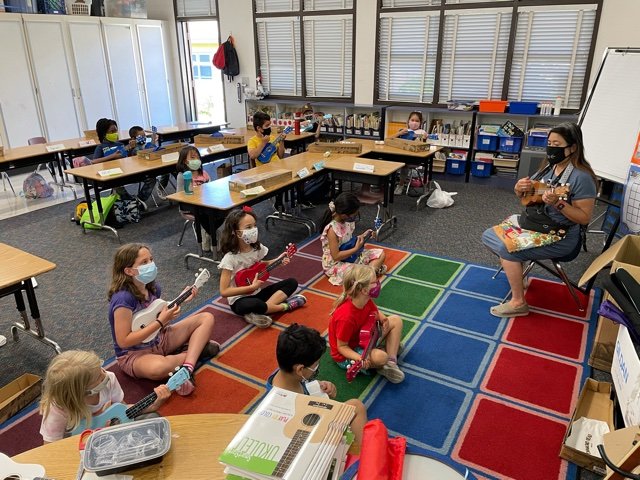 Throughout the pandemic and school closures, teachers, students and families have all met the challenges of living with uncertainty, stress and the technological aspects of virtual learning. Now that many TK-3 students are back in the classroom, the effects from months of distance learning are still being felt. Fortunately, classroom teachers have discovered that music has a way of making students' efforts more worthwhile by providing an opportunity to create joy.
Ms. M has been a classroom teacher in Title I schools for the past 27 years. As a woman of color whose first language was not English, Ms. M.'s childhood experiences were similar to those of many of the second graders she teaches today. She always wanted to take music lessons but her family had no money to spare and there was no elementary arts education in her school, so music remained absent from her life until she found GITC as a veteran educator. Now, thanks to your support, for the past two years she has been learning to play the ukulele with GITC and to lead hands-on music and the power of song for her students.
As a language learner herself, Ms. M knows it's important to have a growth mindset and grit, and she endeavors to instill these qualities in her students. During the pandemic she participated in a GITC co-teaching artist residency with her online classroom, obtaining ukuleles for all her students so they could play and sing together while socially distanced at home. Music became the best part of their day and a way to stay engaged and have fun. It brought joy to her students and light to her own life. Your generosity made this possible.
The last time her students had a normal school year, they were in kindergarten. Now that the children are back in the classroom, Ms. M finds music more important than ever for boosting recovery from very significant pandemic learning loss. She leads music three times a week with her students, playing ukulele and writing songs with them to further academic learning in many subjects. Recently, she was delighted to overhear her students talking together about how to plug their favorite math strategies into songwriting. They asked her if the class could make up a song about math, with each student writing a verse about the strategy of their choosing. Of course, she said, "Yes!"
Ms. M is determined to make sure that music is not out of reach for her students, as it was for her. "If they don't have art or music, how are these kids going to shine?" she asks. "Exposure to music through GITC can create a musical connection, making it possible for my students to take it a step further as they grow." Your participation plays a vital role in creating this connection.
With your ongoing support for our free programs, we can continue to make a life-changing difference for teachers like Ms. M and her students throughout this time of healing and possibility. Your gifts truly matter.
If you would like to keep abreast with our progress, we hope you'll visit our website to subscribe to our monthly newsletter, and join us on Facebook or Twitter to let your voice be heard!
With heartfelt appreciation,
Gail
Links: