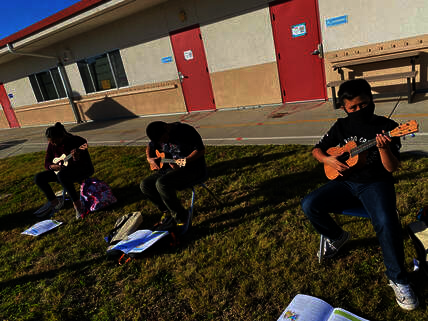 Almost a year has passed since distance learning became the norm for TK-3 students as a result of the pandemic and school closures. As you may know, throughout this time, teachers, students and families have all met the challenges of living with uncertainty, stress and the technological aspects of virtual learning. Fortunately, music has a way of making their efforts more worthwhile by providing an opportunity to create joy.
Thanks to your generosity, we are continuing to grow our capacity to provide GITC professional development classes online for teachers who want to learn to play simple guitar and ukulele, sing, and lead students in song, inspiring everyone. We are deeply grateful to each of you who has contributed to keep our little engine climbing the hill on nonprofit service. Because of your support, every 8 weeks we are able to welcome another 100 teachers into training to teach through the power of song with ukuleles, songs for literacy, math, science and social studies, and student songwriting.
When she started bringing GITC to her first grade students, Miss D., a teacher at Maryland Elementary school in Vista, California found the effects of the ukulele to be life changing for her students. "I'd been looking for this thing -- something that would help me shift my students' trajectory in life, " she explains. "My school has the highest number of homeless students in the district. Many of my students are English language learners. My biggest hope is always to shift their trajectory with small, positive changes. Even if it's just three degrees, it has the power to change their lives when they are adults." Miss D. even started after-school ukulele clubs so the students could play music together in a safe, socially-distanced setting outside. Now she is shifting school culture by inspiring teachers from every grade to bring GITC to their own students. With your support GITC is changing lives through music!
Thank you for helping to make GITC classrooms like Miss D.s musical and strong. YOUR participation is of the utmost importance. With your ongoing help, we will continue to make a huge impact together as teachers continue with online learning and, when it's safe, move back into their classrooms.. This promises to be a time of healing and possibility when we lift together. We look forward to creating more opportunities for you to be able to improve children's ability to learn enthusiastically and to make music at school.
If you would like to actively participate with us in cultivating more music in education, we hope you'll visit our website, engage with us in social media, subscribe to our monthly newsletter, and let your voice be heard!
With heartfelt appreciation,
Gail