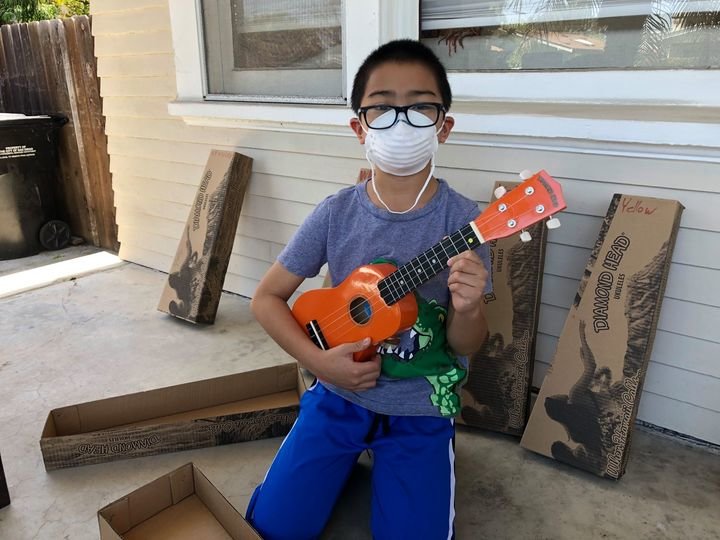 Dear Friends,
Every child in a GITC program whose life opens up to music gets a key to creating their own happiness, even and especially in times of great uncertainty and stress. As teachers, students and families continue to cope with the technological aspects of virtual learning, music has a way of making that effort more worthwhile.
At the start of the pandemic, GITC transitioned from training teachers in person, in groups at schools around the county to offering our free training courses online every day of the week after school and on Saturdays. Due to the success of bringing GITC into the online classroom, the demand for our programs has doubled! Thanks to your generosity, we are able to grow our capacity to provide GITC professional development classes online for teachers who want to learn to play simple guitar and ukulele, sing, and lead students in song, inspiring everyone.
Our enrollment continues to climb. Because of your support, every 8 weeks we are able to welcome another 100 teachers into training to teach through the power of song with ukuleles, songs for literacy, math, science and social studies, and student songwriting. We are immensely grateful to you!
Teachers tell us about the impact of the work you are supporting. Third grade teacher Mrs. R shared, "I think [playing ukuleles online with the students] is something different and unexpected during this time when everyone is stressed about everything. I am definitely getting parents wandering over [to the computer] during class time and peeking in because it's a different feeling than just playing background music. It's important for me to have a personal connection with the kids. It's my way of saying 'I know we're not together, but I'm still here."
Your support of our work has empowered teachers to build more creative online learning environments and classroom communities filled with authenticity, trust, care and interdependence. These important qualities are helping teachers carry their students through the pandemic. We encourage you to visit our website at www.guitarsintheclassroom.org and click on the blog page to read more about Mrs. R and other dedicated classroom teachers who are making a difference with music in their online classes. We thank you for your blessings and gifts to do this work.
We deeply appreciate your generosity and care for children. With your ongoing participation, we will continue to make a huge impact this school year, together. We look forward to creating more opportunities for you to be able to improve children's ability to learn enthusiastically and to make music at school.
If you would like to actively participate with us in cultivating more music in education, we hope you'll visit our website, engage with us in social media, subscribe to our monthly newsletter, and let your voice be heard!
With heartfelt appreciation,
Gail
Links: