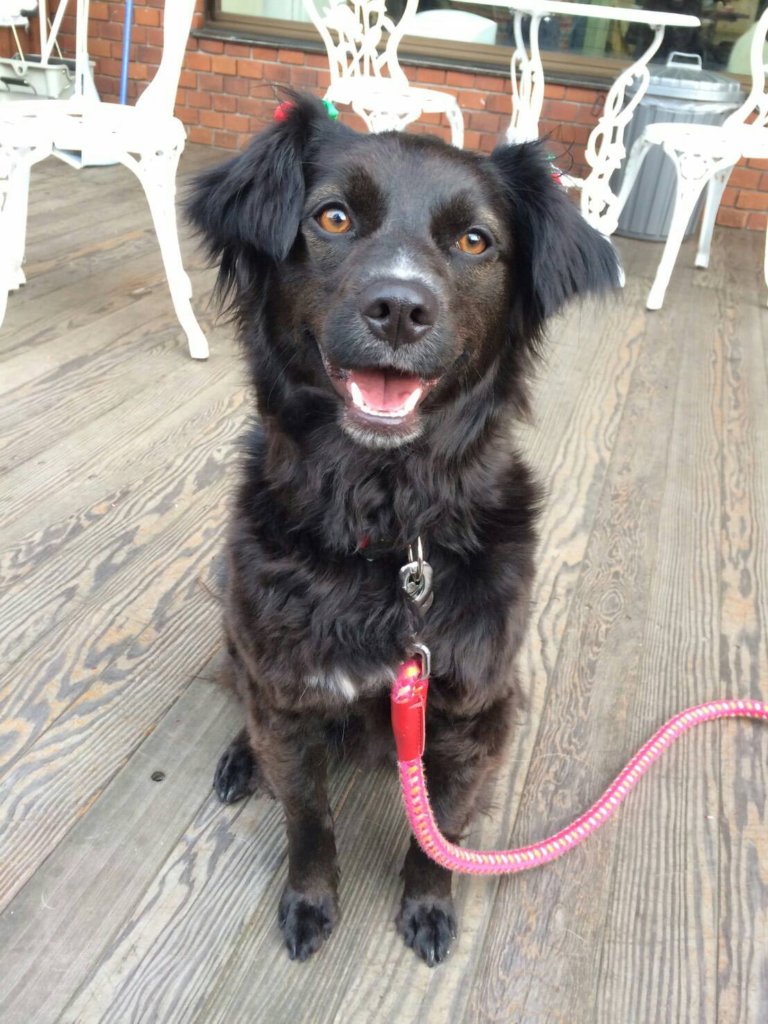 ~We had rescued a stray dog in Turkey, and she has already finished to train to a therapy dog. But I would like to introduce this story~
Chocolat is a girl, estimated to be 1 year old and the mix breed of black labrador retriever and terrier.
We rescued the 4th stray dog, Chocolat, in Ankara Turkey.
In January, it was very cold and rainy day. Ms Eiko Kazama, who is a member of Jata, found Chocolat, driving a car on the expressway in Ankara. Chocolat has very beautful and soft black hair, so "black something" ran at full speed. She was looked like chasing the car in front.
Ms Kazama knew that was a puppy, and thoght soon or later, the puppy would be to be run over by some cars. Fortunately, at that time there were few cars on the ewpressway, so she stopped her cay aside the way, and sounded the Klaxon. Then the small black puppy also stopped running, and came to her.
She could not leave the puppy on the expressway. The puppy, Chocolat, was not rejected to ride on the car. She brought the puppy to the diffirent safe place, a shop, then gave her some bread. Chocolat must have been so hungry, so ate a lot.
This is the first day, Ms Kazama met Chocolat in Anakara.
Then, she named the lovely dog, Chocolat, and decided to take care of her.
Now, Chocolate came to Japan, and be loved a lot by many people as a Therapy dog. But the way to become a therapy dog was so hard and long.
First of all, Chocolat would have been a street dog for a long time. She didn't know discipline at all. Originally she is very clever, frindly and kind to people and the other dogs. It was very very great and the most important point to train a Therapy dog. But the other discipline was not enough.
Chocolat often entered to Ms Kazama's kichen and stoled food, and bite furnitures. Also her eyes were so sharp and looked to be so sad. Her face and behavior was totaly "street dog".
It took long time, but Ms Kazama trained Chocolat with big love. Strangely, her eyes became very soft, and increase smile. Her bad behavior also decrease.
This April, finally Chocolat came to Japan ! Ms Kazama is a member of JATA, and also a chairman of Healing & Recreation Center for Human and Dogs, where is a place anyone to interact with Therapy dogs. Then Chocolat came to the center...
She was a very very great Therapy dog. There are many people who have mental illness, and handicapped in this center. Chocolat is very sweet. She comes to such people and stay there kindly. Everyone who meets Chocolat love her.
All staffs hope Chocolat become much happier in Japan.