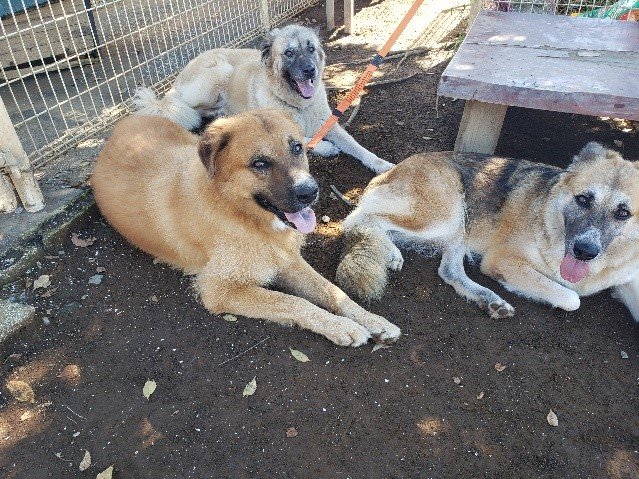 Hello.
Thank you for your continued support of JATA's "Stray Dogs become therapy dogs" project.
We were able to receive many support for the reconstruction project of the dog farm "Fuji no Sato" which we had reported last time.
We sincerely appreciate your help.
"Fuji no Sato" is located at a place overlooking Mt. Fuji, where the air is fresh, and water is clear. Recently, the gentle autumn breeze has been making it is easier for our dogs to spend time there. We will continue to make efforts to create an environment where dogs can spend time comfortably.
For today's report, we would like to introduce "Ace", our Kangal-mix, who is currently working hard every day to become a therapy dog.
Ace is a 6 years-old male dog. His mother is "Bal", a Turkish Kangal Dog and his father is "Boss", a German Shepherd.
Ace weighs about 50 kg, large and looks a little like a wild wolf.
As he was born and raised in Fuji no Sato, he does not really know about the rest of the world. He is now steadily growing and being trained to become a therapy dog.
So why did we decide to take him up in this report?
The reason is because he used to be a very lonely dog.
The environment in which he grew up had great influence on his personality, and he couldn't harmonize well with other dogs.
Though his mother Bal, who was protected in Turkey and brought to Japan, is a very kind and friendly dog and actively visits facilities for the elderly. She can interact with many people and dogs in a friendly manner.
So inheriting the blood of Bal, Ace was expected to play an active role as an excellent therapy dog. It was strange that he was the most problematic of his eight siblings and couldn't play with anyone.
He spent more time in cages because he fights with other dogs. And even when he was let out, he had to be tied with a leash. He did not have freedom for a long time.
One of the staff who took care of him at the time, said Ace is scary, glares and can be aggressive to people, so we need to be careful and never take his leash off.
As the days went by, that staff left JATA, and we started a project to radically change the living environment of the dogs in Fuji no Sato.
Mainly for the past year, we aimed to not only improves the living environment of dogs, but also to make improvements in how we take care and interact with dogs.
Regarding the dog's temperament and personality, we thought that prejudging "this dog had a fight before and should not be put out with other dogs" may narrow our view. So we decided to face the dogs and build a relationship of trust from the start once again.
We started by investigating the cause of why Ace had a fight and couldn't get along with other dogs. When we thought about it, Ace had been alone since childhood and it was quite normal that he didn't know how to communicate with other dogs. He didn't know how to keep his distance, or how to make friends.
It wasn't just a problem about violence, but rather related to his personality of being timid and not used to interacting with other dogs. We began to understand that because of being lonely, he took defensive reactions such as barking or biting. When he was born, he was the smallest of his siblings, but surprisingly he became the biggest and the strongest. It seemed as he was aware of that strength.
In order to fill his timid heart, we prioritized building relationships of trust between him and humans, and then gradually increased the time he spent with other dogs.
We played and spent time together and accumulated these positive experiences within Ace.
After a while, it was obvious that his facial expressions and gestures had become brighter.
This summer, a staff member who worked in the past met with Ace for the first time in four years. The staff was amazed at Ace's gentle eyes and facial expressions. Those fearful eyes had completely disappeared, and he had grown into a friendly dog that would immediately rub his body to humans.
Though Ace is still at a stage of growth. He is still making steady progress so that he can get along with other dogs.
We want to let him do things that he had never done before, slowly and without rushing, and above all, we want him to grow up to be a strong but gentle dog.
We will continue to report on the growth record of Ace.
We would be grateful if you could support us!
Non Profit Organization
Japan Animal Therapy Association
Social planner
TAKASHI OKUMURA
Profile
http://animal-t.or.jp/html/examination/animaltherapist-examination/to/01.html
https://japananimaltherapyassociation.wordpress.com/