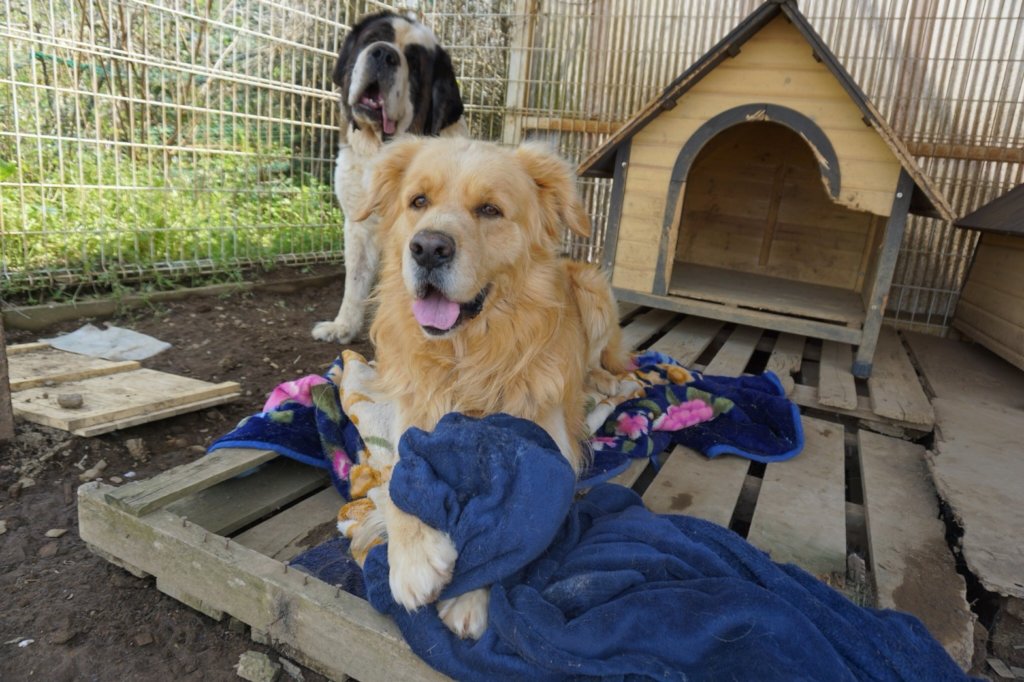 Hello.
Thank you for your warm support for JATA's "Stray Dogs become therapy dogs" project.
Continuing from the last issue, we will be reporting about Fuji no Sato, a dog farm where many therapy dogs live.
We are raising emergency relief funds to help improve the living conditions for the dogs at Fuji no Sato.
In this report, we will tell you why we decided to ask for emergency funds at this time. We would like to explain in more detail what is going on here.
Fuji No Sato is the place where Johann, one of the main active dogs at JATA who used to be a street-dog became a therapy dog, as well as Bal and Tilki. This place is now facing a time of change.
We believe that making our challenges known to as many people as possible will contribute to the spread of our animal therapy activities.
At present, there are about 30 dogs living in Fuji no Sato, including active and retired therapy dogs. With 90% of the dogs being large-sized dogs, the ranch has a spacious living space and dogs can run around freely. Fuji no Sato is in Mishima City, Shizuoka Prefecture. It is located at a place where the water is clean, air is fresh, and where a beautiful view of Mount Fuji can be observed. Here, visitors can play and interact with many therapy dogs to the fullest.
Fuji no Sato is blessed with such a privileged location, but in recent years, due to various natural disasters and aging facilities, the kennels which the dogs have been in, and the fences of the ranch are decaying and are in an ugly state.
In addition, former staff members who were trusted to manage the dogs have dumped the donated kennels without taking care of them, neglected care of dogs leaving them with uncommonly thick hairballs, overlooked tumors and other animal handling tasks.
Unfortunately, some of the former staff have been behaving in these ways that are inhumane, and it has become necessary to reform both the hardware and software side of Fuji no Sato.
Amid the calls for fundamental reform, coupled with the impact of the new coronavirus that has shaken the world, our association's main activity to visit elderly and disabled people's homes with therapy dogs have all been suspended.
Because we have lost our important source of income; including the donations we receive from the facilities, raising the necessary funds for the reform of Fuji-no-Sato has become difficult.
As like many companies have been affected by the coronavirus and have been forced to go bankrupt, our non-profit organization is in a tight spot as well. Some of our staff has retired, and we are taking care of the dogs with the limited few staff members we have left.
Now that we no longer provide animal therapy services, the therapy dogs have lost their jobs, and they are spending their whole time in their kennels. This means the dogs are under great stress.
Our challenge this time is to make sure that the dogs maintain their standard of living through emergency relief fundraising. We hope to renovate the kennels and fences, so that we can provide a better place to heal for those who come back to see our therapy dogs as the coronavirus settles down, and also to create an environment where the dogs can live comfortably. We believe that seeing, touching, and enjoying the innocent smiles and behaviors of the dogs is an ideal form of animal therapy which we would like to offer.
"Johann", "Bal" and "Tirki" who had been former street dogs in Turkey, received lots of love and affection and became therapy dogs that brings back smiles to people.
We humans get a lot of healing from dogs. Not only dogs, but we also receive a lot of benefits from animals. The world is in a very difficult situation, but it is precisely because of this situation that we want to protect animals.
They cannot survive on their own, and that is why it is our responsibility to protect them.
We will use the funds we receive for food, vaccines, and other medical expenses for dogs, and repairing fees of kennels and open space renovations.
We look forward to your warm support. We promise we will protect the therapy dogs.
Non Profit Organization
Japan Animal Therapy Association
Social planner
TAKASHI OKUMURA
Profile
http://animal-t.or.jp/html/examination/animaltherapist-examination/to/01.html
https://japananimaltherapyassociation.wordpress.com/