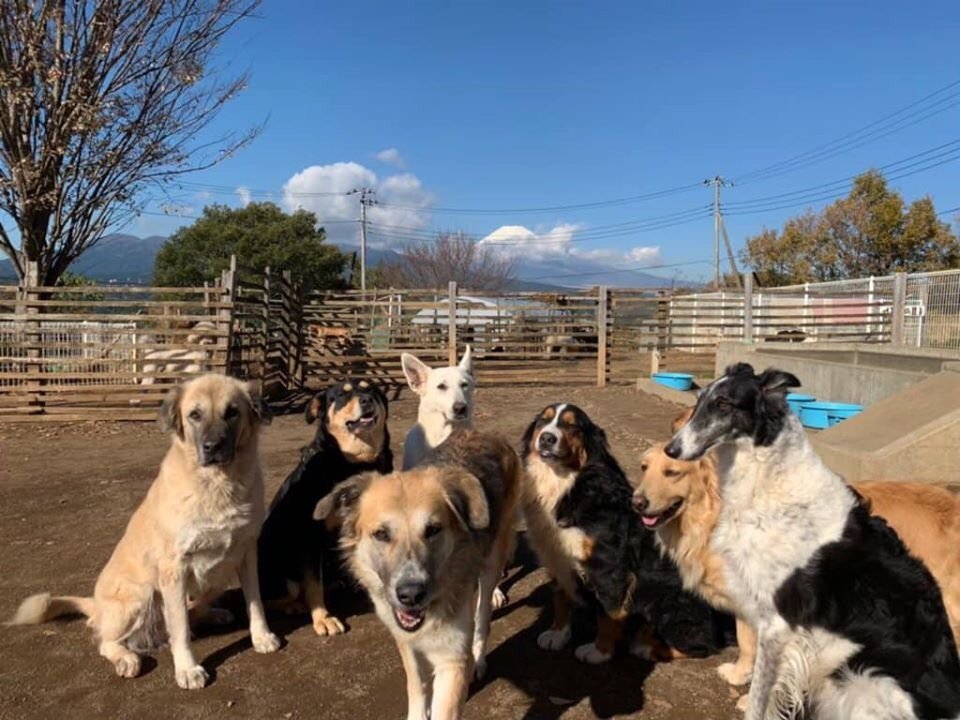 Thank you for your support and cooperation. I'm Eiko Kazama, the president.
Our association has around 100 dogs in total, including active therapy dogs, retired therapy dogs, future therapy dogs and rescued dogs. 50 dogs are living in Yamato, Kanagawa and another 50 dogs are in a farm (the village of Fuji) in Mishima, Shizuoka. More than half of them are large dogs, including super large dogs such as St. Bernard and Great Dane, and large dogs such as Golden Retriever and Borzoi and many more. So the amount of dog food consumed each day is considerable.
As you all know, One of the main sources of income of our NPO association is Animal therapy visits to the facility. However, due to the recent spread of coronavirus (Covid-19), about 60 animal therapy activities in March and April have all been canceled. For this reason, there is no payment from the facilities in March, and our NPO that takes care of a large number of dogs, including abandoned dogs from Turkey, is currently in a very difficult situation of funding. Since March is usually the most active month of the year, our organization is very confused and damaged by this unexpected event.
Although it has been a warm winter in Japan this year, the Fuji farm at the foot of Fuji is still very cold. The dogs spending outside increase their appetite more, and so we want to provide them more food to strengthen them to survive the cold winter.
We also conduct fundraising activities (as Awareness raising activities in front of the station). However because of the pandemic, compared to before, there are many people who do not stay for long to hear what we say, there are only few that stops and donates, the number of employee staffs is limited, and it is difficult to increase it further because it places a burden on dogs.
I am very sorry,
We have a sincere request.
Even a little is fine.
To save the lives of our 100 therapy dogs,
Would you please donate?

Of course, starting with me, all the volunteer staff intend to get over this difficult situation as much as we can, but we still need your support and cooperation.

Thank you very much.
Thank you for reading.

Sincerely yours.
29.February 2020

Non Profit Organization
Japan Animal Therapy Association
Director
Eiko Kazama

profile
http://animal-t.or.jp/html/association-overview/chairman/01.html

http://animal-t.or.jp/