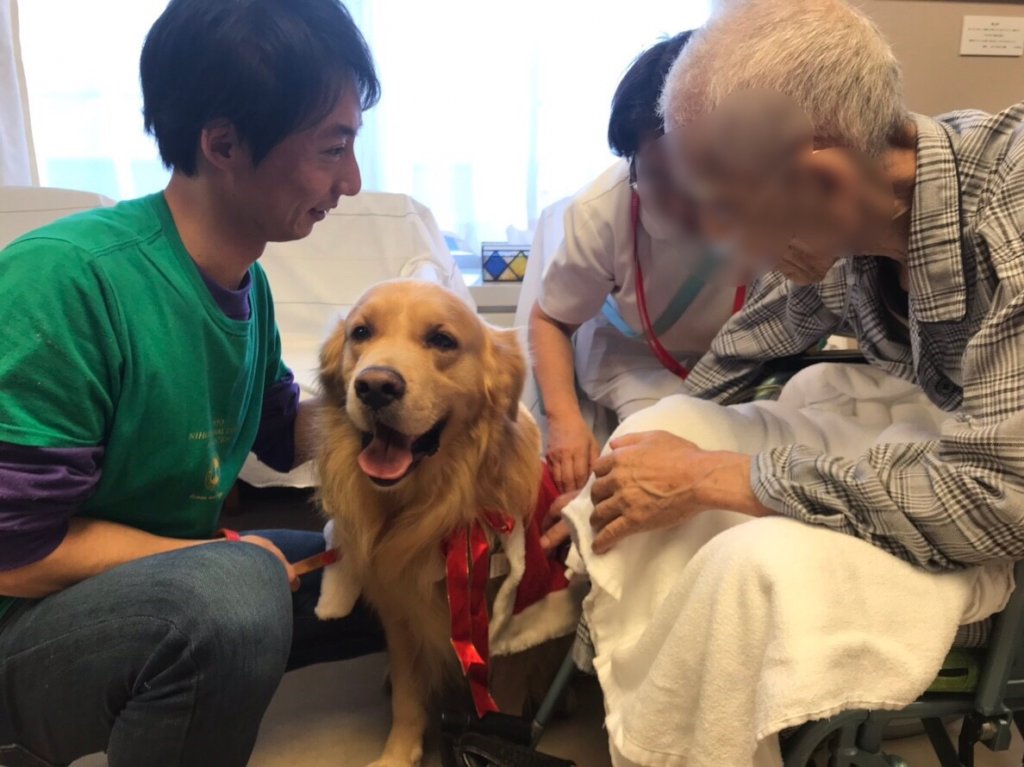 Thank you for your warm support for JATA 's "Stray Dogs become Therapy Dogs"project.
This time we will report on the recent status of Johann, a Golden Retriever who was a wild dog in Turkey until three years ago.
Johann always works as a therapy dog at the "Healing & Recreation Center for Human and Dogs," (http://ikoi.me/) a salon where you can interact with the therapy dogs.
Animal Assisted Therapy at palliative care unit
On November 30th, we went to the Palliative Care municipal hospital in Fukuyama(Hiroshima prefecture) for an animal therapy visit.Visit to a hospital of palliative care was the first experience for Johann.We received a great welcome from doctors and nurses there.
In Japan, considering the risk of infections and accidents by animals, it is still difficult to put dogs in hospitals. Therefore, animal therapy in hospitals does not spread easily.However, at this hospital in Fukuyama, we hoped to give the patients of terminal care a peaceful time and decided to introduce this animal therapy.
Four patients received animal therapy this time.Johann was calm even at a place he came for the first time, following the directions of the animal therapist, and was cable to safely interact with the patients.The patients showed gentle smiles and we received such words as "I don't feel much pain now". Doctors and nurses also said, "We always see the patients looking painful, so being able to see the patients' smile made us very happy. We were able to again experience the power of the animal therapy.
Johann's 5th birthday
Johann celebrated his 5th birthday in December (Estimated age for wild dogs) at the "Healing & Recreation Center for Human and Dogs".Many people came to celebrate him.Johann, once a wild dog, has received plenty of affection and became to trust people. Now, as if in return, he gives courage and hope to those who have heart diseases or are in need of warmth.
A year ago, a girl who was depressed for a certain time and disliked dogs visited the "Healing & Recreation Center for Human and Dogs" with her mother. Johann cuddled closely to the girl, giving her comfort and sense of security, and that gradually changed her. She began to go out on her own to meet Johann, and amount of medicine decreased and now she is able to go to work. We cannot underestimate the healing power of the dogs.
For this power of the dogs to be acknowledged by more people, we will continue what we have been doing, with the animal therapy dogs.
Thank you for your and understanding and cooperation.We really appreciate it!