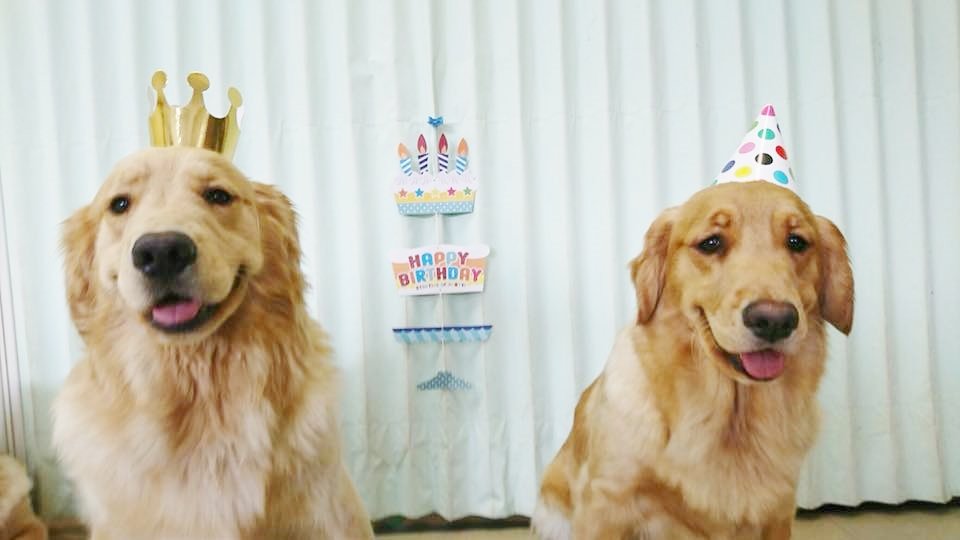 In 16th April, Johann's pupies celebrated 1 years old birthday!
We held a birthday party for them, prepared a small cake for dogs (Both of dogs and human can eat it, very special cake!), and celebrated them! Though for a very short time, we put small hats on their heads, and sang a birthday song for them.
Time past so fast. The small puppies had already become 1 years old, and are becoming great therapy dogs like Johann. All of puppies live with Johann, their father, and play with each other, and seeing on the attached pictures, they smile very well.
It's my personal opinion though, Johann's charactaristic has changed. When he came to Japan, he was already a great therapy dog. But gradually living in Japan, he smiles much more often, and his atomosphere became softer and kinder. I'm not sure whether it is why he became a father or not. But I think it could be a good change not only as a therapy dog, but also for himself.
I hope Johann likes to live in Japan, and loves our assocation and all his family. And his lots of son and daughters feel the same.
Anyway, at the same day, we invited Sarah and Shreya from GrobalGiving team. We introduced our facilities and also we invited them to Healing & Recreation Center for Human and Dogs. We hope they enjoyed interactiong wtih therapy dogs. Sarah and Shreya gave much love to Johann and his puppies, and they looked like so happy :) Also I learned many tips and about GlobalGiving. I would like to reduct my learning to our projects more.
Lastly we are welcome from your feedback. Please let us know if you have any qustion or what you'd like to know from us.
Thank you!