Project Report

| Dec 21, 2021
Adalah: Happy Holidays and Highlights of our work in 2021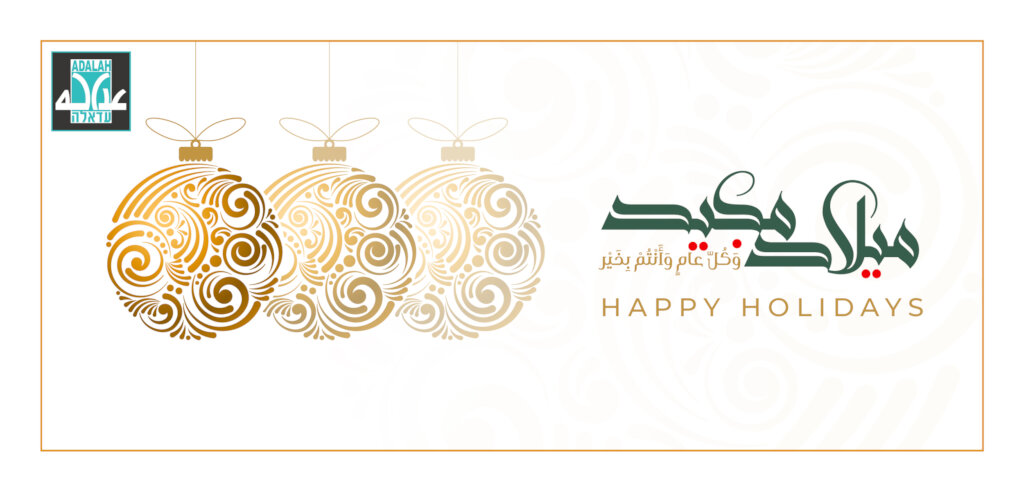 Dear Friends and Supporters,

On behalf of the Adalah team, I wish you and your families a happy, healthy holiday and New Year. I also thank you for your steadfast support for Adalah in 2021, which has been a particularly tumultuous year.

The May 2021 events were a seminal moment. In May, we witnessed a deadly escalation in violence in Israel and the OPT, sparked by Israel's brutal repression of protests against the eviction of Palestinian refugee families from Sheikh Jarrah. Hostilities spread to the Al-Aqsa Mosque complex and Gaza, where Israeli airstrikes killed 240 people, including 65 children. Palestinian citizens of Israel took to the streets across the country to demonstrate, and were met by extreme violence by police and ultra-right wing Jewish Israeli vigilante groups.

In response to the May 2021 events, Adalah represented dozens of Palestinian citizen protestors detained and viciously beaten by police, and secured their release from detention with less harsh conditions, including political leaders unjustly charged with incitement. We also helped draw international scrutiny to the violence and incitement against Palestinian citizens by Jewish Israeli vigilante groups and senior Israeli officials, which culminated in the opening of an unprecedented investigation by the UN into the events and their root causes on both sides of the Green Line.

Another milestone was the announcement by the Chief Prosecutor of the International Criminal Court of the opening of a criminal investigation into the "Situation in Palestine." This watershed decision confirms what Adalah and many other human rights organizations have maintained for years: that Israel is committing war crimes against the Palestinian people, and that there is no accountability under the Israeli legal system.

More upheaval followed when Israel designated six of the most prominent Palestinian human rights and civil society organizations as "terrorist organizations", shocking the international community. These groups are the most vocal in resisting the Israeli occupation and its apartheid policies, and some are active before the ICC. Adalah is providing legal advice and assistance to the Palestinian 6 against Israel's transparent attempt to silence, delegitimize and defund them.
Click Here to view a slideshow of Highlights of Adalah's work in 2021
Despite the many challenges posed by these events, and working under the long shadow of the COVID-19 pandemic, Adalah's team obtained major positive results from its legal and advocacy work. Successes included securing vaccines for the most vulnerable Palestinian groups and prisoners, and the publication of emergency health information in Arabic by public health bodies. We were honoured to receive a prestigious international award from the World Justice Project in 2021 for our COVID-19 litigation.

Continuing the fight against forced displacement in the Naqab, Adalah successfully cancelled evictions orders that were filed without notice against Bedouin residents of Segev Shalom; halted the construction of a phosphate mine, which could have resulted in mass home demolitions; and contributed to the shelving of a plan to set up refugee camps for Bedouin targeted for forcible displacement.

Given the harsh, draconian measures taken by Israel against the Palestinian people, Adalah is all the more proud of these activities, through which we defend Palestinians' human rights on both sides of the Green Line.

On behalf of the Adalah team, I sincerely appreciate you, our partners in this work, and we can only meet the challenges of 2022 together. Please consider welcoming 2022 with a gift to Adalah.

With gratitude, yours sincerely,

Dr. Hassan Jabareen
General Director of Adalah
We urgently need your support to meet the coming challenges and to continue with our critical work.
Please consider an end-of-year donation or a monthly recurring gift.