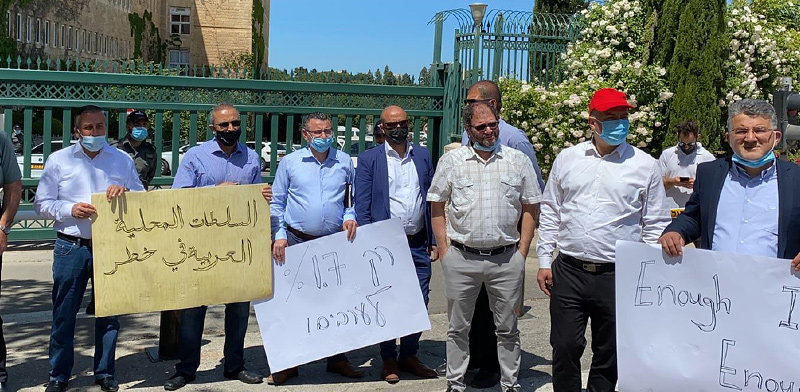 Dear Friends,
One of Adalah's top priorities as we exit the coronavirus lockdown is to secure dignified living conditions for Palestinian citizens of Israel by protecting their economic rights.
Once again, Adalah's legal intervention has pressured Israeli authorities to respect the rights of Palestinian citizens of Israel, this time by securing a significant increase in emergency state resources to Arab municipalities in Israel facing the harsh economic repercussions of the coronavirus crisis.
On 10 May 2020, Adalah, on behalf of the National Committee of the Heads of Arab Local Authorities in Israel, petitioned the Israeli Supreme Court demanding equal budgets for Arab towns. The petition demanded to set equal criteria for budgeting to local authorities in a manner that takes into account the characteristics of the damage done to Arab communities during the coronavirus period, mainly due to loss of income from municipal taxes.
Adalah argued that the government's aid policy for local councils runs contrary to Israel's Basic Law: State Economy. The law was amended on 7 April 2020 to approve a state budget during the coronavirus crisis, including a provision to allow for financial discounts in municipality tax payments. However, the government implemented it in an unequal manner by allocating aid to local councils for loss of commercial municipal taxes, which greatly benefitted Jewish Israeli towns, but discriminated against Arab municipalities since, in the absence of industrial zones and business complexes, the bulk of Arab municipal income comes only from residential property taxes.
Since the outbreak of the COVID-19 crisis in March 2020, the Arab municipalities have lost about US $20 million every month, with a total expected loss of US $60 million over three months. Municipal expenses have increased in many cases during this period as local authorities have worked to fight the virus.
Financial assistance offered by the government to Arab towns amounted to just 1.7 percent of aid provided to all local municipalities nationwide, although Palestinian citizens comprise over 20 percent of the population. The grossly unequal allocation of state budgets in response to the pandemic would not only fail to revive Arab towns, but would lead to their fiscal collapse, jeopardizing the continued provision of essential public services to residents.
Following Adalah's petition, officials from the Ministries of Interior and Finance held talks with the National Committee to reach an agreement outside of court. Throughout this process, Adalah continued to provide to legal advice to the leaders of the National Committee. Ultimately, Israeli authorities agreed to increase budgets to Arab towns to an amount almost equivalent to that which was demanded in the petition. The Arab towns are set to receive at least NIS 150 million (or US $43 million) as a result of this legal action.
Following this achievement, Adalah withdrew the petition.
Adalah's litigation made a major impact on the end result by directly pushing the Israeli government into negotiating a better deal with the mayors for the Arab towns.
Your support is crucial to the struggle against discrimination, and will help Adalah to continue to make a significant, positive impact on the rights of Palestinian citizens of Israel.
Thank you in advance for your generosity.