Project Report

| Apr 13, 2023
Bird hunting in Murshidabad, West Bengal kept in check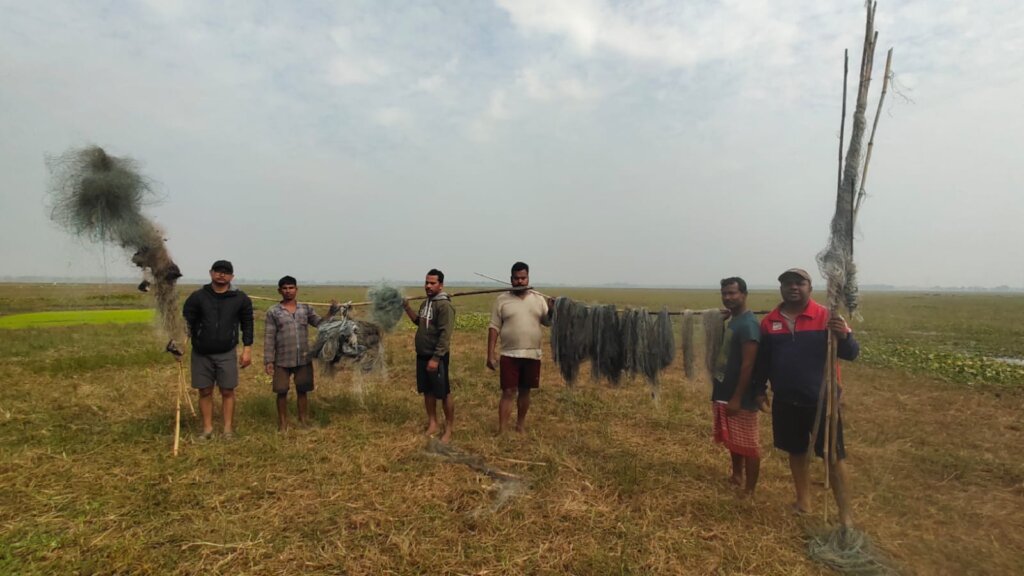 Greeting to you from Wildlife Trust of India,
Hope you are doing well!
This email comprises an update on our project 'Stop the Hunting of Wildlife in India'. Along the updates, we send to you our heartfelt gratitude for your generosity and for your trust in the work we do to protect wildlife. It is through such acts of kindness that we are able to implement our conservation initiatives and work towards our vision of a secure natural heritage of India.
Every year, between November to April, thousands of migratory birds (including waders, passerines etc.) are hunted for meat in and around Murshidabad district of West Bengal. The birds are trapped using mist nets, which are very fine nets strung between poles and placed within bird habitats. These nets are nearly inconspicuous in their surroundings, which means unsuspecting birds fly into the traps and get entangled in them. The birds trapped include several vulnerable species such as – bristled grass birds, ferruginous ducks, black-headed ibis, black-tailed godwit and common pochards.
Through a Rapid Action Project, which had previously gathered intel on such hunting activities in the region, we removed mist nets laid across a 16 km stretch in the reporting period. 343 trapped birds, including short-toed larks, oriental sky larks, and Bengal bush larks, were rescued and released in their habitat. This capture technique might sound uncomfortable for the birds, but fortunately mist-netting is claimed to be relatively less harmful for the entangled individuals. Hence, rescue and release of trapped birds shows high success in terms of rehabilitating our tiny, winged friends back into the wild. In the previous phase of the project, mist nets across a 4 km area were removed and 33 birds were saved.
The team also assisted the Forest Department in arresting two poachers caught in possession of 24 live larks. Commercial hunting is a bane for wildlife and we believe the push-back is critical to keep such activities in check. While our team is working hard for this, through regular monitoring and vigilance, we once again thank you for funding the initiative. The chirrups of free, wild birds make us happy, and we know it is the same for you.
Warm regards,
Team WTI