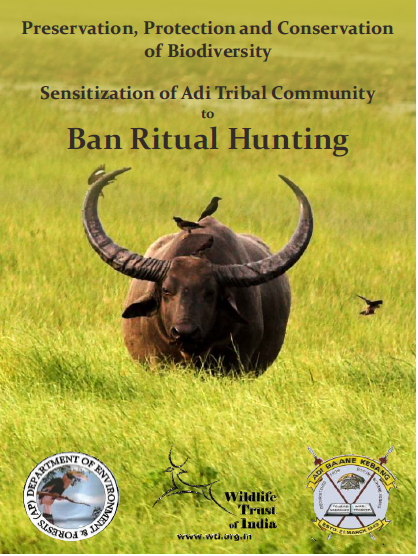 The second most populous tribe, the Adi's inhabits six districts of Arunachal Pradesh in north-east India. Adi meaning "hill man" or "man of hill" are said to be migrated from East and Southeast Asia. Early outsiders referred to them as Abor, meaning 'uncontrolled or savage', due to the tribe's reputation as fierce warriors. It is this reputation and the inhospitable terrain in which they live, have ensured the survival of Adi culture for centuries. A major collective tribe of about 25 major tribes, living in the Himalayan hills, the Adis have been traditionally hunting wild animals en masse during their festivals, especially during Dorung in November, Unying or Aran in March and Dishang in January.
Forests in Arunachal Pradesh and its neighbouring state Assam are considered to be one of India's biodiversity hotspots which boasts of rich diversity of species, many of which are threatened, endangered or close to extinction in wild. However, unabated traditional hunting practices by Adi's have threatened the existence of these species which have seen a considerable decline over the years. Disturbed by the loss of wildlife at such rapid pace, the Adi Baane Kebang (ABK), the Traditional Apex, Appellate & Supreme Council of the Adis, partnered with Wildlife Trust of India (WTI) to put a stop to these hunting rituals.
The team in consultation with the "Kebang" (meaning the village council) conducted a series of awareness programs. Through mass level programs the project is able to reach out to 80 villages covering 10 blocks in East Siang district. Though there we initial hesitation by the village gaon burahs (Village heads), ABK holding the judiciary power over deciding disputes and social issues was able to pass a resolution on banning the ritual hunt. Under the theme of "Preservation, Protection and Conservation of Biodiversity" and constant efforts of sensitization the project was able to get signed resolution of about 200 members. More Gaon burrahs from different villages also expressed their views supporting the resolution to ban all hunting. Based on the awareness camps and consultative workshops the ABK came out with a "consensus report" which endorsed the Adi's commitment on the following: Complete ban on use, selling, store, transportation, and possession of air gun & its pellets in East Siang District, Complete ban on hunting/fishing by using gun, 22 rifles, blasting, generator and poison and Protection of D'Ering Memorial Wildlife Sanctuary with more dynamism from land encroachers and illegal hunters. The Forest Department also participated in these events and encouraged the tribals to surrender their locally made guns, traps and weaponry used for hunting. The project team also got cooperation from East Siang Deputy Commissioner, where he issued additional executive order urging immediate surrender of Air Guns and empower the Gaon Burahs and local bodies to deal with the wildlife cases.
The awareness campaign witnessed positive response and reaction from the local tribes. With the targeted intervention the tribals were keen to abolish the age old practices and move towards a more sustainable and eco friendly model of tourism. A marked change is being witnessed in the community to protect their own wildlife heritage.
The projects aim to reach out to more Adi settlements and reduce the mass hunting to nil. Constant engagement with the local tribe is the key for this. Please join us in supporting Adi Tribes to protect their wildlife.