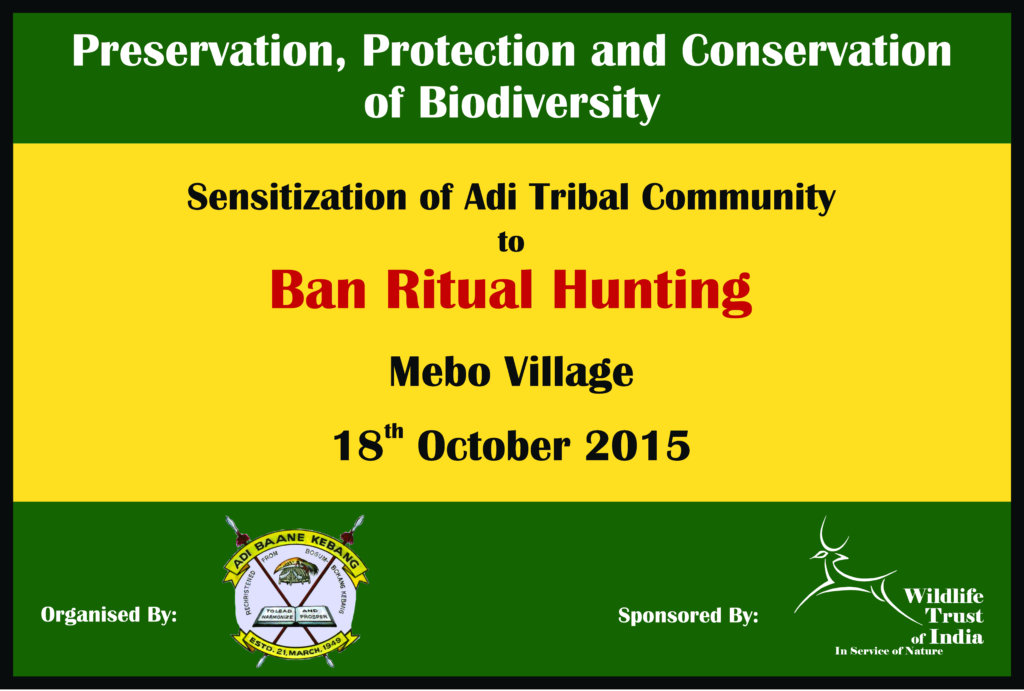 Arunachal Pradesh, in North East India is one of the country's biodiversity hotspots. The once pristine forests boast of a large variety of species, many of which are Threatened, Endangered or close to extinction in wild.
The Adi tribe is a major collective tribe living in the Himalayan hills of the region. They inhabit six districts in Arunachal Pradesh and are the second most populous tribe of the state. Hunting is carried out en masse during the festivals of Dorung in November, Unying or Aran in March and Dishang in January. Weddings are also celebrated with hunts throughout the year.
The Adi Baane Kebang, the Traditional Apex, Appellate & Supreme Council of the Adis is keen to stop these barbaric rituals and wants to sensitize their people to becoming signatories to a resolution banning these hunts. We have had a few meetings with the tribal leaders, the monsoons are over and the first phase of our programme is all set to go!
The first phase will address 10 blocks of villages. The first program will be held in Mebo village on the 18th of October 2015. This sensitisation meeting will be held in Mebo village hall and the villagers of Ayeng, Siluk, Aohali, Sigar, Motum, Ralling will all be participating in the meeting.
The ABK will ask for the villagers' cooperation in enforcing a series of fines for poaching that have already been passed in the Adi Customary Laws. The members of the ABK will address each block of villages along with Forest Department Officials. The village heads known as gaon burrahs will be signatories to the resolution banning hunting as representatives of their respective villages. The people will also be encouraged to surrender their locally made guns, traps and weaponry used for hunting.
In 6 months time, we will also be evaluating the success of the project by evaluating the number of villages that have voluntarily stopped participating in these hunts. This will give us a good indication of the success of the project.
Thank you for all your support so far and do share our project with your on your blogs and social media.