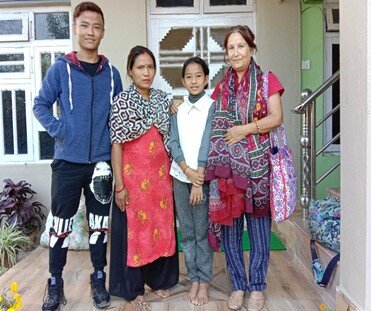 This is a story about two girls escaping from abusive homes where their safety and futures were threatened. With help from SGT, Sunita and Asmita have been able to leave the violence behind. They are both expanding their horizons by pursuing their education and are now living safer, happier lives.
Sunita
Sunita's mother died when she was only 8 years old. After that, her father became an alcoholic, started beating her, and sometimes wouldn't come home at all.When the SGT team first met her, she was malnourished, and some neighbors were helping take care of her. She was enrolled in SGT, but after a few months, they learned that she was sent from her home in the district of Makwanpur to live with family in Surkhet. The SGT team was, of course, worried.
After a lot of hard work, they tracked her down. Dr. Aruna Uprety went to Surkhet and, with help from the local NGO partner, was able to locate and meet with Sunita. She was happy to find that Sunita was well taken care of by her aunt. Sunita is now in grade 2, and the SGT alums in the area stop by regularly to check on her. She said she is happy living with her aunt and cousin and doesn't want to return to her father's house.
Asmita
Asmita, 19, comes from an indigenous community of Lalitpur. Her mother left and remarried because of her father's abuse. Asmita and her siblings went to live with her maternal grandmother, where she took primary responsibility for the household. Her father kept pushing her to leave school, and Asmita was on the verge of dropping out when she was enrolled in SGT with help from a local teacher. Despite waking up at 3am to finish housework and take care of the younger children before going to school every day, she never gave up and studied hard. She was determined to complete her education and become an independent woman
Asmita got good grades, passed grade 12, and became a Friday teacher. She then got a scholarship to learn advanced Japanese language from a Japanese organization. Currently she is doing her second year in Bachelor of Management and teaching Japanese. She now earns about $300 per month, supports her siblings' education, and also helps her grandmother with expenses.
The paths that Sunita and Asmita are on are made smoother through the empowerment and support SGT offers these girls. They are so grateful for the opportunity to not only imagine, but also build new lives for themselves.