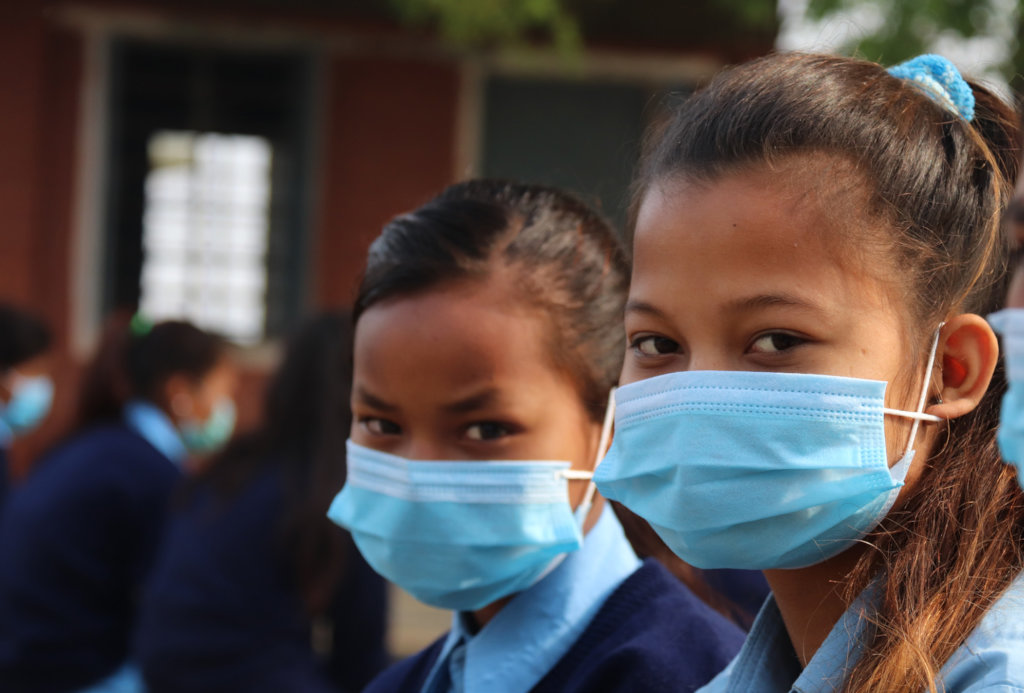 STOP Girl Trafficking is active in five districts in Nepal's West, and these districts account for almost a quarter of the 10,000 girls under our protection.
Before Nepal went into lockdown again in May, AHF field director, Bruce Moore, spent a week in Nepal's West to meet with SGT students, their families, and teachers. He has visited this area at least a dozen times in Moore's 20 years with AHF. With every trip he learns something new about the people, their cultures and history.
One major takeaway from Bruce's observations of being in the field is clear: to ensure brighter futures for young women today, understanding the historical context of their realities is vital in moving forward. Bruce's interactions with one young Badi woman reflects this.
A Field Dispatch by Bruce Moore, AHF Field Director
The Badi, the lowest caste found in Nepal's West, are sometimes referred to as "untouchables among the untouchables". Until the 1950s, the Badi community were entertainers whose patrons (local landed lords) provided them with housing, land, food, and clothes. In return, the Badi sang and danced for them and their guests. Badi women also were expected to provide sexual favors for their master.
In 1951, with the fall of the Rana regime, these local lords could no longer afford to employ the Badi families and, to survive, Badi women were forced into the commercial sex trade. They operated from their homes, so their daughters were desensitized from an early age and fatalistically accepted that they too would become prostitutes.
Education in general, and particularly for girls, was in no way a priority.
Things have improved for the Badi more recently with government development programs, and home-based sex work is mostly a thing of the past. The stigma, however, still sticks to the name.
Janaki is a young Badi woman determined that her future will not be dictated by fate. Things turned around for her nine years ago when her second eldest sister left school in grade seven to get married. This meant Janaki's family could now barely afford to start sending her to school — at the age of eleven. SGT found and helped her a couple of years later.
Age to grade ratio is important when assessing girls' risk factors. Girls who start later are often bullied and embarrassed, and it is an often-cited reason for them dropping out. In Janaki's case, she was more than twice the age of the other children in her class. This, and the discrimination she faced as a Badi, brought her into SGT. She is now 20 years old and in grade 11.
I was impressed with her and asked what advice she would give to other girls in her position.
"I would tell them don't think of the now, think of the future," she said very confidently. "Thanks to SGT, my life is going to be very different than my sisters. I have the chance to be someone, I have a future to look forward to, they are stuck in time. I'm the first Badi woman in this area to be a junior in high school. After grade 12, I'll find a job to help me pay for my bachelor's, and I also want to be one of SGT's Friday teachers. I'm interested in early childhood development and want to work with young children."
I told her about a couple of SGT alums who now ran successful pre-schools and that piqued her interest.
"That is something I could certainly aim for," she told me.
STOP Girl Trafficking keeps girls safe and in school, yes. But it does much more. It also encourages and empowers them to be change agents and break free, finally, of the generational cycle of poverty and discrimination.
On behalf of SGT's founder and leader, Dr. Aruna Uprety, and the tens of thousands of Nepalese girls in and graduated from SGT, thank you, thank you. You have saved and transformed so many young lives, and you have their and our endless gratitude