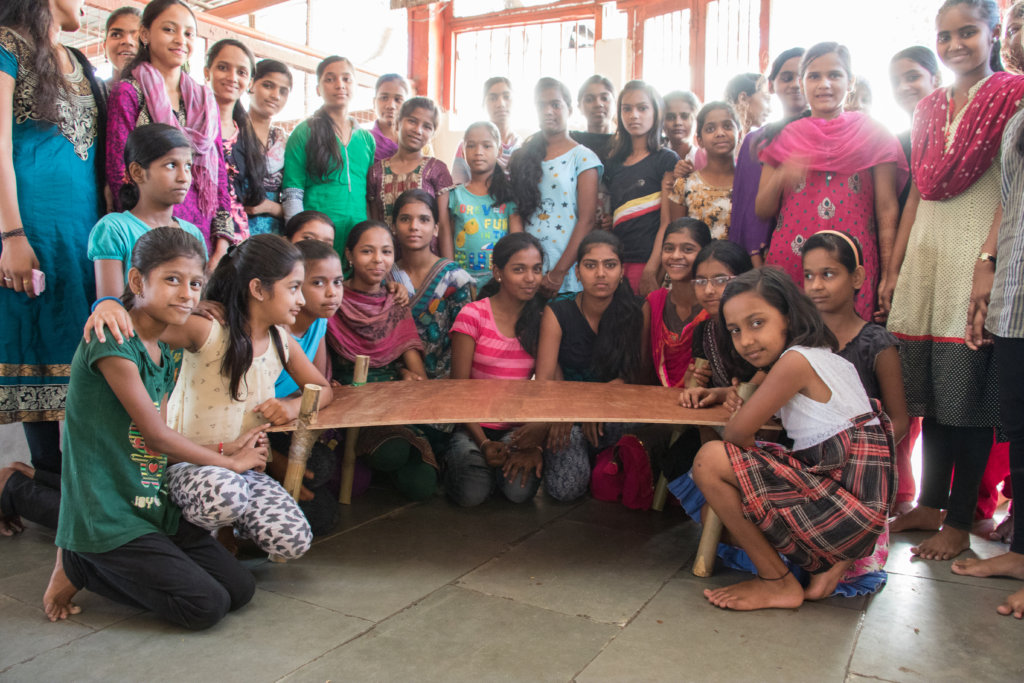 The Crazy Machine

First of all, thank you to everyone who supported our Global Giving Accelerator project! We were absolutely blown away by your generosity and your sincere interest in our work. More importantly, we thank you on behalf of the children whose lives you are positively impacting! Through your generosity, our Mobile Play and Learning Center will deliver STEM Education to 120 vulnerable children throughout the coming year!

Following up on a series of Mobile Play and Learning Center workshops conducted earlier this year, the next set of workshops will unfold October 22nd through November 5th. These workshops will be based on the Rube Goldberg Machine project. For any of you who know what a Rube Goldberg machine is, you will already be smiling. For those who aren't familiar, well, think of an overly complex, convoluted, cartoon way of linking simple tasks in a chain reaction or domino effect, whereby one device triggers the next device in sequence. Why do this? Because it is a fascinating and fun way for kids to learn about cause and effect and at the same time learn about mechanics and engineering! Check out this video to get an idea of just how crazy and amazing these "machines" can be! Rube Goldberg Machine

The workshops conducted earlier this year were targeted at 2 distinct groups of children. The first group consisted of 20 girls from a slum community. The girls ranged in age from 10 to 15 and were referred through a Pune based NGO called ASHA. ASHA works with girls who are at extreme risk for sex-trafficking, indentured servitude, early school drop-out and life-long oppression. The work of ASHA focuses on issues of self-esteem, female empowerment, and most importantly, the work supports engagement with education.
These 20 girls came up with their own project idea; a study table to do homework at their community center. They used easily sourced and recycled materials such as plastic water bottles, which they converted into twine! What they created was absolutely incredible, and how they did it was equally impressive! The girls are now enjoying their table and plan to make another. All 20 girls participated in this project and all 20 have asked for more of this type of workshop!

The second group of 20 children reside at Renuka Mahajan Trust Orphanage, also in Pune. The children ranged from 5 to 8 years with some residing at the orphanage and some from the local community. Connecting vulnerable children living in orphanages with healthy role models and peers from the local community is a corner-stone of Limitless Child's programing and worked wonderfully with this group.
This workshop consisted of a project called "Creature Feature", which involved the children visualizing a creature made up of known land and sea animals, next drawing out their concept, followed by constructing their model out of craft materials, and lastly bringing it to life with a simple motor to make their creature wiggle and move. This project was totally hands on, introduced the concept of design theory, and the children absolutely loved seeing the fruits of their labor!. They also loved meeting and working with children and adults from outside the orphanage.

Drawing on the success of these first projects, including the positive feedback from the girls and the staff at both ASHA and Renuka, we are in the planning phase for the next set of workshops which we are calling the Crazy Machine Project.

The workshops will take place at the same locations with roughly the same participants. All activities will be fun, involve everyone and incorporate multiple ideas and concepts: physics, mechanics, electronics, woodworking, craft and anything you may find around you.

Everyone, including facilitators, work together. In each location, the entire group's aim is to build one big machine. They all decide what the final purpose is e.g., watering a plant, lighting a bulb, breaking an egg etc.

Then, the entire group splits up into teams (15-20 people can be split into 5 teams of 3-4 people). Each team works on one part of the whole machine. Each team has to coordinate with other teams to ensure their part connects to the next team's part (collaboration 101).

There will be four kinds of activities:

Inspiration: having access to and viewing various videos, samples of similar projects.

Learn: depending on the idea that the team wants to build out, they can learn how to work with circuit boards, Arduino, hand tools to put together wood, Dremel for engraving, soldering, stitching, weights, geometry and mechanisms.

Build: once teams have their ideas and sketches, they will start building their contraption. This will take place during the workshop and during the children's free time if they wish.
Reflect: After completing the machine, each group will talk to the others about their crazy invention and the new concepts they saw in action, as a result.
Along with the concepts this series will also aim to develop the following characteristics: Resourcefulness, Creativity, Learning by Questioning, Reasoning/Logic, and Hands on Tinkering.

The initial pilot project demonstrated that this program would have high impact on the population of children we serve. We are now poised to bring another round of learning opportunities to these children, and we anticipate that it will be nothing short of life changing. For the kids we work with, education is rote, unengaging, delivered by under-resourced, overburdened teachers. Our Mobile Play and Learning Center workshops will be game changers for these kids. Metrics will be employed moving forward to help us demonstrate the on-going impact and efficacy of our work.

Stay tuned for the next report which will share outcomes and feedback from the "Crazy Machine Project" and pre-view our next set of workshops set for November 18-19 in Mumbai with a new Limitless Child International Partner, Dharavi Diaries! And learn about 2 girls from our ASHA workshops who will attend an upcoming "STEAM School" conference in Mumbai hosted by a collaboration between Mumbai's own Maker's Asylum, the Embassy of France, and sponsored in part by UNESCO! Now this is what we're talking about!!

Jenny and the Limitless Child International Team